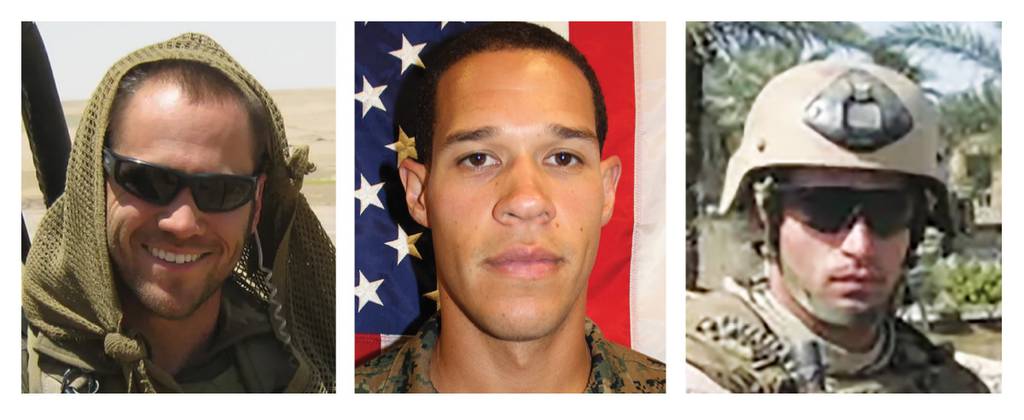 From left to right: Chief Petty Officer Eric Gilmet, Gunnery Sgt. Daniel Draher and Gunnery Sgt. Joshua Negron. (United American Patriots)
The trial of two Marine Raiders for a high-profile homicide case started Tuesday with a Navy corpsman, also charged in that case, receiving immunity that will let him testify freely and could make it harder for him to be prosecuted.
Gunnery Sgts. Daniel Draher and Joshua Negron are being tried at Marine Corps Air Station Cherry Point, North Carolina, on charges that include involuntary manslaughter.
On the first day of the trial, the convening authority granted a third defendant, Hospital Corpsman Chief Petty Officer Eric Gilmet, immunity to testify, according to Gilmet's civilian attorney, Colby Vokey. That means that any military prosecutors that bring Gilmet to trial in the future will have to ensure they derive all of their evidence independently of his testimony in this trial.
In practice, the immunity will make it harder for Gilmet to be prosecuted, according to Vokey.
RELATED
Draher, Negron and Gilmet — now known colloquially as "the MARSOC 3″ — were celebrating New Year's 2019 at an off-base nightclub in Irbil, Iraq, while deployed with Marine Special Operations Command.
According to security footage and later statements to law enforcement, retired Army Master Sgt. Rich Rodriguez, who was deployed as a defense contractor, approached the trio and accused them of showing insufficient respect for his rank and former Green Beret status.
The argument ceased, but Rodriguez later confronted Draher outside the club. The short fight that ensued left Rodriguez unconscious.
The trio took the contractor back to the base, and Gilmet, a corpsman, monitored him through the night. When Rodriguez stopped breathing, Gilmet took him to a hospital, but the Army veteran died days later.
Nearly a year later, in December 2019, the men were charged on counts that included involuntary manslaughter, negligent homicide, obstructing justice and orders violations. Their trials before a general court-martial were delayed because of concerns that a senior lawyer for the Corps had engaged in unlawful command influence by allegedly threatening one of Gilmet's lawyers.
A military appeals court in August 2022 reinstated the charges against Gilmet after a lower court had previously dismissed them. A Marine judge in September 2022 denied requests by Draher and Negron to dismiss the charges against them.
Gilmet isn't being tried in January; he has asked the Court of Appeals for the Armed Forces to take up his request to dismiss the charges against him, Vokey told Marine Corps Times. The court has not yet released its decision.
Irene Loewenson is a staff reporter for Marine Corps Times. She joined Military Times as an editorial fellow in August 2022. She is a graduate of Williams College, where she was the editor-in-chief of the student newspaper.