Chinese truck drivers have been using separate cell phones to record different legs of their travel histories, allowing them to get through checkpoints and avoid possible quarantine, state-run media reported on March 30. Many have now been fined or detained for doing so.
According to China's COVID-19 rules, a person who has visited a city with a COVID-19 outbreak can't visit other cities, even if returning home. People have to present their cell phones, which automatically record their travel histories, in order to travel past checkpoints.
Desperate travelers have also been using the sleight of hand to get through checkpoints when they want to enter or leave a city.
The Chinese regime announced COVID-19 outbreaks all around the country in March, and tightened controls on free movement in an attempt to curb further spread of the highly transmissible Omicron variant. On March 30, the nation's economic center Shanghai and northeastern China's Jilin Province were under lockdown.
Beijing, Chongqing, Tianjin, and at least 68 other cities in Anhui, Fujian, Gansu, Guangxi, Guangdong, Guizhou, Hainan, Hebei, Henan, Heilongjiang, Hubei, Hunan, Inner Mongolia, Jiangsu, Jiangxi, Liaoning, Shandong, Shanxi, Xinjiang, Yunnan, and Zhejiang provinces reported new infections on March 30 and were placed in partial locked down.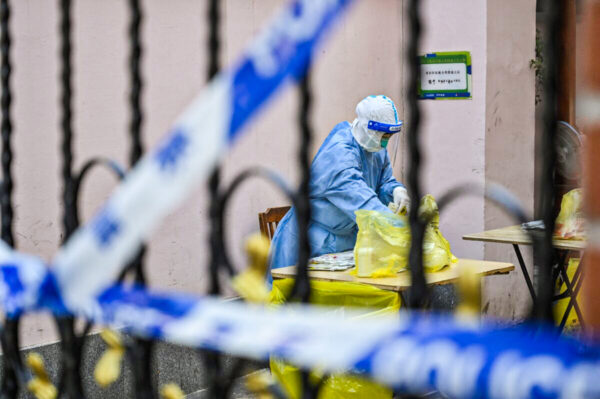 Under the regime's rules, all citizens' travel histories are to be recorded on their cell phones. Those who visit neighborhoods with an infection in the past few days will have their health code on the cell phones turn yellow or red, and will need to quarantine in different places.
Those who passes by cities with infections without entering risky neighborhoods will have a star added to their green code on their cell phone, which means they won't be allowed through checkpoints on highways until the star disappears, which happens after 14 days.
Truckers
Truckers are without an income if they don't drive and many don't have much savings. Making sure their cell phones generate green codes without a star as they travel long distances has become essential for China's truckers.
The state-run news outlet Xinhua reported on March 30 that nearly 100 truckers in Shenyang, the capital of northeastern China's Liaoning Province, used illegal means to make sure they could continue their work.
"Truck drivers take two or more cell phones with them. They hide the cell phone they use and present another cell phone loaded with travel histories without a star to get through the checkpoints," the Liaoning Provincial Public Security Department said.
The report explained that the truckers would keep an inactive spare cell phone, and turned on their main cell phone when traveling through cities with an outbreak. After leaving the risky cities, their main cell phones would record the trip with a star. The truckers would then turn off their main cell phone, and turn on the spare phone, which would have a green code without a star to get through the checkpoints on highways.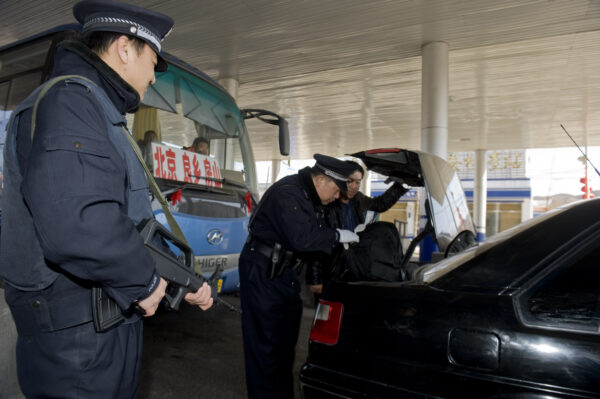 The report revealed that a logistics company in Liaoning's Jinzhou city helped their truckers dodge the checkpoints.
"The company provided a local cell phone number and a pin code for the drivers to use when they got through checkpoints. Then, the checkpoints treated the truckers as local residents and allowed them to drive through the checkpoints," the report said.
The report said all these truckers were punished by the regime, without providing details, and added that regime would do more to capture the truckers who use incomplete travel histories.
The local regime fines and detains citizens who don't follow the government's COVID-19 rules.
On Jan. 8, the Dongming county police fined a local man 200 yuan ($31.50) and detained him for five days because he didn't report to the regime that he took a flight on which one passenger was diagnosed with COVID-19.
Travelers
People who become locked down while visiting another city or who needed to take care of family members in another city have also been detained by the regime for breaking the travel restrictions.
State-run Beijing Daily reported on March 26 that the nation's capital city had detained 223 travelers in the past six days. Those travelers had tried to enter the city illegally in three ways.
The first and most popular method used was hiring a substitute driver.
Qi Shiming, deputy chief of the criminal investigation department at the Beijing Police Bureau, told the Daily that the travelers would drive their private cars to Beijing, where they would use substitute drivers to pass through checkpoints. They would then have to sneak through the woods or climb fences to meet the drivers on the other side of the checkpoints. Some would try to hide inside the cars.
The substitute drivers were paid 300 to 2,000 yuan ($47 to $315) on the other side of the checkpoints, according to Qi. The Daily reported that the police in Beijing's Fangshan district captured a four-member group dedicated offering substitute driving services for travelers who wanted to but couldn't enter Beijing. One of the members would search for potential clients, while the other three drove cars for customers.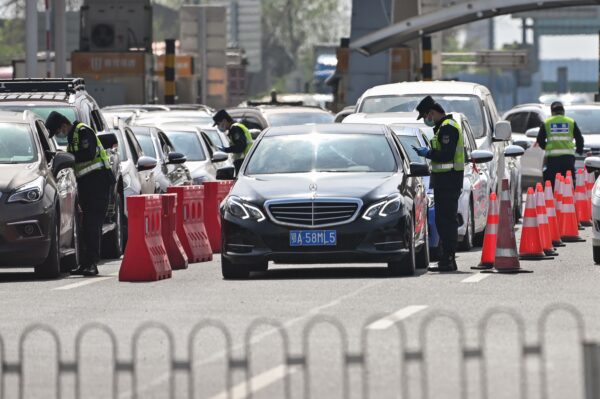 The second method used by travelers was to fake documents, including negative COVID-19 test reports.
Others chose to walk dozens of miles through fields and woods without checkpoints to find a way to enter the city.
The same stories have been heard in other Chinese cities.
On March 28, state-operated website Hangzhou Net reported that two men were detained in Jiashan, a county next to Shanghai in Zhejiang Province. The Hangzhou city regime accused one of them of illegal entry due to their starred green code status. He had hired the second man to drive his car through the checkpoint while he walked through the woods to meet the car on the other side.