Workers at a battery factory in China found themselves unable to go home due to a sudden government-imposed lockdown on Aug. 4. Some have been transported from the factory to schools and other sites for quarantine but all the sites lack daily necessities and access to medical care.
Eve Power Co. Ltd. is a manufacturer of batteries for electric vehicles and boats in the high-tech industrial park of Jingmen city in China's central Hubei province. The battery company says it has 2,800 employees and is among the top three performers in the industry in China.
Jingmen city officials announced on Aug. 10 the city's first confirmed case of the Chinese Communist Party (CCP) virus, also known as novel coronavirus, was a worker at the Eve Power construction site. They imposed a hard lockdown on the whole industrial park starting Aug. 4, ordering everyone at the factory to stay in place and wait to get tested.
No Idea Where We Were Being Taken
Two business partners of Eve Power told the Chinese-language edition of The Epoch Times on Aug. 8 their experience of the lockdown and quarantine.
Mr. Wang, using an alias, is a supplier to Eve Power. He told The Epoch Times in an Aug. 8 phone interview that he still felt scared after the first night's experience. "If you had been at the scene, you would have felt as panicked as me after what I went through that night. The only thing I can do now is to pray for my safety," he said.
Mr. Wang was on a business visit to the construction site on the morning of Aug. 4 unaware of the positive case. After being on site for a few hours, he was told in the afternoon that he would not be able to leave due to the lockdown and was forced to wait in crowds of people through the night to get tested.
Wang said that there were 300 to 400 people waiting to be tested at the construction site. There were no isolation measures, and the authorities did not allow people to move. All of them had to stay where they were and had nowhere to rest or sleep. All they could do was wait for a test.
Then, buses came to transfer people to quarantine sites. Each bus was packed with 30 to 40 people.
"We just waited," Wang said. "We did not get any information or notice about which bus we should take. We did not know when it would be our turn to leave and where we were going," he added, expressing angry at the authorities. "What they did was grabbing people and packing them into a bus whenever a bus came."
Quarantine Centers Lack Basic Necessities, Medical Care
An indoor installation contractor surnamed Yu (pseudonym) told the Chinese-language Epoch Times that the quarantine sites are poorly equipped and lack basic facilities.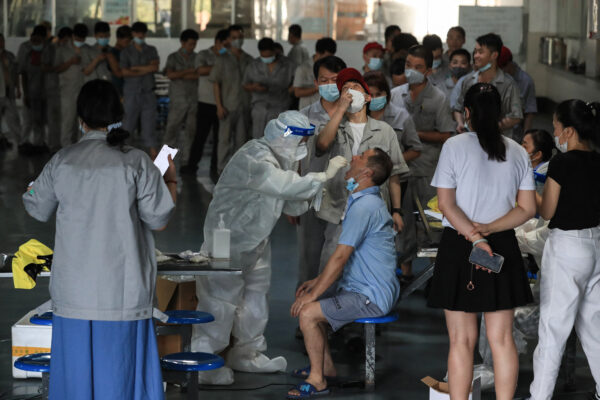 In a phone interview on Aug. 8, Mr. Yu said he was responsible for a installation project for Eve Power. He had left the factory on Aug. 2 due to personal reasons, but left his nine-person project team who were now quarantined in a Jingmen middle school.
"There are no quilts or bedding, no hot water, and no air-conditioning," Yu was told. There is also a shortage of disinfectant supplies and other daily necessities, he added.
Workers locked down at the Eve Power site have had to sleep on the ground. In addition to its 2,800 employees, the company has many contract workers on its construction sites. Yu's team is only one of many contractors, he said.
On Aug. 10, Jingmen city authorities reported seven cases of the CCP virus—the highest number for that day of all cities in the province, according to Hubei's provincial health body. This brought the city's number of infections to the second highest in the province.
Authorities have still not said when the lockdown will end.