Analysis
Corruption is a widespread phenomenon in China's military where officers, including generals, have relied not on their duration of service or military prowess to rise in the ranks but rather bribery and connections.
Experts commented that a lack of competent leaders now threaten to be severely detrimental to China's warfighting capabilities.
In the Chinese military, all positions and ranks were sold with quoted prices, state-run media Xinhua quoted three major generals from the Academy of Military Sciences saying on March 10, 2015.
"A commander from a military district bribed Xu Caihou [then vice chairman of the Central Military Commission (CMC)] 20 million yuan ($3.14 million) for a senior position. Xu then promoted this one, rather than another commander who just bribed him 10 million yuan ($1.57 million)," Major General Yang Chunchang said.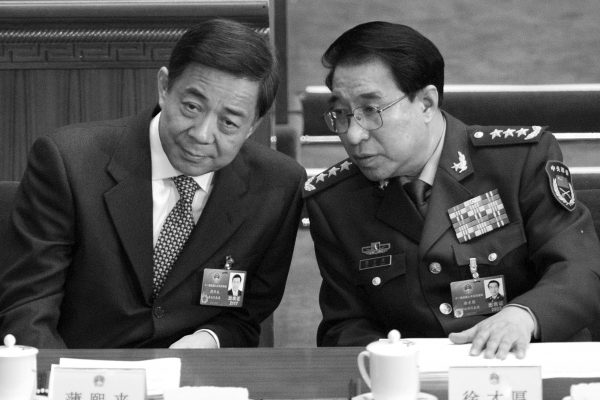 In the Chinese military, there's only one general who has real combat experience. Li Zuocheng, 68, served in the Vietnam War in 1979 as the director of a company consisting of about 100 soldiers. Li is the chief of the Joint Chiefs of Staff of the CMC.
"They bought their positions, they won't spend their lives fighting," Zhou Meisen, the screenwriter of anti-corruption propaganda TV series "In the Name of People," said in an interview with the regime's mouthpiece People's Daily on April 6, 2017. "Once there's a war, who can fight? Who will sacrifice his life to defend the country?"
"A general may still lead the military when he doesn't have any combat experience; he can learn from books and military exercises," U.S.-based China affairs commentator Tang Jingyuan told The Epoch Times on Dec. 17. "But if the generals and officers received their positions and ranks by bribes, they don't have the knowledge and capability to command the military to fight in a war."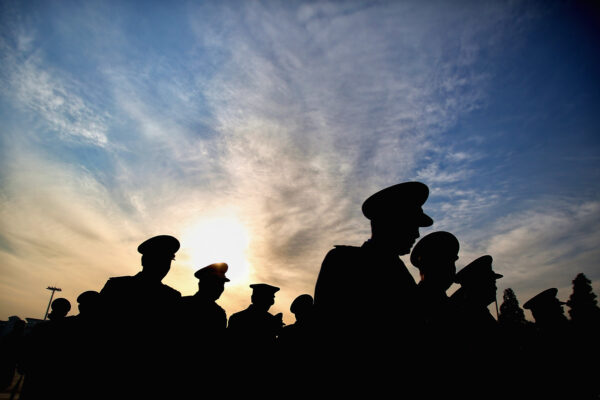 Tang went on to say that as a result, Chinese officers and soldiers won't focus on improving their skills knowing that they need to buy the position and ranks they hope to achieve.
"Fighting isn't a game," Tang said. "Once there's a war, these officers and soldiers can't fight."
Weakened Warfighting
Instances of generals being sacked has become a norm under the Xi regime.
On April 29, the Chinese regime announced that Major General Song Xue, the deputy chief of staff of the Chinese Navy, was suspected of "serious violation of discipline and law." He had been dismissed from his position on April 8.
Song was China's key leader for rebuilding and training personnel for its first aircraft carrier, the Liaoning. Overseas Chinese commentators analyzed that Song was involved in bribery in the Liaoning project, and he was punished because the aircraft carrier doesn't have the combat effectiveness that a carrier is expected to have.
On April 26, the Liaoning carrier strike group—which has three Chinese destroyers, one frigate, and one supply ship which sail with the Liaoning—couldn't prevent an Arleigh Burke-class destroyer with the U.S. Navy from entering into the middle of their formation as they sailed through the Philippine Sea.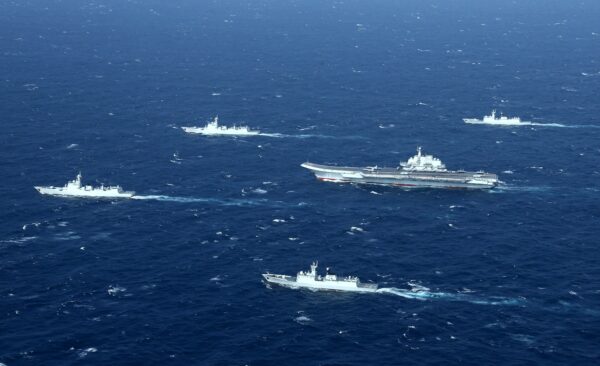 "The Chinese military has become a puddle of mud, without combat effectiveness," Chinese princeling Luo Yu told The Epoch Times on Nov. 14, 2017.  "No Chinese official or officer isn't involved in bribery, it's a systematic problem.
"There's no way to stop the corruption in the Chinese military."
Screenwriter Zhou in his remarks cited an example of officers actively embezzling military funds.
"In one military exercise, they [officers] sold the vehicles and gasoline," he said. "They then reported that the vehicles were destroyed during the drill and the gas was used. The extra funds then go into the officers' pockets.
In another example, Zhou said, "The soldiers only shot 10 cannons in the exercise, but they reported that 100 cannons were used.
"The corruption is too serious to describe," he continued. "To use their [the officers'] words, [the military] is all dark from surface to inside."
On Aug. 18, Beijing-headquartered dwnews.com reported from Beijing that General Zhang Yang, who reportedly committed suicide, went by the nickname "Gunny Sack Zhang" because he used to put cash inside gunny sacks and use them to bribe senior officers or receive bribes from junior officers. Zhang had given each of then CMC vice chairman Guo Boxiong and Xu Caihou 25 million yuan ($3.9 million) in cash at one time.
"Only several generals died on the battlefields when the Chinese Communist Party (CCP) launched its first war, the Nanchang uprising, on Aug. 1, 1927, until the Korean War [which ended in a truce on July 27, 1953]," Zhou told People's Daily in 2017. "Now, an anti-corruption campaign has sacked over 140 generals."
Corruption and Replacement
Anti-corruption has been Chinese leader Xi Jinping's main tasks after taking the position of CMC chairman in 2012. Xi, the supreme commander of the Chinese military, used an anti-corruption campaign to sack the generals who lacked loyalty, and promoted new generals who support with him.
On June 16, 2018, dwnews.com reported that Xi's attempts to reform the Chinese military were facing resistance.
Then, on April 13, 2020, the state-run People's Liberation Army Daily published, "At present, the anti-corruption situation in the military is still severe and complex. The issue of violating the rules and violating the disciplines happen frequently."
On Aug. 28, 2017, General Zhang Yang, former director of the political work department of the CMC, and General Fang Fenghui, former joint chief of staff, were investigated for bribery and violations of discipline.
Three months later on Nov. 25, Zhang committed suicide. In October 2018, the CCP posthumously removed Zhang from the CMC and the communist party, stripped him of his rank, and confiscated his properties. Xinhua reported that Zhang owned a very large, unexplained amount of wealth, and that his level of corruption was very high.
Fang was sentenced to life in prison by a Chinese military court on Feb. 20, 2019, with the crimes of bribery and owning huge amounts of property from unknown sources.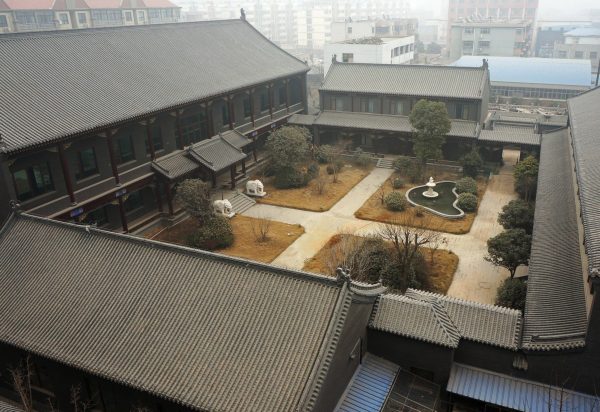 The Chinese army has five theater commands, with each covering one region. Parallel to this, there are ground force, air force, navy, rocket force, strategic support force, joint service support force, and an armed police force. Troops are led by both the theater commands and the forces at the same time. Besides these, these People's Liberation Army has 25 provincial military districts and three garrisons which report to the CMC directly.
On Sept. 6 this year, Xi promoted five lieutenant generals to the position of general as well as higher commanding positions. The five included Commander of Western Theater Command Wang Haijiang, Commander of Central Theater Command Lin Xiangyang, Commander of Navy Dong Jun, Commander of Air Force Chang Dingqiu, and Director of the PLA National Defence University Xueqiang.
Two months earlier on July 5, Xi promoted another four lieutenant generals to general. They were Commander of Western Theater Command Xu Lingqi, Commander of Southern Theater Command Wang Xiubin, Commander of Ground Force Liu Zhenli, and Commander of Strategic Support Force Ju Qiansheng.
Xi changed the commander of Western Theater Command four times in nine months. In December 2020, then Commander Zhao Zongqi retired. Xi promoted Zhang Xudong, then deputy commander of central theater command, to take over. In June, Zhang was dismissed because of sickness. Xu took over the position and was replaced in September by Wang. It's unknown why Xi dismissed Xu and where Xu is.
"Xi Jinping hasn't built a military which is loyal to him," Wang Youqun, a columnist for the Chinese-language Epoch Times, wrote on Sept. 8. "Xi has promoted over 60 generals since taking over as CMC chairman. These generals control the CMC, five theater commands, seven forces, and military universities. However, not all these newly appointed commanders are loyal to him, and this is the reason why he has kept on appointing new commanders."
Wang also wrote that Xi has named corruption as the reason for the removal of the generals who aren't loyal to him because the majority of the generals are involved in bribery, abuse of power, extortion, fraud, collusion, and embezzlement.
Views expressed in this article are the opinions of the author and do not necessarily reflect the views of The Epoch Times.