Millions more locked down as China battles Omicron spread
Five million residents in the central Chinese city of Anyang have started home confinement today in a new lockdown to curb the spread of Omicron variant, according to state media and as reported by Agence France-Presse.
Two Omicron cases were detected in the city in Henan province, prompting authorities to announce a lockdown late Monday, issuing a notice ordering residents not to leave their homes or drive cars on the roads, state news agency Xinhua reported.
All non-essential businesses have been closed, outbound travel restricted and a mass-testing drive has been launched "to respond to the severe epidemic control situation and strictly prevent the spread of the Omicron virus outbreak", Xinhua reported.
There were 58 new local infections reported in Anyang, state broadcaster CCTV said Tuesday, bringing the city's total caseload to 84 since Saturday. It was not immediately clear whether the new cases were tied to the Omicron variant.
At least three cities in Henan are battling emerging outbreaks, with provincial capital Zhengzhou closing schools and kindergartens, and stopping restaurants from accepting dine-in customers.
Last week, one million people in the city of Yuzhou were put under stay-at-home orders.
Elsewhere, Tianjin – a major port city just 150 kilometres from Beijing – has barred people from leaving without official permission, ordered the testing of all 14 million residents, and cancelled trains into the capital. Tianjin confirmed another 10 new locally transmitted cases after citywide mass testing.
The northern city of Xi'an is in its third week of lockdown as it attempts to stamp out a 2,000-case outbreak.
And after logging a handful of cases in recent days, Shenzhen – a southern tech hub just across the border from Hong Kong – has locked down some housing compounds, launched a mass-testing initiative and shuttered some long-distance bus stations.
At least 600,000 passengers cancelled plans to fly from Heathrow in December due to the Omicron coronavirus strain and the introduction of tougher travel restrictions, the airport said.
Fears over the Covid variant meant that, from late November, all travellers arriving in the UK were required to take a pre-departure lateral flow test and self-isolate until they received a negative result from a post-arrival PCR test.
This led to many people scrapping their travel plans over the festive period, the Press Association reported. The new rules were relaxed for fully-vaccinated arrivals last week after travel firms said they were ineffective due to Omicron spreading widely within the UK.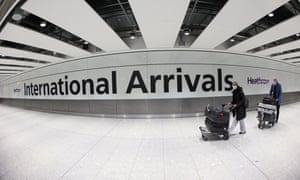 A total of 19.4 million people travelled through Heathrow across the whole of last year. This was less than a quarter of the pre-pandemic level in 2019, and 12.3% down on 2020.
Travel to and from the Asia/Pacific region in 2021 was down 40.3% year-on-year. The other markets with double-digit reductions were non-EU Europe (down 13.8%) and North America (down 13.6%). Domestic travel bucked the trend, with a 21.1% boost in passengers compared with 2020.
Allegations of parties at British Prime Minister Boris Johnson's Downing Street office will have caused hurt to people who lost loved ones to Covid but there must be time for a full investigation to establish what happened, a minister said.
"I can understand the hurt that these reports, these allegations, will have caused, particularly for those who've lost loved ones," junior health minister Edward Argar told Sky News on Tuesday following a new report of alleged rule breaking, adding it was right that Johnson had previously commissioned a civil servant to investigate similar allegations.
"It wouldn't be appropriate… for me to comment on those ongoing conversations or her ongoing investigation. We've got to give a space to conclude that investigation."
The Covid pandemic has made the outlook worse for people in the UK with the least survivable cancers, such as pancreatic, stomach and brain cancer, campaigners have said.
A quarter of cancers in the UK have an average five-year survival rate of just 16% and are often diagnosed late in emergency departments, the Press Association reported.
The Less Survivable Cancers Taskforce (LSCT) has launched its first awareness day to ask for greater focus on early diagnosis and more research, as well as a Government commitment to increase survival rates for less survivable cancers to 28% by 2029.
It said data shows that around 3% of breast and 8% of prostate cancers are diagnosed in an emergency, but this jumps to 53% for pancreatic or central nervous system cancers including brain, 45% for liver, 35% for lung, 30% for stomach and 21% for oesophageal cancers.
Screening programmes for these less survivable cancers do not exist and many people are unaware of the symptoms. LSCT chairwoman Anna Jewell said:
We know that delays in diagnosis lead to much poorer outcomes for patients with these rapidly-advancing cancers. We also know the trauma associated with receiving a diagnosis in an emergency setting for both patients and families.

These cancers are currently difficult or impossible to treat at later stages and the time from diagnosis to death is often brutally short compared to more survivable cancers. The situation is critical and has been exacerbated by the Covid-19 pandemic.

The taskforce is calling for a significant increase in research funding as well as a commitment to increasing resources for early diagnosis for less survivable cancers so we can close the deadly cancer gap.
Nearly one million Hindu worshippers are expected to gather on the banks of the Ganges river this Friday and Saturday for a holy bathe despite soaring Covid infections across the country, an official told Reuters.
India reported 168,063 new coronavirus cases on Tuesday, a 20-fold rise in a month despite testing being well below capacity.
However, most infected people have recovered at home and the level of hospitalisations has been less than half of that seen during the last major wave of infections in April and May.
Many states have announced night curfews while the capital Delhi has also imposed a weekend lockdown, closed private offices as well as restaurants and bars in a bid to rein in the fast-spreading Omicron variant.
But tens of thousands of pilgrims have already reached the site of the annual Ganges ritual on an island in the eastern state of West Bengal, which is reporting the most number of cases in the country after Maharashtra state in the west.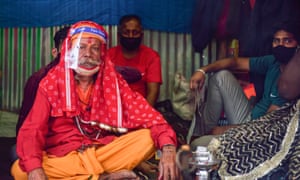 "The crowd may swell to anywhere between 800,000 to one million. We are trying to implement all Covid protocols," Bankim Chandra Hazra, a West Bengal minister in charge of organising the festival known as the Gangasagar Mela, told Reuters.
"We have also arranged for sprinkling of the holy water from drones so that there is no crowding … but the sadhus [Hindu holy men] are bent on taking the dip. We can't prevent them."
Hello, I'm Tom Ambrose and will be bringing you all the latest Covid news from around the world over the next few hours.
We begin with news that people living in the England who test positive for Covid on a lateral flow device but do not develop symptoms will no longer need to take a PCR test to confirm their result while they self-isolate.
The new approach has now come into force after it was announced last week by the UK Health Security Agency, Sky News reported.
Most people who receive positive lateral flow results can now be confident they have Covid, with infection rates high across the country, according to health chiefs.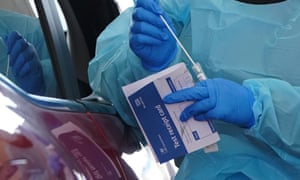 Updated
Will Covid-19 become less dangerous as it evolves?
Linda Geddes, the Guardian's science correspondent, attempts to answer this question in light of recent warnings from experts that viral evolution is not a one-way street and a continuing fall in virulence cannot be taken for granted.
The pandemic has been awash with slogans, but in recent weeks, two have been repeated with increasing frequency: "Variants will evolve to be milder" and "Covid will become endemic".
Read the full story here.
Updated
Poland's total Covid-19 death toll has surpassed 100,000.

In an interview with broadcaster TVN24, health minister Adam Niedzielski announced the grim milestone, saying: "Today we can say it is another sad day, but especially so because we have passed the level of 100,000 Covid deaths."
An additional 11,400 coronavirus infections and 493 deaths were recorded in the last 24 hour reporting period, local media report.
Ukraine also reported another 5,429 new confirmed coronavirus cases and 219 deaths, according to health ministry data.

Updated
Lords watchdog assesses complaint against Michelle Mone over PPE firm

David Conn
The House of Lords commissioners for standards are considering a complaint against the Conservative peer Michelle Mone, relating to the PPE business awarded £203m government contracts after she referred it to the Cabinet Office in May 2020.
The Labour peer George Foulkes complained to the commissioners on 6 January after the Guardian reported that leaked files appear to suggest Mone and her husband, the Isle of Man-based financier Douglas Barrowman, were secretly involved in the company, PPE Medpro.
After the company was awarded contracts in May and June 2020, Mone and Barrowman have consistently denied any "role or function" in PPE Medpro. Lawyers for Mone, who ran the lingerie company Ultimo before David Cameron made her a peer in 2015, have said she "was not connected to PPE Medpro in any capacity".

Read the full story here.
Updated
Germany is reporting a daily rise of 45,690 new confirmed coronavirus cases and 322 deaths, according to the latest figures released by the Robert Koch Institute.
Summary of key developments
If you've just joined us, hello and welcome to the Covid live blog. Here's a quick rundown of everything you might have missed.
Europe:
Boris Johnson was accused on Monday night of an "utterly outrageous" breach of lockdown rules as a leaked email showed one of his top officials invited more than 100 Downing Street staff to a "bring your own booze" party during the first lockdown. The police are now investigating.

Boris Johnson has ordered officials to examine plans to cut Covid isolation to five days in England as scientists urged caution over the lack of evidence to support a change.

NHS England has struck a deal with private healthcare providers under which their hospitals will be ready to start treating NHS patients who cannot get the Covid or non-Covid care they need because their local NHS hospital is under too much pressure.
France announced an easing of Covid rules for schools as record-high case numbers shut down thousands of classes across the country.
Asia:
The central Chinese city of Anyang has ordered five million people to begin home confinement today in a new lockdown to curb the spread of Omicron variant. Residents are not to leave their homes or drive cars on the roads, while all non-essential businesses have been closed and outbound travel is restricted, state news agency Xinhua reports.

Taiwan has tightened its entry requirements for new arrivals in the latest move to head off a large-scale Omicron outbreak.

Beijing will not adjust its Covid-19 prevention measures for the Winter Olympics unless there are many cases inside the "closed-loop", an official said on Tuesday.
Hong Kong will begin offering Covid-19 vaccines for children over the age of five, as the city-state suspends classes in kindergartens and primary schools, its chief executive Carrie Lam said on Tuesday.
Japan will maintain its tight entry restrictions until the end of February, prime minister Fumio Kishida said on Tuesday.
Americas:
Canadian prime minister Justin Trudeau has said the government has secured enough Covid-19 vaccine doses for all eligible Canadians to receive a booster as well as a fourth dose.
Mexican president Andres Manuel Lopez Obrador announced he has tested positive for Covid-19 for a second time, saying that he only has light symptoms.
Pfizer Inc chief executive Albert Bourla has said a redesigned Covid-19 vaccine that specifically targets the Omicron variant is likely needed and his company could have one ready to launch by March.

Novak Djokovic's family confirmed the tennis star had tested positive for Covid-19 on 16 December. However, they shut down a press conference after reporters asked if he then attended an event on 17 December where parents posted photos on social media showing Djokovic and children not wearing masks.

Helen Davidson
Taiwan has tightened its entry requirements for new arrivals in the latest move to head off a large-scale Omicron outbreak.
Beginning today, passengers on long-haul flights from the Americas, Europe, the Middle East, Australia and New Zealand will be given a rapid PCR test at the airport immediately upon arrival.
Those who test positive will be taken directly to hospital with their luggage. Those who test negative will be allowed to continue through the arrival process, which includes a non-rapid PCR test at the airport (with results sent later), being sprayed with disinfectant, and put in designated transport to a quarantine hotel or facility.
Health and welfare minister Chen Shih-chung said:
We hope to move the 'line of defense' to the front line to reduce the risk of infection during the entry process.

As the incubation period of the Omicron variant [of SARS-CoV-2] is much shorter, we believe a large proportion of infected travellers will be detected at the airport under the new policy."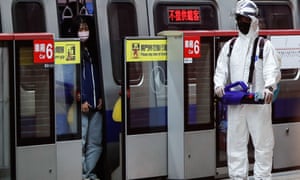 Taiwan's entry requirements are already extraordinarily strict. No non-residents/citizens are allowed in without prior exemption, and everyone must have a negative PCR test taken no more than 48 hours before their flight. On arrival passengers are tested and ordered into a quarantine hotel or government facility for 14 days (or currently, temporarily, for seven, if they have an eligible home they can complete the second seven days in). They then have another seven days of self-health management avoiding crowds and restaurants. Across the three weeks they must have three PCR tests and three rapid tests.
Taiwan has been one of the world's most successful preventers of large-scale outbreaks and recently went more than a month without a single locally transmitted case. However with Omicron spreading around the world, and higher numbers of arrivals due to the Lunar New Year festival at the end of the month, there has been a rise in imported cases and a domestic cluster of at least 31 people linked to the international airport.
Six new local cases were reported on Monday.
Mask rules have been tightened again, with exceptions removed for exercise, giving speeches, taking photos and other specific circumstances. People can still take their mask off in some scenarios, including eating or drinking at venues, in forest recreation areas, and in spas and saunas.
Beijing Games organisers back Covid controls
Beijing will not adjust its Covid-19 prevention measures for the Winter Olympics unless there are many cases inside the "closed-loop", Huang Chun, an official with the Beijing Games organising committee, said on Tuesday.
China has reported some cases of the Omicron variant as it battles small-scale outbreaks in several regions, less than a month before the Games are due to kick off on 4 February.
The "closed-loop" bubble, in which participants can only leave if they are exiting the country or undergo quarantine, was activated earlier in January.
Restrictions at Games venues in Beijing and Zhangjiakou in neighbouring Hebei province will be much tighter than those during last summer's Tokyo Olympics.
But organisers have room to make adjustments to Covid-19 control measures if necessary, said Huang, at a briefing in Beijing.
As in Tokyo, no international spectators will be allowed at the Beijing Winter Games, and local attendance at event sites is likely to be curtailed, although specific arrangements have not been released.
Trudeau says enough vaccines for all Canadians to get fourth dose
Canadian prime minister Justin Trudeau has said the government has secured enough Covid-19 vaccine doses for all eligible Canadians to receive a booster as well as a fourth dose, according a statement from Trudeau's office.
Trudeau made the comments in a call with Canada's provincial and territorial premiers.
The Prime Minister provided reassurance that the federal government has secured enough vaccine doses for all eligible Canadians to receive a booster as well as a fourth dose, if that becomes necessary," the statement read.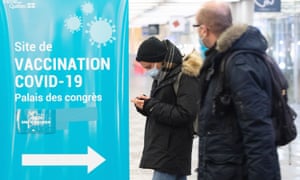 Trudeau said the government also plans to deliver 140 million rapid Covid tests to provinces and territories in January, according to the statement.
This month, Canada broke its one-day record for the highest number of people hospitalised with Covid-19. Last Friday, officials said new daily cases had soared by 65% in the previous week, threatening healthcare systems.
Official data show that as of Dec. 18, 87.3% of Canadians aged 12 and older had received two shots while the figure for children aged 5 to 12 was just 1.3%.
Updated
China reported 110 new locally transmitted Covid-19 cases for Monday, the National Health Commission said in its daily report on Tuesday.
Of the new local cases, 87 were reported in Henan, 13 in Shaanxi, and 10 in Tianjin, the commission said.
A further 82 new imported cases were detected in 11 provincial-level regions, according to the commission. No deaths were recorded.