Australia's Environment Minister Tanya Plibersek has unveiled a ten-year conservation plan to ensure there are no "new extinctions of plants and animals."
On Oct. 4, the Labor minister released "The Threatened Species Action Plan 2022-2032" which outlines a series of ambitious targets, including preventing new extinctions, conserving 30 percent of Australia's land mass, adding 10 threatened species to the priority species list, and spending $224.5 million on the Saving Native Species program.
"These are the strongest targets we've ever seen," Plibersek said in a statement. "Based on input from researchers and experts from the community, this plan identifies 20 priority places and 110 priority species and will guide recovery actions that will benefit a broad range of threatened species and their habitats."
"Our native wildlife continues to be threatened by climate change, by natural disasters, by feral predators, and by human activity," she said.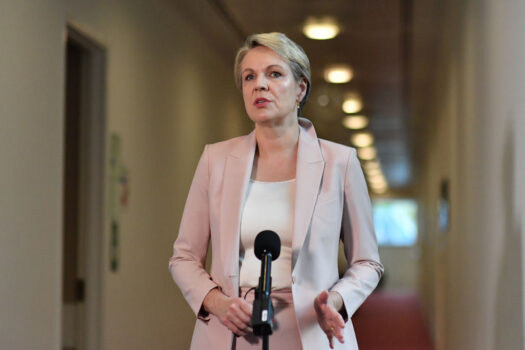 The Action Plan says the country's National Reserve System covers around 22 percent of Australia's landmass, around 169 million hectares. Upping the amount of protected land mass will mean adding another 61 million hectares.
"Within the five-year timeframe of this Action Plan target, we will aim for an increase of 50 million hectares of land and sea managed for conservation by 2027, putting us firmly on the trajectory to meet our 30 percent goal by 2030," it stated.
Currently, 45 percent of Australian water systems, or four million square kilometres, is considered a Marine Protected Area.
Liberal Party Senator Gerard Rennick said he would not oppose measures in the Action Plan to tackle feral animals but said more detail was needed around the 30 percent of protected land mass.
"There's already a lot of land already put aside—I don't know whether or not that includes Native Title—if it was over and above Native Title, that'd be a hell of a lot of land," he told The Epoch Times.
Environmental Regulation Trumps Local Industry
Former Queensland Premier Campbell Newman has warned excessive environmental protection laws have limited local Australian industries from thriving, instead forcing them into importing from overseas as part of the globalisation movement.
"Once upon a time in our little towns and villages out on the Great Dividing Range, we had areas known as 'state forest.' We had sawmills that supported little communities with jobs, and we milled our own timber," he previously told The Epoch Times.
"But what happened from the late 80s onwards, we basically turned those state forests into national parks and kicked out the saw millers and farmers. And now we import timber," he added. The outsourcing of supply chains to global manufacturers has put pressure on the local building industry in recent months following the war in Ukraine.
Newman also said there used to be fishing fleets along Australia's eastern coastline from Victoria to northern Queensland.
"We used to basically be self-sufficient in seafood. Same deal. We had scientists say no, no, no, we're overfishing," he said. "And we basically shut down the fisheries, brought back licences, and there are no fishing fleets like there used to be. Now we import seafood."
Australia imports around 70 percent of its seafood from all over the world.