Southeast Asia's tourism giant is looking to China to refloat its battered travel industry
Partnerships with digital firms and social media influencers are among the strategies to win back Chinese visitors
services are included) and provides jobs for almost one in 10 Thais, according to the International Labour Organisation.
But with borders closed and planes grounded across the world, this pillar of the Thai economy faces an uncertain future. The TAT's best-case scenariois that 14-16 million people will visit this year, more than the 8.5 million projected by the University of the Thai Chamber of Commerce, but far fewer than last year's record of 39.8 million, a figure that made it far and away Southeast Asia's most popular tourism destination.Amid such unsettling figures, Kunjara Na Ayudhya knows one thing for sure: that "China will remain Thailand's and Asia's biggest outbound tourist market".Chinese accounted for more than one in four of the tourists who visited Thailand last year and their importance has only been magnified by the Covid-19 pandemic. Given that long-haul travel is not expected to rebound quickly, Thailand's tourism strategy is now focused squarely on the short-haul travellers who are most likely to return first: visitors from China.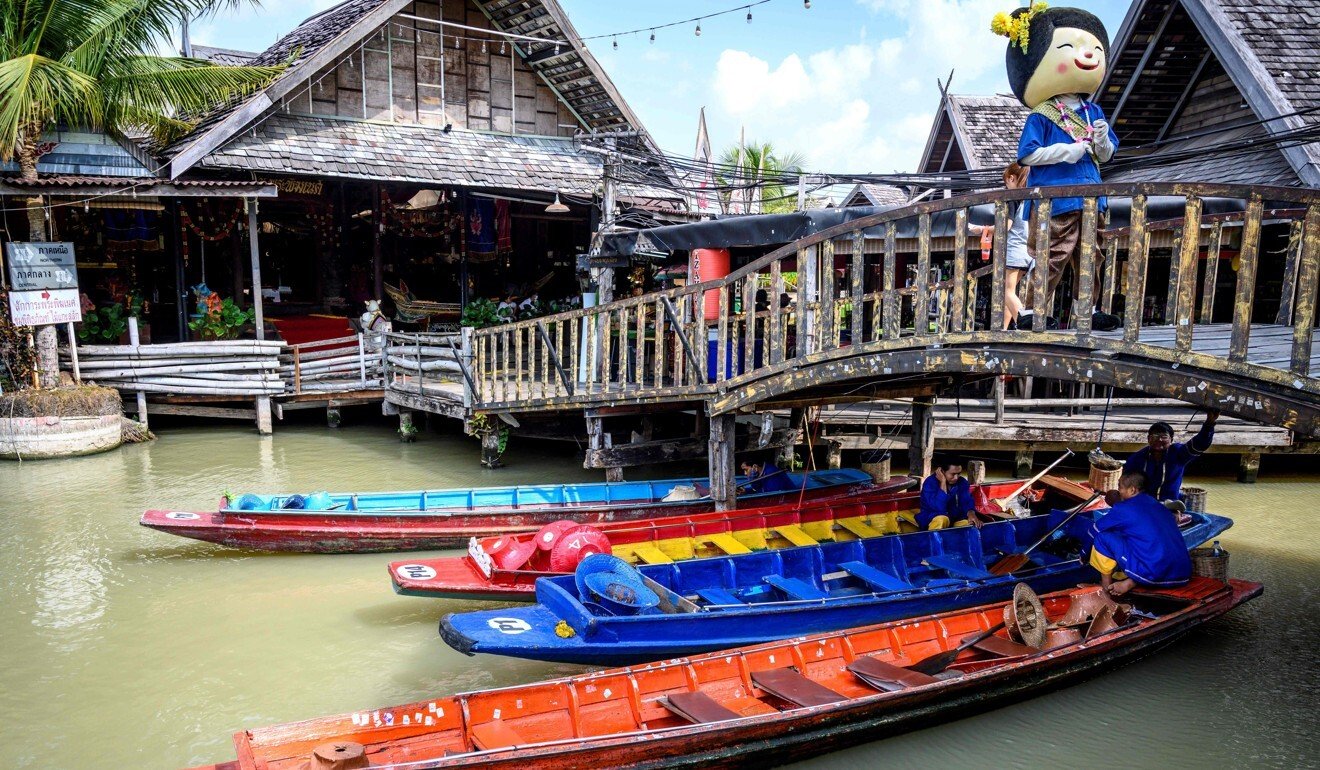 Empty tourist boats at the Floating Market in Pattaya. Photo: AFPRefloating this market will be crucial not only to resurrecting Thailand's economy, but also those of neighbouring Myanmar, Laos and Cambodia. The ability of these countries to revive their own tourism industries depends in part on Thailand's successful reopening, as the airports of Bangkok serve as a hub for the region.
Doing so will be no easy task as Thailand will face increased competition from regional competitors like Vietnam and the Philippines, both of which had been in the middle of their own tourism booms before the virus struck, attracting 8.5 million and 8.26 million foreign arrivals respectively last year.
Both will be hoping to take out a chunk of the visitors who would traditionally pick Thailand. It will also face competition from China itself, with the pandemic having boosted interest in travel within the country. "We cannot leave it too late to prepare for Chinese arrivals," Kunjara Na Ayudhya said. "International competition for this market is bound to be intense."
FISH WHERE THE FISH ARE
Complicating matters is the fact that wholesale group travel – previously the sector's backbone – seems unlikely to bounce back swiftly. A survey of more than 1,000 seasoned travellers in major Chinese cities co-authored by the industry consultancy C9 Hotelworks found that 71 per cent of those planning foreign travel in 2020 would consider travelling to Thailand, and 83 per cent of this group said they would want to go as independent travellers.CORONAVIRUS UPDATEGet updates direct to your inboxSUBSCRIBEBy registering, you agree to our T&C and Privacy Policy
The consultancy also believes older travellers will be slower to return to the market, noting that more than 80 per cent of those who responded to its survey were between the ages of 20 and 40.
There was additional good news for Thailand: half of those surveyed said they would spend 15,000 yuan (US$2,100) per trip.
C9 managing director Bill Barnett said targeting those predisposed to travel was a good way to drum up business in a short period of time. "Fish where the fish are" has become a mantra of his, repeated to travel professionals around the region in a series of webinars he co-hosts in which he urges businesses to pursue travellers likely to return to familiar territory, over first-timers who will take longer to convince.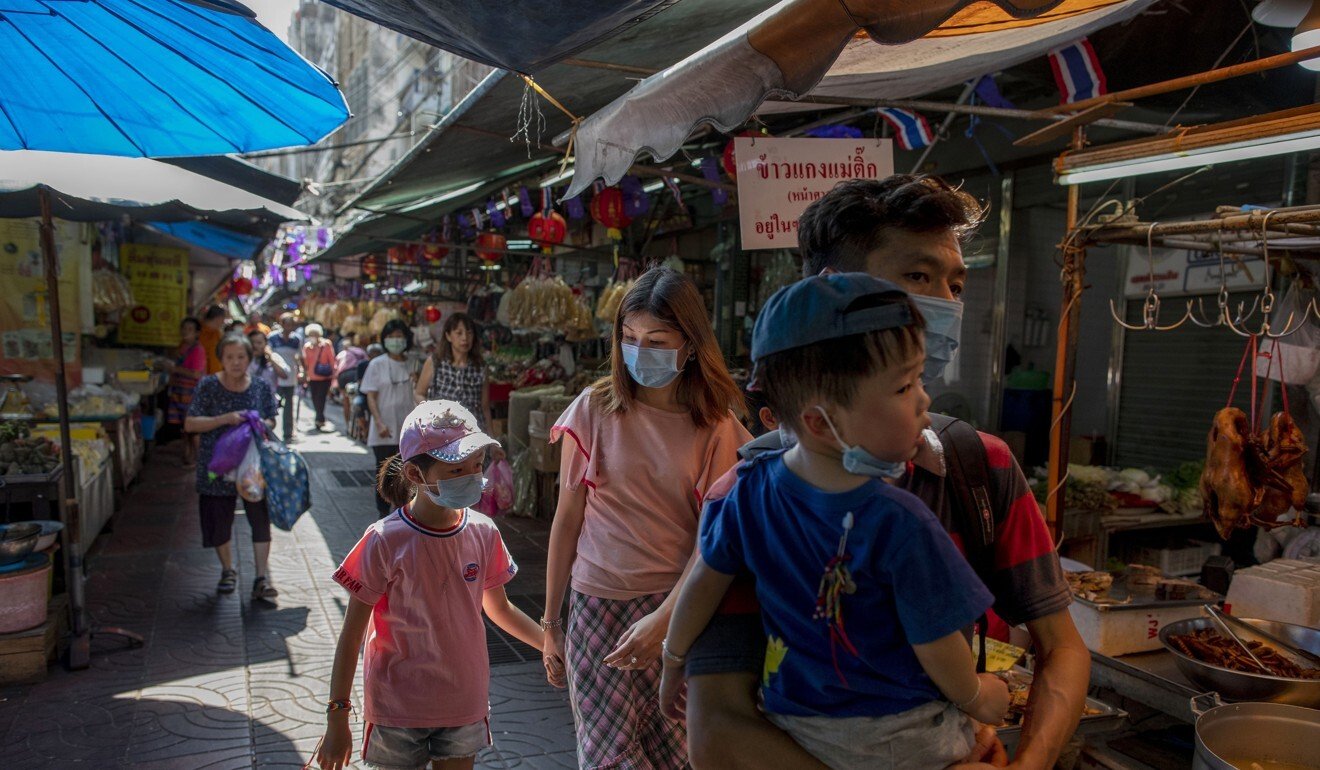 Asian tourists in Bangkok's Chinatown in February, before flights were grounded. Photo: AP
He believes that despite the economic pressures facing travellers, their primary concerns are in fact health and safety. "Open markets when they're safe," he said. "We are by no means saying 'rush to market'."
Chinese may be among those most sceptical that it is indeed safe to return. Even before the pandemic, the industry was reeling from an incident in 2018 in which a poorly designed boat capsized in bad weather off Phuket, killing 47 Chinese tourists.While Thailand responded to the incident with a series of new health and safety measures, the damage to Phuket's image had been done. The number of Chinese visiting the island plummeted after the incident and has never fully recovered.
To ease concerns over the coronavirus, hotels have embraced new protocols, from food safety to physical distancing, and want people to know it.
"Our first priority is to make all guests feel secure about health and hygiene," said Kris Priyajana, general manager of X2 Khao Lak Anda Mani Resort. "Being a small property, we can provide the luxury of space, privacy and distance."
TAT will reinforce that message, transforming its "Amazing Thailand" brand into "Amazing Trusted Thailand".
NEW ACTIVITIES
Beyond addressing safety concerns, businesses are also developing new activities to appeal to experienced travellers. Expique, known for its nighttime excursions in open-air tuk-tuks, is gearing up to cater to individual travellers and smaller groups craving personalised experiences. China is "a bigger opportunity than ever", said founder Simon Philipp.
The company plans to offer tailored cooking classes and market tours by July. Philipp has had interest from Airbnb Experiences, the activity and events platform of the short-term accommodation giant. "They have big Chinese demand but limited [Chinese language] supply," he said.
The Peninsula Bangkok has partnered with James Liang, the CEO of Trip Group, parent company of Ctrip, by far the biggest online travel agent in China. The campaign labelled "Boss Recommends" will highlight experiences outside the hotel with Liang's personal stamp of approval.The Peninsula has also turned to platforms like Fliggy, where individual brands can sell products and packages, then receive payment directly through the site's integrated Alipay system. Both companies are owned by Alibaba, which also owns the South China Morning Post.
From the earliest days of the shutdown in Wuhan, TAT posted uplifting messages of support and solidarity on WeChat and other platforms. On Douyin, better known outside China for lip-synching and choreographed dance numbers shared on its international version TikTok, TAT has continued to work with influencers like Wenyiqianer and her half million followers to maintain an active online presence throughout the crisis. Finding the right platform to reach consumers is key, whatever the message. Vanessa Zhu, director of Delivering Asia's Shanghai office that conducted the survey with C9, said there was an unexpected benefit of the prolonged lockdown. China's digitally connected population used their time online to "gain a lot of information about destinations they want to travel to, local foods they want to taste, all saved in their to-do list in their phone".
Even before the pandemic, the authorities were promoting ways to increase tourism, including schemes that give visitors discounts of up to 70 per cent on shopping. Other measures under discussion included the extension of opening hours of entertainment venues in destinations like Pattaya, Phuket and Krabi. To support Thai businesses, TAT has been organising webinars and video clips to provide the industry with up-to-date information and helping them to prepare for the return of tourists in the post-Covid-19 era.
Critically, discussions are also being held about the possibility of fast-tracking travellers from key markets, including China, if they can produce medical certificates and proof of travel insurance.
WAITING FOR TAKE-OFF
Despite these great efforts to tempt tourists back, it is as yet uncertain when exactly travel to Thailand will be viable again.
International flights are scheduled to resume on July 1, a month later than previously announced. And even when flights do eventually resume, capacity will be a fraction of pre-Covid-19 levels.The troubled national carrier Thai Airways, now facing restructuring under Thailand's receivership and bankruptcy laws, had previously offered a twice-daily service to Shanghai; from July, it will offer just two rotations a week. The other Thai Airways destinations in China – Beijing and Guangzhou – will be served by one and two flights a week respectively.
One solution may lie with low-cost carriers, which have more flexibility than traditional airlines to increase capacity quickly.
Air Asia is offering one rotation a day between Bangkok and Shanghai beginning on July 1 and two rotations with the megacity of Chongqing, among other destinations in China. Low-cost carriers may also add direct flights from Phuket and Chiang Mai to Chinese cities.
For TAT's Kunjara Na Ayudhya, the "best-case scenario" would be if, come October and the Chinese National Day holidays, the number of Chinese travellers had returned to 70 per cent of last year's level.