MacKenzie Bezos, the former wife of Amazon founder Jeff Bezos, announced on Tuesday on Twitter and through a Medium blogpost  that she has given $1.67 billion to charities to date. She also announced that she has formally changed her name to MacKenzie Scott. 
The nonprofit organizations she has donated to fall under nine categories: racial equity, LGBTQ equity, gender equity, economic mobility, empathy and bridging divides, functional democracy, public health, global development and climate change. Recommended For You
Scott signed the Giving Pledge — a promise to give away over half of her wealth away either during their lifetimes or in their wills — in May 2019. Scott is worth an estimated $58 billion as a result of her divorce in mid 2019 from Bezos, in which she received a quarter of his Amazon stake, worth $36 billion at the time. 
Of the nine causes, she has given by far the most to racial equity, with $586.7 million in gifts. Her second largest giving area is economic mobility, at $399.5 million in charitable donations. Some of the nonprofit organizations she donated to include Asian Americans Advancing Justice, Black Girls CODE, Blue Meridian Partners, Center for Policing Equity, George W. Bush Presidential Center, Howard University, Obama Foundation and the United Negro College Fund. 
"The Glasswing is a tiny butterfly with invisible wings that can carry 40 times its own weight," Scott wrote. "Over the last fourteen months, I've been inspired by the capacity of individuals to lift others: an association of women professionals mentoring girls through the same program that paid for their own educations; a network of low-income families lifting themselves out of poverty by supporting and advising each other."
Though Scott has remained largely silent since the divorce, she provided some insight in her Medium post to her process so far starting last fall. "I asked a team of non-profit advisors with key representation from historically marginalized race, gender, and sexual identity groups to help me find and assess organizations having major impact on a variety of causes," she writes. 
Scott adds: "Though this work is ongoing and will last for years, I'm posting an update today because my own reflection after recent events revealed a dividend of privilege I'd been overlooking: the attention I can call to organizations and leaders driving change."
When Scott was still married to Bezos, the couple announced a pledge of $2 billion in November 2018 towards two causes: supporting homeless families and funding the creation of a national network of Montessori-inspired preschools in underserved communities. Called the Bezos Day One Fund, the Amazon founder made around $100 million in donations in both 2018 and 2019  towards  nonprofit groups dedicated to providing relief for homeless families. Bezos also announced a $10 billion Bezos Earth Fund in February, dedicated to fighting climate change. He has yet to announce an update on this philanthropic initiative. Jeff Bezos has not signed the Giving Pledge. 
Scott ended her note with a promise to continue sharing her charitable giving publicly "in the months and years to come."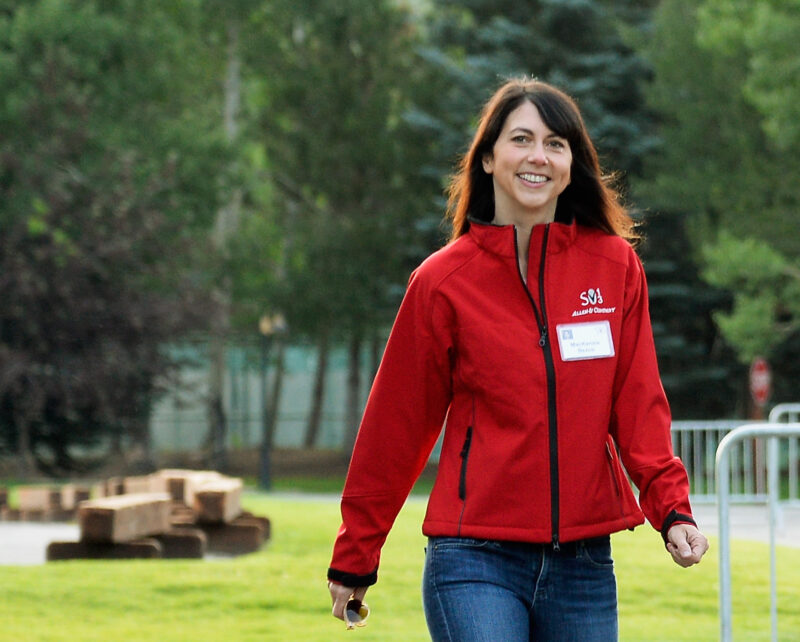 MacKenzie Bezos ha cambiato cognome e donato 1,7 miliardi $ in beneficenza
MacKenzie Bezos, ex moglie del fondatore di Amazon Jeff Bezos, ha annunciato martedì su Twitter e tramite un blogpost su Medium di aver devoluto finora 1,67 miliardi di dollari in beneficenza. Ha anche annunciato di aver cambiato formalmente il suo nome in MacKenzie Scott.
Le organizzazioni no profit che hanno ricevuto le sue donazioni perseguono nove diverse finalità: uguaglianza razziale, diritti LGBTQ , uguaglianza di genere, mobilità economica, empatia e ponte tra le divisioni, democrazia, sanità pubblica, sviluppo globale e cambiamento climatico.
Nel maggio 2019 MacKenzie Scott ha firmato il Giving Pledge: una promessa che implica la donazione di oltre la metà della sua ricchezza durante la propria vita o nel proprio testamento. La signora Scott ha un patrimonio di circa 58 miliardi di dollari per via del suo divorzio avvenuto a metà 2019 da Jeff Bezos, per mezzo del quale ha ricevuto un quarto delle sue partecipazione in Amazon, per un valore attuale di 36 miliardi di dollari.
Delle nove finalità benefiche, la gran parte delle donazioni sono andate a favore dell'equità razziale per un valore complessivo di 586,7 milioni di dollari. Segue la causa della mobilità economica che ha ricevuto 399,5 milioni di dollari in donazioni. Alcune delle organizzazioni no profit che hanno ricevuto donazioni della ex moglie di Bezos sono: Asian American Advancing Justice, Black Girls CODE, Blue Meridian Partners, Center for Policing Equity, George W. Bush Presidential Center, Howard University, Obama Foundation e United Negro College Fund.
"La Glasswing è una piccola farfalla con ali invisibili che può trasportare 40 volte il suo peso", ha scritto MacKenzie Scott. "Negli ultimi quattordici mesi, sono stata ispirata dalla capacità delle persone di sollevare gli altri: un'associazione di donne professioniste che guidano le ragazze attraverso lo stesso programma che ha pagato per la loro istruzione; una rete di famiglie a basso reddito che si sollevano dalla povertà sostenendosi e consigliandosi a vicenda".
Sebbene la Scott dopo il divorzio non abbia fatto molte dichiarazioni, ora, nel post su Medium, ha fornito alcune informazioni sulle decisioni prese sin dall'inizio dello scorso autunno. "Ho chiesto a un team di consulenti con una rappresentanza chiave di gruppi storicamente emarginati in base alla razza, al genere e all'identità sessuale, di aiutarmi a trovare e valutare le organizzazioni che hanno un grande impatto su una molteplicità di cause", scrive.
La Scott aggiunge: "Anche se questo lavoro è in corso e durerà per anni, sto pubblicando un aggiornamento oggi perché la mia riflessione dopo gli eventi recenti ha rivelato un privilegio che stavo trascurando: l'attenzione che posso richiamare sulle organizzazioni e sui leader che guidano il cambiamento".
Quando la Scott era ancora sposata con Jeff Bezos, la coppia ha annunciato un impegno di 2 miliardi di dollari nel novembre 2018 per due cause: il sostegno alle famiglie dei senzatetto e il finanziamento alla creazione di una rete nazionale di scuole materne ispirate al metodo Montessori in comunità scarsamente servite. All'interno del programma di sovvenzioni chiamato Bezos Day One Fund, il fondatore di Amazon ha elargito donazioni per circa 100 milioni di dollari sia nel 2018 che nel 2019 a gruppi no profit dedicati a fornire assistenza alle famiglie di senzatetto. Bezos ha anche annunciato un fondo Bezos Earth da 10 miliardi di dollari a febbraio, dedicato alla lotta ai cambiamenti climatici. Tuttavia non ha ancora annunciato un aggiornamento su questa iniziativa filantropica. Jeff Bezos non ha firmato il Giving Pledge.
MacKenzie Scott ha concluso la sua nota con la promessa di continuare a condividere pubblicamente le sue donazioni di beneficenza "nei mesi e negli anni a venire".