TD Guest Writer
Guest Writers are not employed, compensated or governed by TD, opinions and statements are from the specific writer directly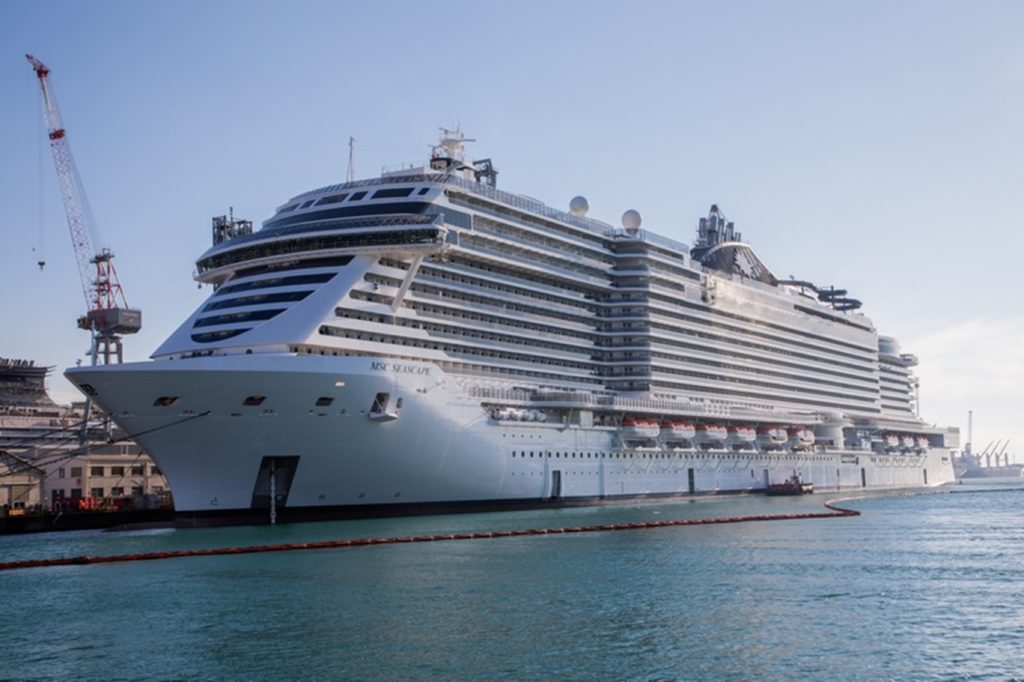 MSC Cruises took delivery of its new fun-filled flagship, the breathtaking MSC Seascape – the largest cruise ship built in Italy – today. The ceremony was attended by Gianluigi Aponte, the shipowner and the Founder and Executive Chairman of MSC Group. Pierfrancesco Vago, Executive Chairman of MSC Cruises, Pierroberto Folgiero, CEO of Fincantieri, and other regional and local authorities, dignitaries, significant travel adviser partners, and journalists were also present at the event.
During the ceremony, Cristiano Bazzara, Fincantieri's shipyard director, gave an ampoule containing the water that first contacted the hull when the ship was floated out earlier this year to Captain Roberto Leotta, Master of MSC Seascape.
"MSC Seascape is the second ship to enter service this year, bringing our modern fleet to 21 ships," said MSC Cruises Chief Executive Officer Gianni Onorato. We are pleased to welcome her to our fleet as the second Seaside EVO ship and the final member of the revolutionary Seaside class. MSC Seascape intends to link guests with the sea by providing a variety of outdoor locations for them to experience the stunning beauty of The Caribbean, where she will spend her maiden season. With over 13,000 m2 of outdoor area and an expansive waterfront promenade, the ship's innovative design enables visitors to enjoy their getaway to The Caribbean and disconnect."
Following a star-studded Naming Ceremony, MSC Seascape will sail to Miami for an initial season in the Caribbean on Wednesday, 7 December 2022, bringing MSC Cruises' distinctive European style and glamour to Miami.
The ship's classic design, long list of excellent features, and approximately 13,000 m2 of the outside area make it ideal for the region's warm and sunny weather. MSC Seascape will be MSC Cruises' second Seaside EVO class ship and the fourth in the Line's extremely innovative Seaside class, transforming guests' expectations for Caribbean cruising since MSC Seaside initially debuted in Miami in 2017.
MSC Seascape exemplifies the Line's commitment to providing guests with an upgraded experience with each new ship joining the fleet. MSC Seascape promises a one-of-a-kind trip for guests with revamped entertainment programmes, cutting-edge technology and design, and all the favourite elements that distinguish the Seaside class.
MSC Seascape will provide an immersive experience connecting passengers with the sea, thanks to its gorgeous design and spectacular outdoor spaces for rest, eating, and entertainment. • Technologically advanced onboard entertainment options, including the new ROBOTRON – a thrilling amusement ride that combines the breathtaking thrill of a rollercoaster at sea with a personalised DJ music experience • Awe-inspiring entertainment, including six fantastical new productions and 98 hours of exclusive onboard entertainment with interactive elements
700 square metres of dedicated kids' space and cutting-edge amusement options, with newly designed spaces for ages 0 to 17
2,270 cabins, including 12 different types of suites and staterooms with balconies (including the iconic aft suites featured on all Seaside class ships)
11 dining venues, 19 bars and lounges, with many options for 'Al Fresco' dining and drinking
MSC Seascape will offer two distinct 7-night Caribbean itineraries departing from Miami:
Eastern Caribbean: Stops in Ocean Cay MSC Marine Reserve and Nassau, Bahamas, San Juan, Puerto Rico, and Puerto Plata, Dominican Republic.
Western Caribbean: Stops at Ocean Cay MSC Marine Reserve, Cozumel, Mexico, George Town, Cayman Islands, and Ocho Rios, Jamaica.
The ship will be equipped with cutting-edge environmental technologies, such as selective catalytic reduction systems on each of the four Wartsila 14V 46F engines, which will reduce nitrogen oxide emissions by up to 90% by turning the gas into harmless nitrogen and water. The hybrid exhaust gas cleaning technology used by MSC Seascape will remove 98 percent of Sulphur Oxide from its emissions.
The vessel is equipped with best-in-class wastewater treatment systems with purification standards higher than most wastewater treatment facilities on land, as well as advanced waste management systems, ballast water treatment systems approved by the US Coast Guard, cutting-edge systems for preventing oil discharges from machinery spaces, and a variety of effective energy-efficiency improvements ranging from heat recovery systems to LED lighting.
The ship will be equipped with underwater radiated noise management technology to mitigate and isolate the potential effects on marine mammals.