New Zealand will open the domestic border around Auckland in mid-December and let separated Kiwis back home for a Christmas reunion.
Fully vaccinated people and those with a negative COVID-19 test result can enter Auckland from Dec. 15, by which time 90 percent of the country's eligible population can be vaccinated, Prime Minister Jacinda Ardern said on Wednesday.
Auckland, the country's biggest city, has been in lockdown since Aug. 17 after an outbreak of the Delta variant of the novel coronavirus.
The city's 1.7 million residents will regain their freedoms shortly on Nov. 29, after which a vaccine certificate system will be adopted.
"Aucklanders have faced restrictions for an extended period of time to keep the rest of New Zealand safe. But with increased rates of vaccination, it's time to open up the ability to travel again," Ardern said.
"Aucklanders can now book summer travel and accommodation with confidence, and businesses inside Auckland and around the rest of the country can plan for summer travellers."
However, unvaccinated citizens who attempt to leave Auckland will be fined by the police, who will take random spot checks similar to drink-driving patrols. People breaking COVID-rules to enter the city will face an infringement fine of NZ$1,000 ($700.24).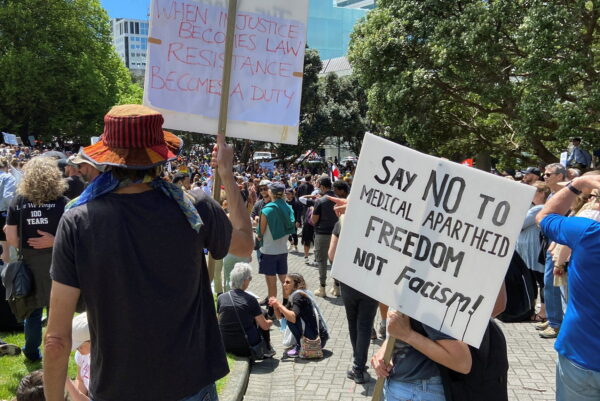 This comes after thousands of protestors rallied in Wellington, New Zealand's capital, over the government's vaccination mandates on Nov. 9 after the Ardern government announced a "No Jab, No Job policy for thousands of workers in October.
The Prime Minister also said that New Zealand will get rid of mass lockdowns and move into a traffic-light system in early December, with the specific date to be determined at a cabinet meeting on Nov. 29.
What remains unknown is when the country will open up to the rest of the world, a decision to be made in the next fortnight, a government spokesman told AAP.
The opposition National Party has accused the Ardern government of fear-mongering as it says allowing overseas Kiwis back is "opening the flood gates" for the virus.
"This is an awful situation for families … having Christmas dinner with an empty seat at the table waiting for a family member to come home," opposition leader Judith Collins said.
However, Ardern refuted the accusations saying: "No one is fear mongering. We are simply describing as the reality of what we will need to manage."
"This is a considerable change in the way that we have managed COVID-19 and we're ensuring that we step through these changes deliberately and carefully."