Former Japanese Prime Minister Shinzo Abe warned China on Wednesday not to "misjudge" the situation in the East China Sea and "go astray" in its actions during a virtual address to a Taiwanese think tank on Japan-Taiwan relations.
His speech angered Beijing, which said via its foreign ministry spokesperson that it "deplores and rejects" Abe's statements, and has lodged "stern" complaints with Japan through diplomatic channels.
"Taiwan is China's sacred territory, where no external interference shall be tolerated," Wang Wenbin, spokesperson for China's foreign affairs ministry, told reporters at a press briefing.
Kuo Yu-jen, a professor at Taiwan's National Sun Yat-sen University and chief executive officer for the Institute for National Policy Research who attended the forum, told The Epoch Times, "Abe mentioned three times that he hoped Chinese leader Xi Jinping and the Beijing regime would not misjudge; firstly, the United States and Japan's determination to protect Taiwan, secondly, Japan's determination to defend its territory in the East China Sea, and thirdly, that launching war against Taiwan would be suicidal for the Chinese economy.
"From Abe's speech, I can feel that he shares the same opinion with Japan's current Prime Minister Fumio Kishida," Kuo said.
Another Taiwanese professor who attended the forum, Tsai Hsi-hsun, director of the Institute of Japanese Political and Economic Studies at Tamkang University, told The Epoch Times, "[I think] the key message [Abe delivered] is that: A Taiwan emergency is a Japanese emergency, and therefore an emergency for the Japan–U.S. alliance."
A recent graduate of China's most prestigious Peking University who listened in on the remarks told The Epoch Times in a phone interview, on the condition on anonymity, that he agreed with Abe's remarks on the Taiwan issue, and felt that Wang's criticism of the speech was ridiculous. In China, people are put in prison for pointing out faults of the regime.
"[Abe] blatantly blabbered utter nonsense and wantonly leveled criticism on the Taiwan question and made presumptuous remarks about China's internal affairs," Wang had also said. "… Anyone who dares to go back to the old path of militarism and challenge the bottom line of the Chinese people will surely 'smash their head and bleed!'" Wang said, quoting a Chinese idiom.
The Chinese young man said it was Wang who "talked nonsense."
"Wang's words are simply inciting nationalist sentiments, which is not the proper attitude to respond to challenges and does not solve the problem," he said.
Abe's Speech
Abe delivered a 20-minute speech to the Impact Forum, which is hosted by Taiwan's Institute for National Policy Research, on Dec. 1 and then answered questions from attendees for about 30 minutes.
China, the neighbor besides Japan and Taiwan, which is ruled by the ambitious Chinese Communist Party (CCP), was one of the main topics that Abe talked about—especially the CCP's threat of armed invasion of Taiwan that would pose a serious threat to Japan.
"The Senkaku Islands (which Beijing calls the Diayou Islands), the Sakishima Islands, and Yonaguni Island are only about 100 kilometers (62 miles) away from Taiwan," Abe said. "A Taiwan emergency is a Japanese emergency, and therefore an emergency for the Japan–U.S. alliance."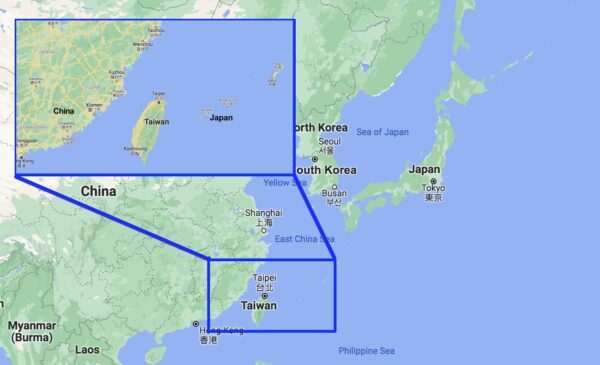 Abe urged the Beijing authorities to consider the situation correctly, because for China, he said that "taking military adventures is tantamount to taking the road to economic suicide."
"China is indeed huge and has a close relationship with the world economy. If military adventurous actions are taken against Taiwan, it will have a very serious impact on the world economy. In other words, China would have suffered a major blow, and the gains outweighed the losses," Abe said.
Historically, Taiwan was a part of China. In 1949, China's then-ruling regime fled to the island as the CCP occupied the mainland. In the recent decades, the CCP has made claims that the island is its own, despite the fact that Taiwan is a de facto independent country, with its own military, democratically-elected government, and constitution.