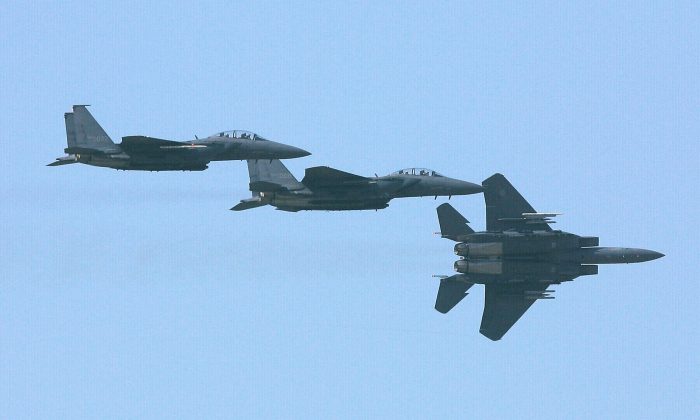 The South Korean Airforce F15K team fly in formation during the Seoul Airshow 2009 and Seoul International Aerospace and Defense Exhibition 2009 at the Sungnam military air base in Seoul, South Korea, on Oct. 20, 2009. (Chung Sung-Jun/Getty Images)
Two South Korean air force planes reportedly collided in mid-air shortly after takeoff during flight training and crashed near their base on Apr. 1, killing all four pilots aboard the planes, authorities said.
The two planes, identified as KT-1 trainer aircraft, collided five minutes after taking off from their base in the southeastern city of Sacheon at 1.37 p.m. on Friday, Yonhap News Agency (YNA) reported, citing the air force and local disaster response officials.
Local officials earlier said that three pilots were killed and one was missing in the crash. The fourth pilot was later found dead. The air force said that all two student pilots and two flight instructors aboard the two planes attempted an emergency escape but they did not survive the crash.
More than 60 firefighters and emergency responders, as well as some 130 troops, had been dispatched to the crash sites for a search operation.
YNA stated that there have been no reports of civilian casualties resulting from the accident, but the air force has formed a team to investigate the cause of the accident and damage.
The KT-1 aircraft is a two-seat, single-engine basic training aircraft that had been in service since 2000, according to YNA. It was the first completely indigenous aircraft jointly developed by the state-run Agency for Defense Development and a local aerospace company, Korea Aerospace Industries.