Hundreds of people will be flown out of Afghanistan each day as British troops race against the clock to evacuate the remaining UK nationals and eligible Afghans following the dramatic fall of the country's Western-backed government to the Taliban.
A spokesman for Prime Minister Boris Johnson said on Monday that he believes "at least hundreds every day will be leaving [on] the flights, but obviously this is a fluid situation."
Asked how long the evacuation will last, the spokesman said the government "want[s] to obviously continue to do this as long as we are able to do so and as long as it is safe to do so."
Defence Secretary Ben Wallace said that while civilian and charter flights at Kabul airport are currently suspended, the military part of the airport is still "open and secure."
"If we manage to keep it in the way we're planning to, we should have [the] capacity for over 1,000 people a day to exit to the United Kingdom," Wallace told "BBC Breakfast" on Monday.
"Currently, this is not about capacity on planes, it's about processing speeds, so that's why I'm trying to fix that."
He said "over 600 forces" were sent in over the weekend to keep the airport functioning and to process and escort people onto planes.
Wallace told Sky News that 300 British citizens had been evacuated on both Saturday and Sunday. The government plans to get 782 Afghans out over the next two days, and the aim is to evacuate 1,200–1,500 people each day.
Asked when he expects to have a full evacuation, Wallace told LBC radio that the plan is to evacuate all British passport holders, British officials, and eligible Afghans by the end of the month.
"At the very least, our obligation has to be, is [to get as] many of these people through the pipeline as possible," he said.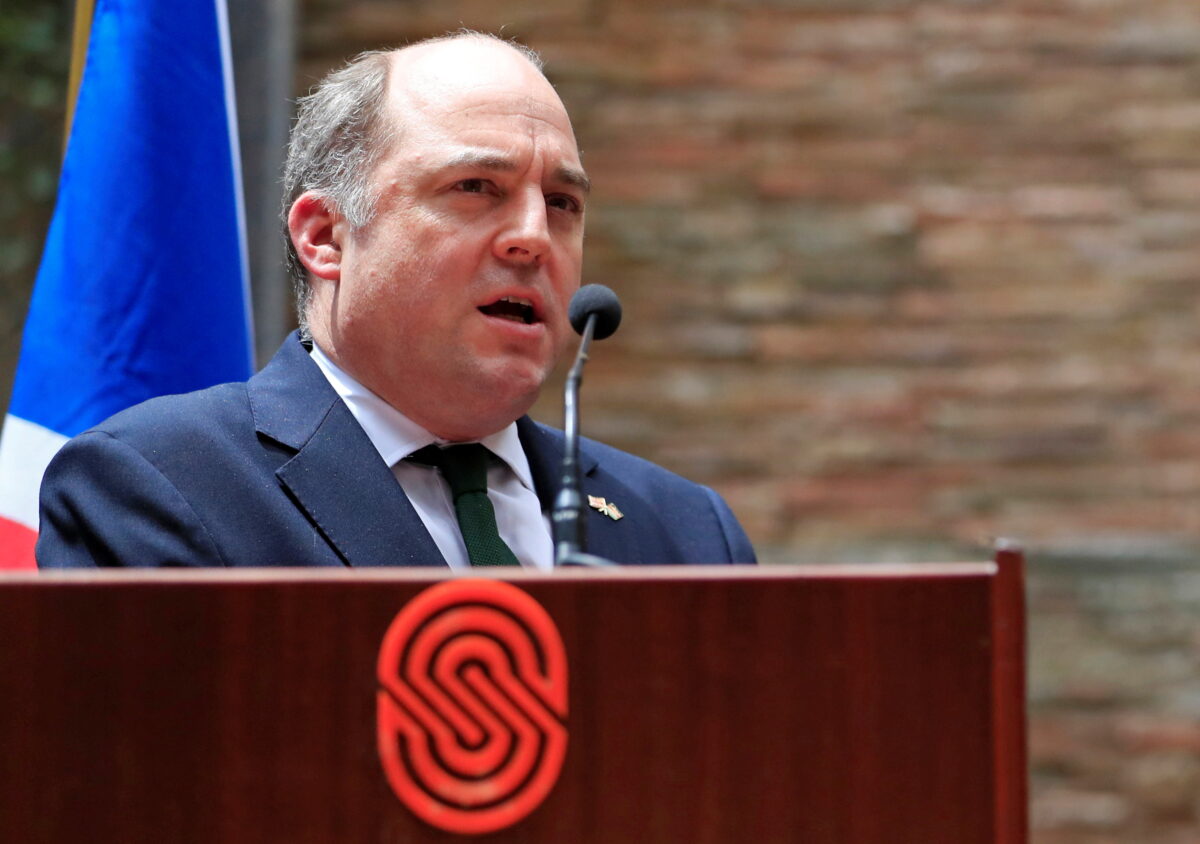 Choking with emotion, Wallace said he regrets that "some people won't get back," and that the UK will have to do its best in working with other countries to process those people.
It's sad that "the West has done what it's done. And we have to do our very best to get people out and stand by our obligations—and 20 years of sacrifices—it's what it is," Wallace said.
Speaking with Sky News, Wallace acknowledged that the Taliban is in control of Afghanistan and he had sought safe passage from the Taliban for people the British government is helping.
"I don't know about a win. I acknowledge that the Taliban are in control of the country, I mean, you don't have to be a political scientist to spot that's where we're at," Wallace said when pressed to acknowledge that the Taliban had won the war.
"I have engaged to a third country yesterday to make sure we seek assurances from the Taliban to protect our people and indeed the people we're trying to work to get out."
Asked if people who don't want to live under Taliban rule can leave the country, spokesperson Suhail Shaheen told the BBC on Sunday that the Taliban wants all Afghans to stay as it needs "talents" to rebuild the country.
Wallace said he had assurance from the Taliban leadership via a third country that the evacuees "would not be interfered with and that they wanted to demonstrate that people could come and go to Afghanistan as freely as possible."
However, Wallace said he does acknowledge that the situation may deteriorate and he's working with the UK home secretary and foreign secretary to accelerate the process, including finding a way to accept Afghans without the need of passports.
Apart from people still in Afghanistan, Wallace said there are "a significant number" of Afghans who managed to get out of the country over the last few weeks and are in refugee camps around the world.
"We're going to be processing them wherever they are, and we're going to continue to do that after we've gone … we will do everything we can to bring as many people as possible," Wallace said.
PA contributed to this report.