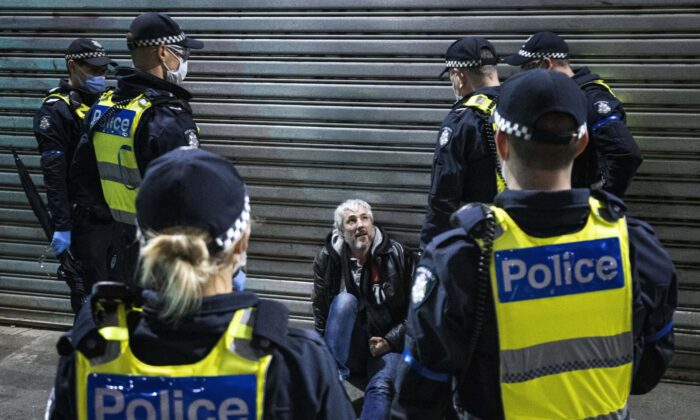 A man is detained and questioned by Police during a proposed anti-lockdown protest in Melbourne, Australia, on Aug. 11, 2021. (AAP Image/Daniel Pockett)
A group of protesters gathered at Melbourne's Flinders Street Station on Wednesday evening to oppose the extension of the state's sixth lockdown.
Protester numbers were not as large as last week's protest, but Victoria Police reported that 73 arrests were made for breaching Chief Health Officer directions.
Victoria police prepared patrol cars, riot vans, and mounted police in anticipation of the protest that was planned to start at 7 p.m., with fears that the turnout would be similar to the previous rally on Aug. 5, which saw thousands of Victorians take to the streets.
Chief Commissioner Shane Patton told ABC Radio Melbourne that around 400 police officers were sent to the CBD in anticipation of the protest, which had around 90 people.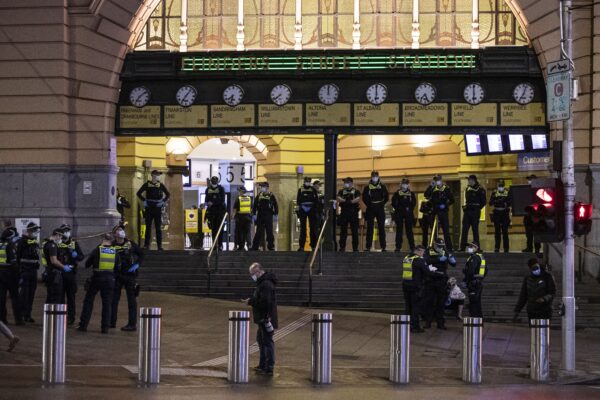 "Police had a highly visible presence in the CBD and were pleased that the majority of Victorians did the right thing and stayed home," Victoria Police said in a statement. "Police will not hesitate to issue infringement notices for those who deliberately and blatantly breach the Chief Health Officer directions."
Mounted police were also seen chasing some scattered protesters down Finders Street.
Victorian Premier Dan Andrews announced the 7-day lockdown extension after 20 new cases were detected on Wednesday and asked people not to protest.
"Protests do not work against this virus. Screaming and shouting doesn't work against this virus," he told reporters. "The only thing that works is following the rules, playing our part, looking out for each other, and getting tested as soon as we have symptoms."
Andrews said if the state were to open, they would see numbers similar to New South Wales, which recorded 345 new cases today after seven weeks of lockdown thus far.
"This is very challenging, I know, for every single Victorian who would like to be going about their business, they would like to be open and have a degree of freedom that is simply not possible because of this Delta variant.
"If we were to open, we would see cases akin to what's happening sadly Sydney right now," he said.