This latest scandal comes with a growing web of investigations linked with 'grey' Chinese capital and corruption which has seen thousands of Chinese visitors in the past two years come to live in Thailand as tourists while staying on extended non-immigrant student visas. This latest video may not be linked to the ongoing corruption scandal but it will prove just as disturbing for authorities as it appears to mock the kingdom.
Thai police have begun investigating a viral video circulating in China suggesting that Chinese tourists to Thailand can purchase VIP services from the Royal Thai Police on arrival in the country. The short video clip shows female Chinese arrivals being whisked through Suvarnabhumi Airport on arrival and given a police escort into Bangkok all for a relatively modest monetary fee.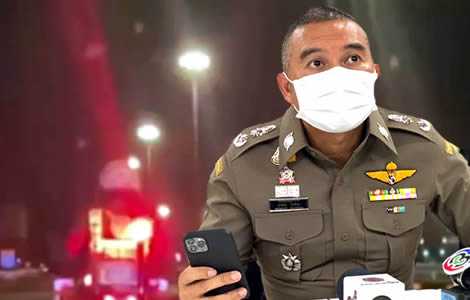 National Police Commissioner General Damrongsak Kittiprapat has ordered an investigation after a clip went viral in China which appeared to suggest that the Royal Thai Police can be bribed by Chinese tourists to provide additional services upon arrival in the kingdom.
On Saturday, Royal Thai Police spokesman, Police Major General Achayon Kraithong addressed the contents of the clip squarely with reporters in Bangkok.
Viral video allegedly shows young Chinese women arriving in Thailand and being whisked to their hotel with a police motorcycle escort, all for a price
The viral video shows several young Chinese women arriving in Bangkok and receiving a VIP welcome from police and officials including being given priority access to immigration services, assistance with luggage and a police motorcycle escort from Suvarnabhumi Airport into the capital.
The viewers were told that the motorcycle escort had cost ฿6,000 and that an escort provided by a police car would have been ฿7,000.
The video appeared on the Chinese version of Tik Tok.
The Chinese woman said she had made enquiries about having a car to meet her at the airport when she was offered the VIP service including a police motorcycle escort. She said that her journey through immigration arrival only took 5 minutes as she was met by police officers directly off the plane on arrival from China.
She had been promised a traffic-free journey all the way to her hotel.
The party was travelling to the resort city of Pattaya and the woman on the video was seen and heard laughing as she was escorted along the motorway at speed.
The video ended by showing the Chinese visitors arriving at their hotel accommodation in Pattaya and confirming to millions of Chinese viewers that all the rumours about Thailand are true.
On Saturday, Police Major General Apichai said that he had been ordered to address the content of the viral clip by the police chief as it could be damaging to the image and reputation of the force.
Full investigation launched to see if the video actors were real members of the Royal Thai Police and secondly, to see how it could all have happened
He said that a full investigation into the contents of the video and activities portrayed at Suvarnabhumi Airport had been ordered through the office of the Royal Thai Police Inspector General into the claims.
Police would seek to identify the people seen in the video clip and also establish if some individuals who appeared in the clip dressed as police officers were, in fact, members of the force.
He said the investigation would also look at whether the activities shown in the clip were legitimately permissible under existing regulations although, at the outset, he said bypassing normal immigration procedures is not feasible without flouting the law.
The police spokesman said that the use of police escorts for dignitaries, politicians or special guests of the state was governed by a letter issued by the Cabinet Secretary on the 2nd October 2002 based on a cabinet resolution of 25th September 2001.
Clear regulations and criteria for providing such escorts explains the police spokesman. The provision of such escorts for vanity is strictly prohibited
The regulations governing the proper protocols that apply to visiting politicians and special foreign guests being entertained by the state are set out clearly.
Police Major General Achayon also explained that in Bangkok there are key officials who have the authority to grant permission for special police escorts within the capital. There are similar arrangements within other jurisdictions.
These powers are used judiciously, for instance, in the task of ensuring the safety of processions or events with police commanders taking into account the number of cars involved and spectators.
There is also the matter of facilitating urgent government business to facilitate important missions linked with key executives or functionaries of the state.
However, Police Major General Achayon underlined that the criteria for approving such operations should always be strictly upheld.
The provision of such escorts or operations for individual personal comfort or vanity was strictly prohibited as it may have an impact on road safety and also the reputation of the police force in the eyes of the public.
Latest probe comes amid an ongoing and growing scandal linked to Chinese corruption infiltrating the Royal Thai Police and key government agencies
He said that the investigation now underway would be thorough to see if the laws, regulations or proper criteria were followed and that those involved who may be found to have failed in the performance of their proper duties will be punished.
The video clip and this latest investigation is coming at a time when the Royal Thai Police and associated government agencies find themselves mired in an ongoing and sprawling corruption scandal linked to the Chinese mafia and 'grey capital' involving thousands of Chinese nationals who have moved to Thailand illegally.
The ongoing story involves a consistent pattern of Chinese tourists arriving in Thailand being able to evade immigration laws by availing of special dispensations provided by corrupt police officers.
Use of false police vehicles and official regalia signifying power and influence is a key facet of the ongoing revelations linked to the Chinese mafia
These allegations have already been proved and admitted to by Thai authorities who are investigating senior officials and high-ranking officers within the Immigration Bureau and at the highest level of the civil service.
Recent reports showed that illegal schools were set up by the Chinese mafia in Thailand which allowed large numbers of Chinese visitors who arrived in the kingdom as tourists to extend their stay as students on non-immigrant education visas without having to leave the country again.
Another key facet of this scandal is the regular use by Chinese mafia players of fake Royal Thai Police vehicles and official regalia to signify power and influence in the kingdom.
Further reading:
Charges brought against Chinese mafia kingpin as Chuwit warns witnesses are put under pressure
Top Immigration Bureau officers investigated by high-level panel over Chinese corruption claims
Chinese businessman in the heart of Bangkok with a fake Chinese Embassy car and police escort arrested
Police unearth huge new threat from Chinese drug cartels with ฿300 million seized in Bangkok
Chinese links to nightlife underworld and police collusion being investigated in drugs crackdown
Drugs showdown in the works bound to prompt memories of decisive 2003 crackdown by Thaksin government
Shock police probe into drug dealing and money laundering linked with Myanmar to strain ties
Drugs to be an election issue as Anutin digs in insisting that attitudes must change on cannabis
Recreational cannabis use can be legalised under the current law being passed through parliament
Recreational use of pot to be recriminalised as Minister warns abuses are undermining his plan
Warnings as fears grow over recreational cannabis use as Thai man is left impotent by self-harm act
Marijuana revolution and overdoses raise concern with calls for action to outlaw recreational use
One of the biggest drug dealers in the South flees home as Thai police and army move against him
Evil drugs trade in Songkhla sees Thai woman burned alive by her family for 300 grams of ice missing in village
Thai man burns down his family home: Thailand's drugs problem is still a very real threat to society
UK man arrested on drugs charges by CSD police in Pattaya claims ex Thai wife set him up
UK drug dealers living it up in Thailand to be deported back to the UK after arrests in Pattaya
Italian living with Thai wife on Koh Phangan arrested for dealing after drugs found in the post
UK drug dealers living it up in Thailand to be deported back to the UK after arrests in Pattaya
About the Author
James Morris is a pename for an international writer based in Bangkok who works on various international news media. He is a sub editor with the Thai Examiner news website since it began in 2015. Son Nguyen is an international writer and news commentator specialising in Thai news and current affairs. He commenced working with the Thai Examiner News Desk in May 2018.