West Australian (WA) Premier Mark McGowan has suggested the state will continue to pursue a zero-COVID strategy even when 80 percent of the population has been vaccinated. This is despite agreeing to a national cabinet plan to relax restrictions once that benchmark was reached.
It also follows a decision by the WA government to impose hard borders on visitors from New South Wales (NSW).
"We will do what's required to keep the people of our state safe," the premier told reporters on Aug. 16.
"We are following the national roadmap. It's there in black and white," he added. "If we have 80 percent vaccination, we still have 20 percent of eligible people (in Western Australia) unvaccinated."
"That's 400,000 people (in Western Australia)," McGowan said. "Some of them may well be very vulnerable."
"My view is people in this state want the right to stay safe."
In late July, the national cabinet—an intergovernmental body involving the prime minister and state and territory leaders—agreed on a three-stage plan to open the country.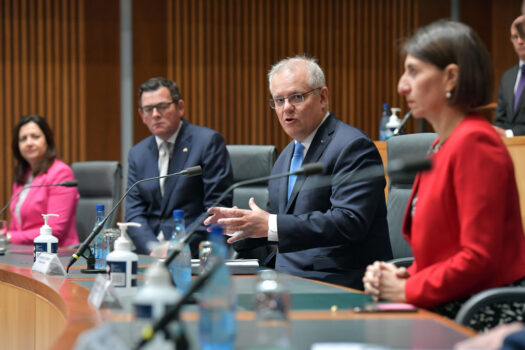 If 70 percent of the population is vaccinated, then the state will enter Phase B, where stay-at-home orders and restrictions would be largely lifted. Upon reaching the 80 percent vaccination target, Phase C is triggered, and the country will begin reopening international borders.
Prime Minister Scott Morrison said McGowan's comments did not reflect the agreement made by the national cabinet.
"First of all, when you move from Phase B, you move from managing cases to ensure you're managing hospitalisations, serious illness and things of that nature," he told Sky News Australia.
"And that was done in our first discussion on the national plan, and it was then agreed in principle with the targets that were set by the Doherty Institute, which made it very clear that once you get to 70 percent and 80 percent at that level, particularly at 80 percent, you're managing the virus just like you would the flu," he added.
"That's what the national plan was about; it gives people that hope and the path forward. It is the path out. That was the plan that was agreed to."
The states still maintain the right to implement domestic border closures, according to McGowan, who said that even at Phase C, "highly-targeted lockdowns" were allowed.
WA is currently experiencing the slowest vaccination rates in the country, with 22.9 percent of the state's population fully vaccinated. This is compared to the national average of 26.6 percent.
Meanwhile, from Aug. 17, WA will also demand arrivals from NSW to provide evidence of a negative PCR test in the last 72 hours, and prove they have received at least one vaccine dose.
It will be a future requirement for any jurisdiction recording an average of 50 infections per day.
NSW is currently under an extended lockdown period—that has stretched to over nine weeks—following an outbreak of the Delta variant of COVID-19.