With hyped events and ever more ways to score exclusive drops, the little red dot is fast solidifying its status as the sneaker capital of the region.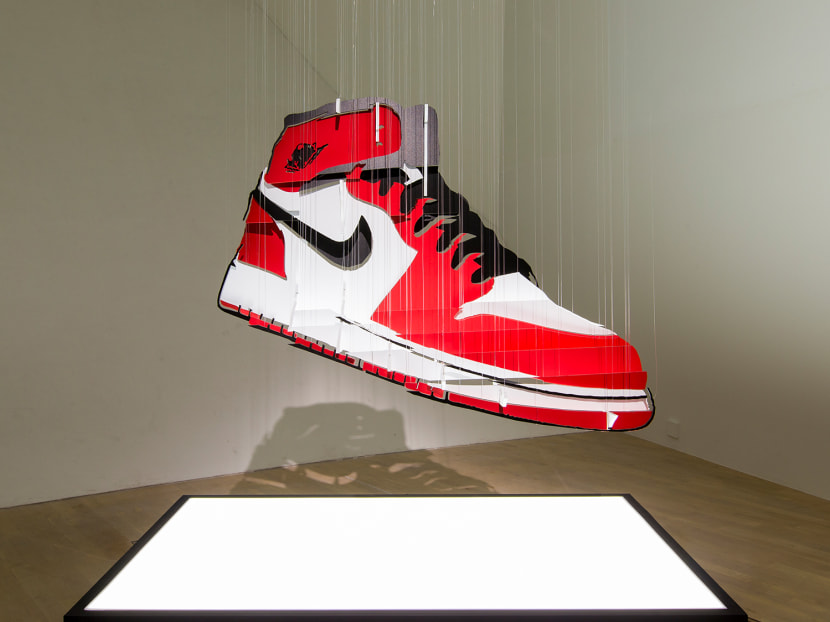 Those almost-instantly sold out Tiffany and Nike Air Force 1 sneakers are not the only recent drops to go gaga over. Last weekend (Apr 1 to Apr 2), Sneaker Con SEA, one of the most anticipated events for shoe collectors in search of their "grail" kicks finally took place in Singapore.
Often dubbed The Greatest Sneaker Show on Earth, the street culture event was meant to debut here in 2020 but was postponed due to the pandemic. But as they say better late than never so at last, rabid shoe collectors were able to experience the event's famous Marketplace and Trading Pit in person ‒ while sporting their coolest kicks, of course.
This is where sneaker junkies browses over 200 international and local brands for rare finds and street culture collectibles. They were also buying, selling or trading their own footwear to make a quick buck or to fill a missing piece in their collection.According to Alan Vinogradov, co-founder of Sneaker Con, the goal of this event has always been to expand the sneaker community by designing a space where sneakerheads can talk shop, network and make trades. Augmenting these networks is one of the key reasons why Singapore was chosen as the location for the inaugural Southeast Asia event ‒ over 100 events have previously been held across 40 cities around the globe,
"As a part of the worldwide sneaker culture, Southeast Asia has always been known to feature some of the most passionate collectors, so it made the most sense to bring them all together in Singapore. The diversity of cultures living in Singapore also brings in influences from the global sneaker communities which make it a leader with trends," said Vinogradov.
"It is also very centrally located between Australia and India, both of which have rapidly growing sneaker and fashion communities for us to explore."
He credits early movers like street artist Mark Ong aka Mr Sabotage for paving the way for the flourishing of sneaker culture today. "Mr Sabotage's early Nike SB Dunk collaboration back in 2006 truly put Singapore on the map of sneaker culture," he said.
In fact, one of the highlights of Sneaker Con SEA was a selection of collaborative items exclusively designed by Ong as well as Jeff Staple, another legendary Nike SB collaborator.
This is not the only international sneaker event to land on Singapore's shores in recent times. Currently ongoing at the ArtScience Museum is Sneakertopia: Step into Street Culture, which runs till Jul 30. It features over 100 limited edition sneakers as well as street culture themed murals, installations and original artworks by renowned creatives including Michael Murphy and Mimi Yoon. Previous iterations of the exhibition have been held in New York and Los Angeles.
For the Singapore edition, the organisers roped in homegrown icons to showcase their prized collections of sneakers and collectibles. These include selected pieces owned by popstar JJ Lin as well as Mandeep Chopra, founder and chief executive officer of Limited Edt.
Singapore too is no slouch in generating its own sneaker hype. Last year, homegrown event Culture Cartel returned after a COVID-19 induced hiatus and saw a better than anticipated turnout of 16,000 over the course of the four-day event, said Douglas Khee, co-founder of Culture Cartel and creative director of events company Division Communications.
The return of events have certainly given a boost to the street culture scene, he observed.
Estimating that there has been a post-pandemic surge of about 50 per cent in events and projects, Khee said: "The general feedback was that a physical event is always the best. Everyone missed the physical interaction, networking and of course the retail therapy."
After all, today's sneaker collectors do not necessarily seek out specific limited edition models just for the sake of wearing them. Many also rush to buy "hyped" pairs in the hopes of "flipping" them (street parlance for selling) for a profit.
That said, sneaker retail veteran Chopra said that with consumers becoming more savvy, it is not as easy as one might think to earn a quick profit by reselling shoes. "The market is getting more 'mature' with consumers becoming more discerning and also with a larger supply of product, both from official channels as well as resale platforms. There will of course always be some super hot items but most products sit on the shelf a little longer," he observed.
Regardless, this practice of regarding sneakers as "alternative investments" is likely to be here to stay, Chopra added. "The trend of new collectors holding on to sneakers more as a short term transactional asset rather than collecting for sentimental value or love of the design continues to be strong."
This has in turn led to a flourishing of sneaker resellers and platforms in recent years, such as Novelship and Ox Street. One of the most recent entrants to Singapore's marketplace is Japan-based SNKRDUNK, which had its beginning in two shops in the hip neighbourhoods of Harajuku, Tokyo and Minamihorie, Osaka.
(Fun fact: the most expensive pair of sneakers sold on SNKRDUNK were a pair of Louis Vuitton x Nike Air Force 1 Low by Virgil Abloh with a Pilot Case at S$93,240.)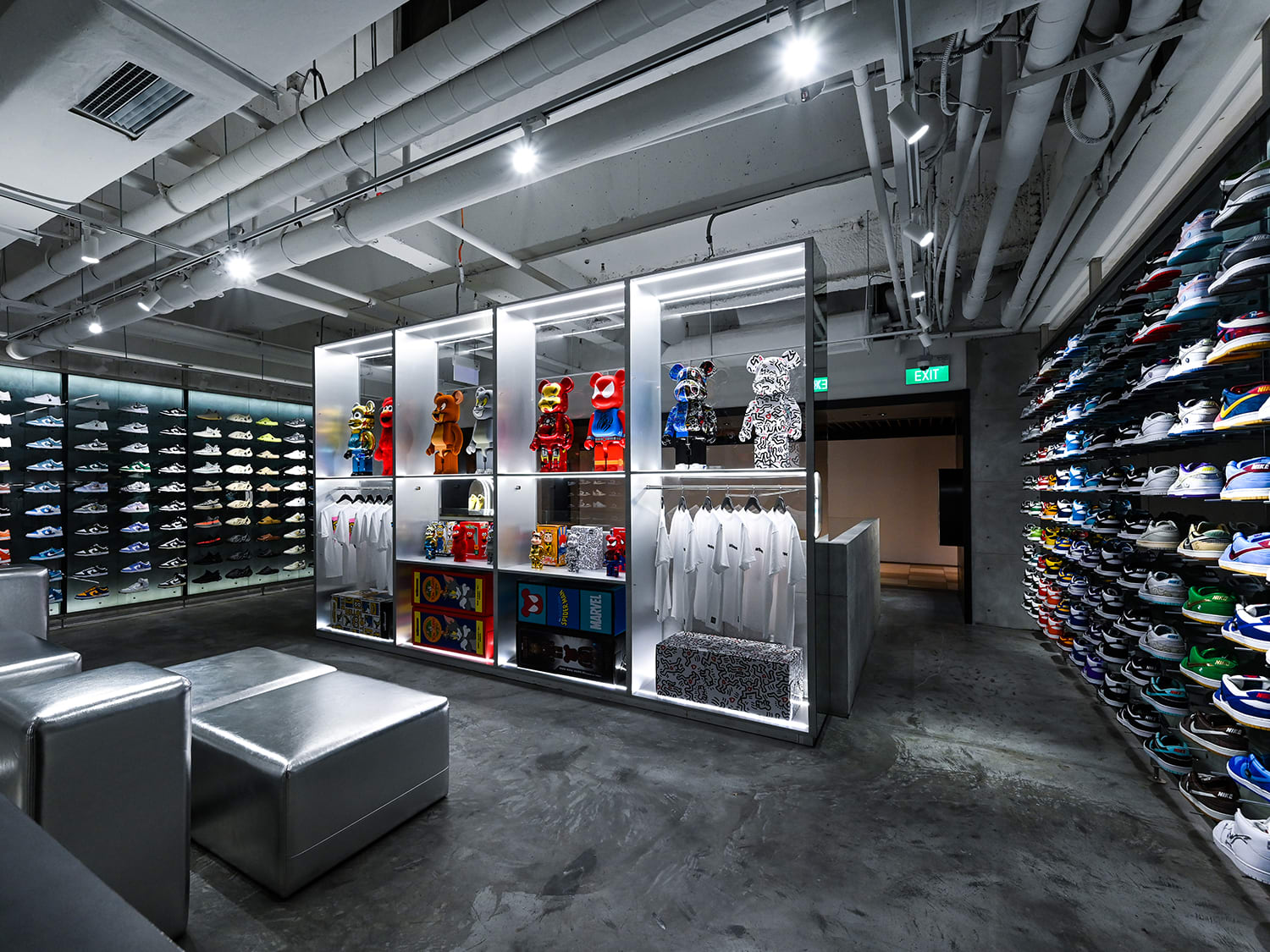 Besides a Global App for some 4.5 million users across the globe, it also launched its first ever international flagship store at Mandarin Gallery last October. Beyond being a marketplace, the goal is to create a space that can engage regional shoe lovers the way the Japan stores function as a focal point for that market, said Fumi Kawaguchi, director of parent company SODA Singapore INT.
"SNKRDUNK started out as a community site to share news about sneaker drops. These roots remain firmly implanted in our core beliefs and has led us towards creating vibrant community spaces for sneaker lovers and street culture enthusiasts such that the scene can flourish," said Kawaguchi. "Ultimately, this interlacing of varied street communities only serves to deepen the street culture in the region."