I was born into a family of aluminum foil users. If a baking sheet needed to be covered, it was either greased directly or outfitted with a layer of foil. I didn't discover parchment paper until I was an adult, when I bought a roll in a fancy kitchen store and took it home to experiment.
Now I have parchment for every situation: rounds for pie plates and cake pans, half sheets and full sheets for baking and roasting pans, and a large roll I trim down to the desired size. I'm always watching baking and cooking shows for innovative uses of parchment, and in the process, I've found that other home bakers are just as obsessed as I am.
"I'd say I use parchment 90 percent of the time," says Jason Goodenough, a veteran New Orleans chef and proprietor of The New Culinarian, a cooking school and private dining business. "I only use silicone for really sticky things like tuilles"—paper-thin wafer cookies that are often rolled and dipped in chocolate. "Sheet trays leave that aluminum dust on things, so I make my cooks use parchment if they're putting anything on a sheet."
However, Nancy Pesses, a home baker who started Challah Creations By Nancy during the pandemic, says that silicone liners play a part in her baking.
"It honestly depends on what I'm baking and the cleanup factor," says Pesses, who has participated in the Hamantaschen for Ukraine movement among bakers worldwide. "But for the reusable factor, [I use] silicone liners rather than parchment."
G/O Media may get a commission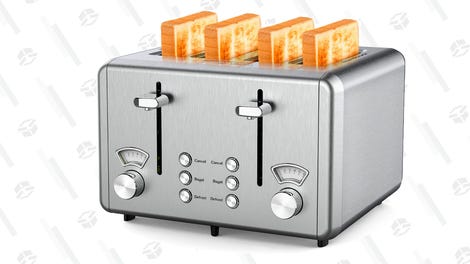 Up to 74% Off + Coupon
Whall Toasters
Maximum toastiness.
Both toasters boast six "gears" from warm to nearly-burnt, with defrost and bagel settings. The extra-wide slots allow you to toast even the thickest, most decadent slice of bread.
You can reuse parchment in certain cases, however. More on that in a moment.
Which parchment paper should I use?
At the very least, bakers and cooks should own a box of pre-cut parchment liners called half sheets, which generally measure about 12 inches by 16 inches and fit a conventional cookie sheet. (Full sheets, in case you're wondering, measure are 16 inches by 24 inches, and are used for big cakes and by professional chefs.) Some half sheets come folded in two, which makes them easy to split for a half-sized pan. Some are helpfully folded in fourths, useful for small-batch oven tasks.
If you bake cakes or pies, you can use some tricks to fit a regular sheet of parchment in the round cake pan, or you can simply buy pre-cut rounds made to fit. These come in various sizes ranging from 6 inches in diameter to about 14 inches (the latter are used for those big base layers of wedding cakes).
A conventional roll of parchment, meanwhile, lets you adapt to large and small projects.
Is it worth shelling out for premium parchment paper?
I always smile when I get emails from King Arthur Baking encouraging me to stock up on parchment paper. As parchment goes, the baking brand's offerings are on the pricey side: $24.95 for a box of 100 half sheets or $19.95 for 50. To be sure, King Arthur's sheets are made from "professional grade" parchment and have a light silicone coating, making them the Lexus of baking liners. Most high-end parchment is coated with a nonstick surface, which drives up the cost.
I most frequently buy Reynolds parchment sheets in a pop up box, which cost about $13 for 120. Some people prefer to purchase unbleached paper, without any coating, similar to unbleached coffee filters; those are a little more expensive than basic sheets. If you go this route, check to see whether they are advertised as "oil proof."
Do you need to grease parchment paper?
Parchment is supposed to eliminate the need for cooking spray or butter on your pan. However, there are some truly sticky recipes that might benefit from greasing the parchment paper. I recently made macaroons from a recipe by author Virginia Willis that might have adhered to the paper if I hadn't greased it first. If you want crispy skin on fish or chicken or a crust on crab cakes, consider giving your parchment a thin coating of oil.
What does parchment paper do in baking?
Parchment paper prevents your recipes from sticking to the pan or burning from the direct heat as they bake, but there's a secondary benefit to parchment as well. I'm fascinated by the "criss-cross" method that I've seen used by British baking icon Mary Berry, and other bakers competing on the Great British Bake Off. Usually deployed in loaf pans, this method involves cutting a strip of parchment long enough that it fits into the bottom of the pan, runs up the walls, and drapes a little over each edge. A second strip of parchment is then laid in the pan perpendicular to that one, draping out over the opposite sides. This four-cornered approach lets you easily lift the finished cake or bread out of the pan for cooling.
For the cake bakers out there, manufacturers are now selling rounds that have lifting tabs on either side.
Can you get multiple uses out of a single sheet of parchment paper?
As I've discovered in my baking and roasting adventures, parchment can absolutely be reused. Inspect it after your food comes out of the oven: If cookies/vegetables/etc. come off the sheet cleanly, then simply wipe down the parchment with a barely damp cloth or sponge and let it sit out to dry before using it again.
If the parchment has turned a deep brown or singed black color during the baking process, it'll likely be too brittle to use again.
When is it better to use aluminum foil instead of parchment paper?
Parchment isn't perfect, especially in high oven temperatures around 425 degrees Fahrenheit or above. Uncoated parchment in an empty part of a pan can get very crispy. If you are cooking something that will emit a significant amount of fat or liquid, you might be better off with aluminum foil, which is sturdier and can be molded upward to cover the pan edges and prevent seepage.
I cook small pieces of fish on parchment, but for anything larger, I use foil. The same is true if I am roasting chicken or any kind of red meat; the juices are likely to overrun the parchment and give you a messier pan than you might get from foil. Especially if you are aiming for pan drippings, stick with foil.