The River Valley neighbourhood in Singapore is geographically a lengthy road instead of a square-like area zone.
Starting from Delta Road and ending at Fort Canning Hill near Hill Street, this long stretch travels parallel to the Alexandra Park Connector from Tanglin Road to Zion Road and the Singapore River.
About Singapore's River Valley
River Valley is known as a neighbourhood with a substantial expatriate population living predominantly in private housing like condominiums. It attained this name because the section lay in a valley between Fort Canning Hill and Pearl's Hill.
There are various entry points to River Valley via public transport. While you can reach the quaint locale by alighting at either Great World City or Fort Canning MRT stations, buses will get you into specific segments of this neighbourhood.
As it is near prime locations of the Orchard Road shopping precinct and Central Business District, many deem this area an ideal place to live in. However, there isn't a local market except for the Zion Road Food Centre. Hence supermarkets in malls like Great World City and Valley Point remain the go-to for grocery shopping.
Dining options at cafes and restaurants tend to be costly in River Valley due to high rental costs. However, you can be rest assured that the food's quality will meet expectations. For instance, Little Farms provides fresh produce sourced directly from suppliers in Australia and Europe. Its restaurant and brunch concept adhere to this philosophy of serving fresh and nutritional wholesome foods.
Cafés are aplenty in the River Valley neighbourhood too. You can get a fragrant and energising cup of java from specialty coffee outlets like Grounded by CMCR, Thong Aik Coffee, Grace Espresso, and Dutch Colony Coffee Co. For brunch or baked confections, head to Pantler, LR Boulangerie, and Tiong Bahru Bakery Foothills over the weekend for a satisfying brunch.
(Hero and feature image credit: Tiong Bahru Bakery)
1
/10
PRAIRIE by Craftsmen (River Valley)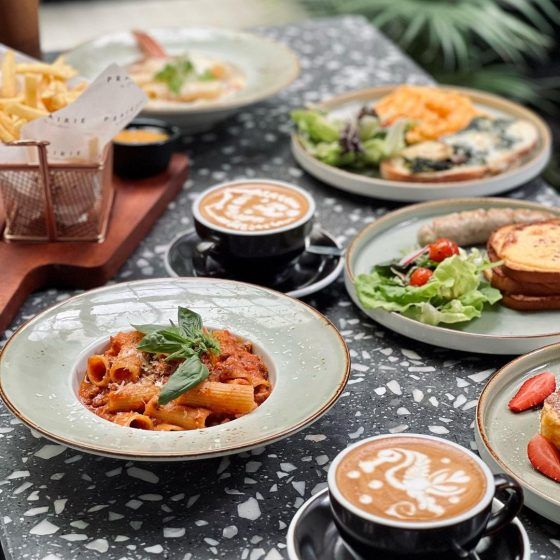 You may know PRAIRIE by Craftsmen's Bukit Timah for its Instagrammable glasshouse café that features plenty of natural daylight and greenery. Their sister outlet at River Valley adopts a cosy and contemporary interior by using shades of pastel pink. The menu here differs too, offering an all-day brunch and exclusive dishes like Crab Scrambled Sourdough, Salmon Bruschetta, and Smoked Duck Rosti.
(Image credit: @prairie.sg via Instagram)
Address
486 River Valley Road, Singapore 248370
2
/10
Little Farms Cafe (Valley Point)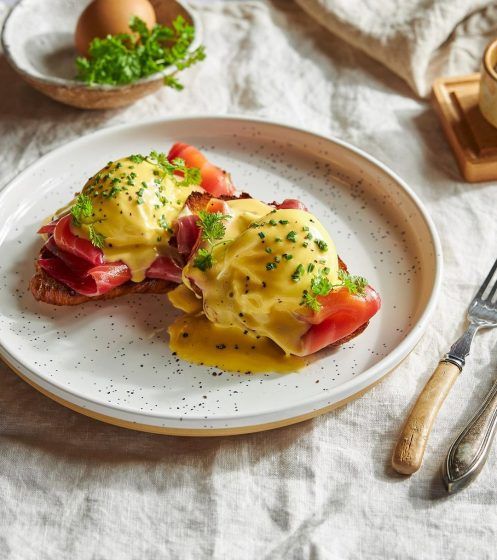 If farm-to-table dishes are your thing, Little Farms Café will surely receive your stamp of approval. The brand prides itself on offering fresh produce sourced directly from suppliers based in Australia and Europe. It also extends the importance of freshness and nutrition to their café concept. Available from 7:30am in the morning, look forward to hearty breakfast and brunch items like Gluten-Free Crumpets, Bacon & Egg Roll, Buttermilk Pancakes, and Smashed Avocado on Toast. The latter features a delightfully creamy texture from carefully picked avocados.
(Image credit: @littlefarms via Instagram)
Address
491 River Valley Road, Valley Point Shopping Centre #01-21/22/21K/22K, Singapore 248371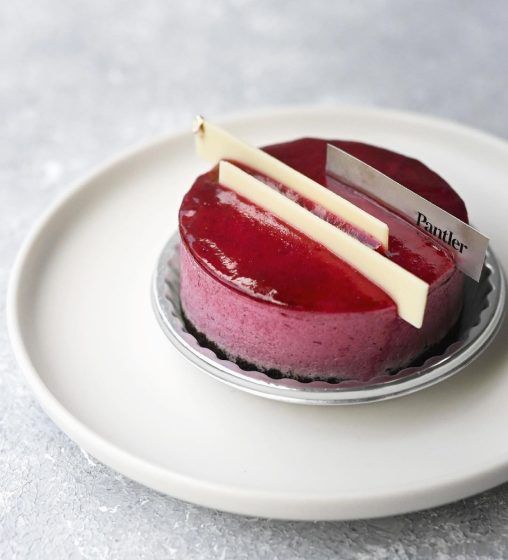 Famed patisserie Pantler moved from Telok Ayer to the River Valley 'hood and found a home in a spacious shop. Here, diners can choose to seat al fresco or cool off inside the brightly lit space that evokes an open sky via a play on artificial light. Pantler's signatures remain including Yatsura and Dark Chocolate Delice. New confections like Raspberry Pistachio, Russa, and Giandujaalso are standouts too.
(Image credit: @pantler via Instagram)
Address
474 River Valley Road, Singapore 248359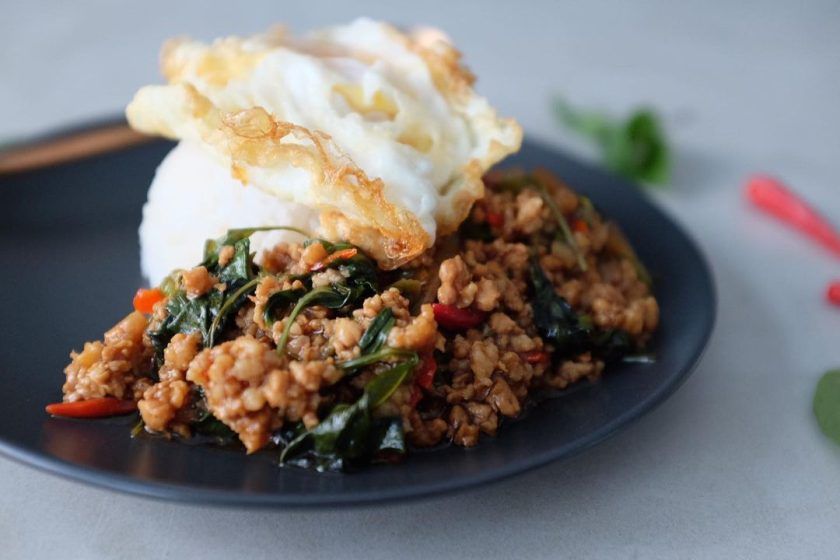 This unique café is located in an unassuming hidden area that only those who stay in the vicinity will know (and us, of course). Its uniqueness comes from having both Nanyang Coffee and Thai Cuisine in the same diner. Thong Aik brews enlivening Nanyang coffee from 8am in the morning while Ying Thai takes over with Thai food from 11am for lunch to dinner.
Start your day right by pairing your cuppa with Braised Pork Rice Bowl, Century Egg Porridge, or nourishing Green Bean Soup with Gula Melaka. From lunch, dig into staple Thai dishes like Basil Minced Pork Rice, Green Curry Chicken with Rice, and Phad Thai.
(Image credit: @thongaikcoffee via Instagram)
Address
78 Indus Rd, #01-495, Singapore 161078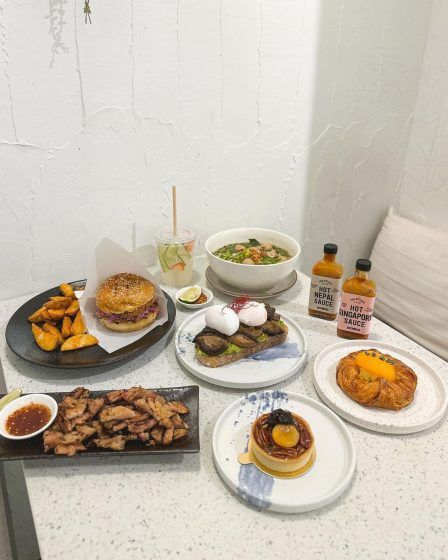 Unable to decide what cuisine to have for a meal? Co-sharing kitchen Culture Spoon has it all – Thai, Western, Indonesian, Filipino Food, and even desserts like pastries too. Wok with Man, helmed by Chef Wyman Wong – who has prior experience at two-Michelin-starred Waku Ghin – serves up appetising Thai food daily for lunch and dinner.
Other concepts include Mamilani Home Cook (Indonesian food) and Luci's Kitchen (Western and Filipino dishes) on selected timings. Cultured Bakeyard provides brunch, pastries and desserts while Quarter Life Coffee Roasters and The Tea Affair brew thirst-quenching beverages.
(Image credit: @culturespoonsg via Instagram)
Address
409 River Valley Road, Singapore 248307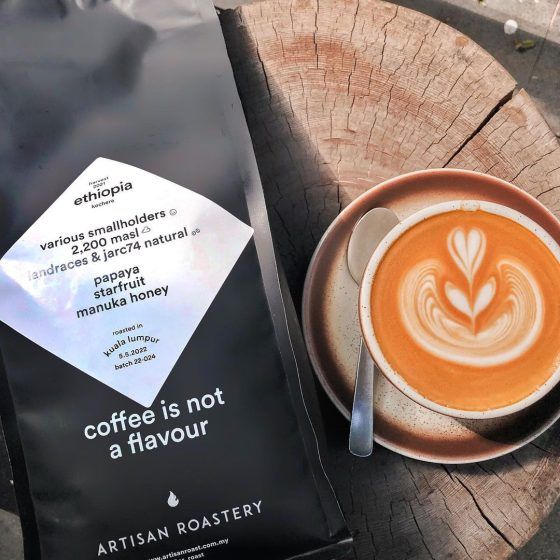 Wake up and grab a much-needed stimulating cuppa at Grace Espresso before heading to work. Located in a cosy, open-air store at Loft@Nathan, Grace Espresso's no-frills menu provides hearty breakfast dishes like Crunchy Peanut Butter Banana Toast Turkey Bacon Avo Melt ($12) and Roast Beef & Portobello Mushrooms Sandwich, alongside the usual brews like Americano and latte.
(Image credit: @grace.espresso via Instagram)
Address
428 River Valley Road, Loft@Nathan #01-14, Singapore 248327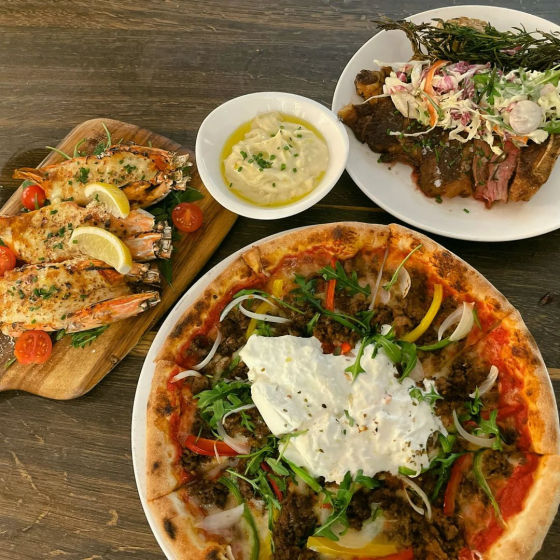 Also located at Loft@Nathan, Cibo Italiano occupies a homely dining spot a few stores down from Grace Espresso. This Italian diner reminds us of an authentic osteria with its well-curated antipasti, pasta, pizza and wines. Highlights include traditional staples like lasagna, burrata, and juicy vongole, along with Margherita and quatro formaggi pizzas.
(Image credit: @cibo.singapore via Instagram)
Address
428 River Valley Road, Loft@Nathan #01-01/2, Singapore 248327
8
/10
LR Boulangerie (Valley Point)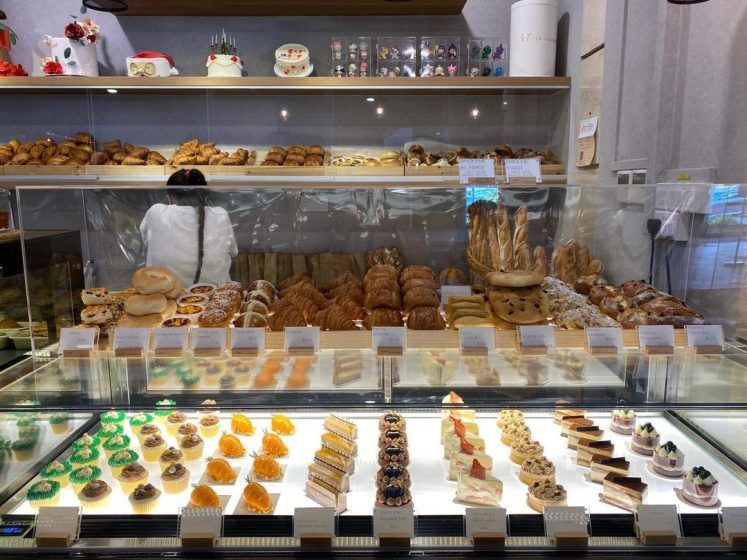 Nothing beats munching on fresh bakes like buttery croissants and baguettes in the morning with your coffee. Residents here are fortunate to get them at French bakery LR Boulangerie. Besides pipping hot French-styled pastries and decadent cakes like Burnt Cheesecake and Croque, customers can also get brewed coffee that's roasted in-house by Coffee Plus.
(Image credit: @lrboulangerie via Instagram)
Address
491 River Valley Road, Valley Point Shopping Centre #01-02, Singapore 248371
9
/10
Dutch Colony Coffee Co. (UE Square)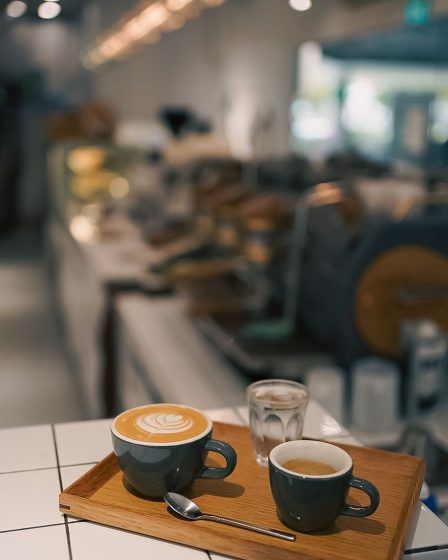 Hidden inside UE Square is the city outpost of Dutch Colony Coffee Co., which gained popularity with its Frankel Avenue store. Enjoy artisanal coffee of single origins from Finca La Loma (Colombia), and Yirgacheffe Aricha (Ethiopia) to Fazenda Santa Clara (Brazil). In addition, their milk-based brews like Espresso and Latte feature the signature 'Dutch Blends' which has fragrant notes of milk chocolate and strawberries. Pair your cuppa with filling bites of Ham & Cheese Croissant, Guacamole & Egg Toast, and Baked Beef Pie.
(Image credit: @dutchcolony via Instagram)
Address
81 Clemenceau Avenue, UE Square Mall #01-21, Singapore 239917
10
/10
Tiong Bahru Bakery Foothills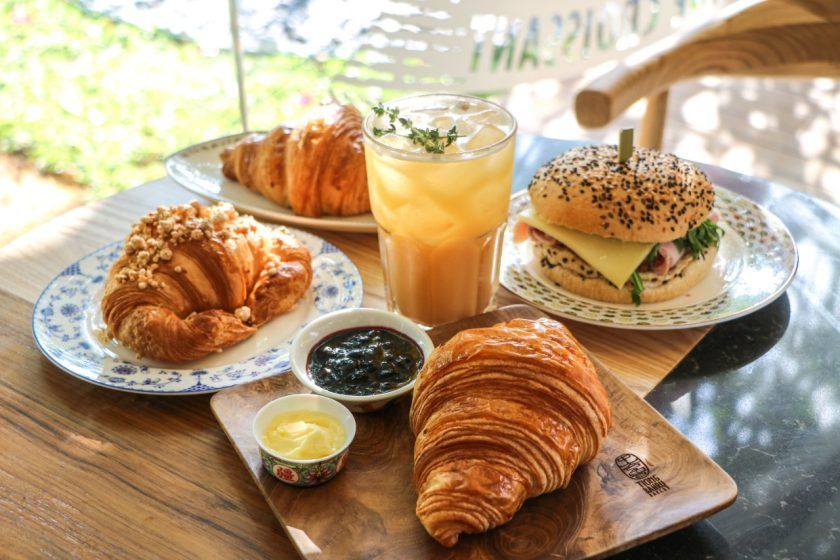 Located near Fort Canning MRT Exit B, Tiong Bahru Bakery Foothills makes for a great pitstop after conquering Fort Canning Hill. Although we're familiar with the ever-reliable croissant and sourdoughs from this popular bakery, add these outlet-exclusive items to your order too. Savour on Sourdough Croissant that's filled with a creamy and crunchy crémeux praline and Sourdough Kvass, a sweet, sparkling and refreshing Eastern European beverage brewed with sourdough yeast.
(Image credit: Tiong Bahru Bakery)
Address
70 River Valley Road, #01-05, Singapore 179037