Laksa variations from Sarawak to Penang have well traced roots. It is less so with dry laksa in Singapore.
Dry laksa is an oddity. It is the only one that is a noodle dish rather than soup, but carries laksa's hallmark flavours and toppings. It is also stir-fried instead of being simmered in a broth.
While the dish has been having a moment with local diners, its history is murky. In a research paper by Dr Jean Duruz, an Adjunct Senior Research Fellow at the University of South Australia, owner of the now-shuttered Rose Apple Deli, Linda Kan claimed to have invented this style.
How is dry laksa made?
Like its soupy counterpart, the dish sees rice noodles being stir fried with a fragrant paste made with spices, fresh aromatics, shrimp paste, and coconut milk. Typical laksa toppings are then added, such as fish cake, prawns, beansprouts and tau pok. The result is a moreish dish that's hearty and addictive at once, and makes for the perfect meal.
Dry laksa is also served at prominent Peranakan restaurants here including Violet Oon and Straits Chinese Nyonya Restaurant, which suggests its origins lie there. Other places offering the best versions of dry laksa in Singapore include Curry Times and Eurasian restaurant Quentin's. Local microbrewery Sevendaze has it on their taproom menu, and home businesses Jelebu and Let's Jiak have made it their speciality. Read on for more.
(Hero and featured image credit: Violet Oon Singapore)
Where to find the best dry laksa in Singapore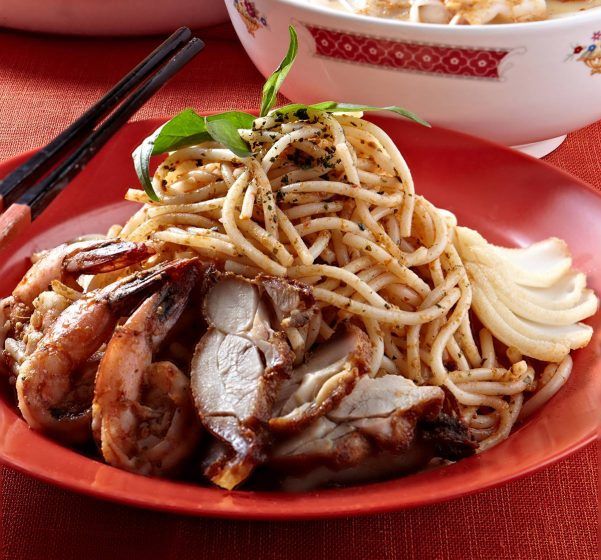 It is quite fitting for Singapore's most famous curry puff brand, Old Chang Kee to open a separate restaurant chain selling curry dishes, including dry laksa goreng. Thick rice noodles are fried in a bold laksa paste with coconut milk, then topped with prawns, chicken, bean sprouts, and fish cake. There's also an option to switch out vermicelli for horfun.
S$8.90++
Address
238 Thomson Road, #02-33/34, Velocity @ Novena Square, 307683, 307683 google map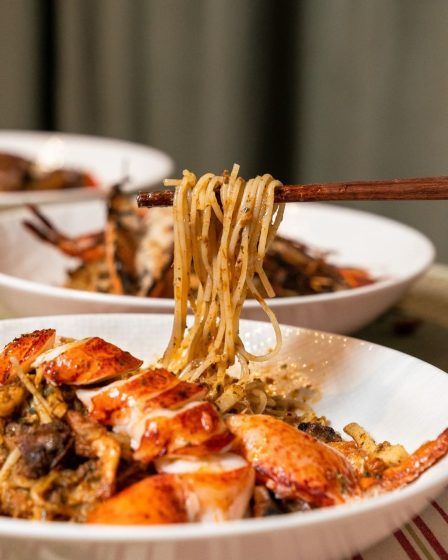 Jelebu Dry Laksa is the home business of chef Renée Tang, who set it up after her stint at Le Bintochan ended due to covid. Instead of frying the noodles with laksa paste, Tang simmers them in a broth made from 12 herbs and spices, and thickens it with organic young coconut milk. Slightly wetter than the other renditions on this list, it comes with seasonal seafood from juicy butter-poached lobster to succulent grilled tiger prawns.
S$22 (not including delivery)
(Image credit: @jelebudrylaksa/Instagram)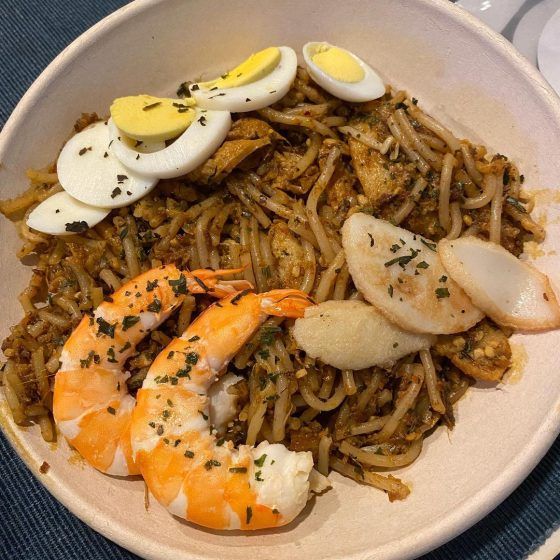 Another home business focusing on dry laksa is Let's Jiak. Established during the pandemic by husband and wife Carlos Choon and Ryna Tan, their dish starts with lots of hae bee (dried shrimp), which they fry with a paste made from belacan, lemongrass, and fresh and dried chillis. Coconut milk brings a creamy depth, while a topping of prawns, egg, and taupok keeps it hearty. Available only on the weekends.
S$9.50 (not including delivery)
(Image credit: @elainekook/Instagram)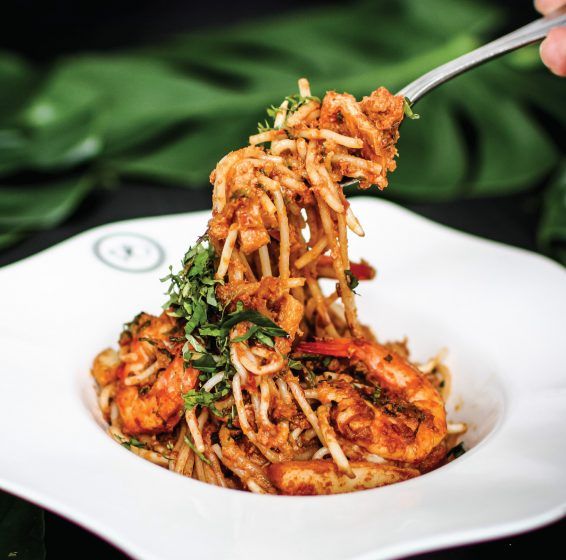 The eponymous restaurant of culinary icon and Singapore food ambassador Violet Oon, National Kitchen offers a refined take on dry laksa with glass noodles that have been generously coated with fragrant laksa gravy, then garnished with juicy prawns, crunchy bean sprouts, and laksa leaves. It is splatter free – especially crucial in an upscale setting – and full of heady umami, making it one of the best dry laksa that Singapore has to offer.
S$29++
(Image credit: National Kitchen by Violet Oon Singapore/Facebook)
Address
1 St Andrew's Rd, #02–01 National Gallery, Singapore 178957 google map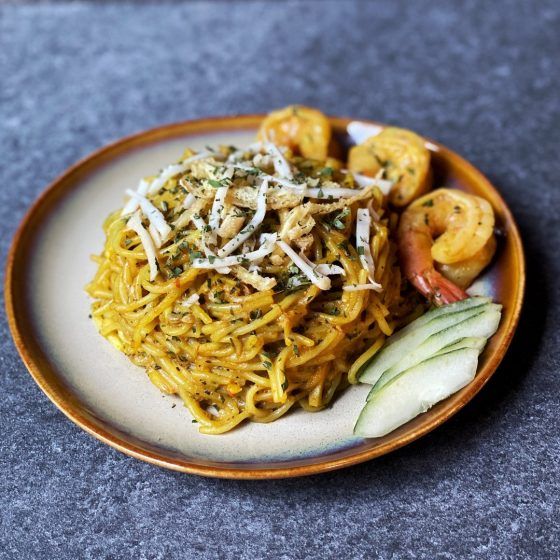 Quentin's dry laksa begins with fresh rice noodle fried with laksa gravy, hae bee, coconut milk, sambal, and aromatics including ginger, galangal, and lemongrass. A generous heaping of prawns, taupok, bean sprouts, and fish cakes makes the dish large enough to be shared among two.
S$15.70++
(Image credit: Quentin's Singapore/Facebook)
Address
139 Ceylon Rd, Level 1 Eurasian Community House, Singapore 429744 google map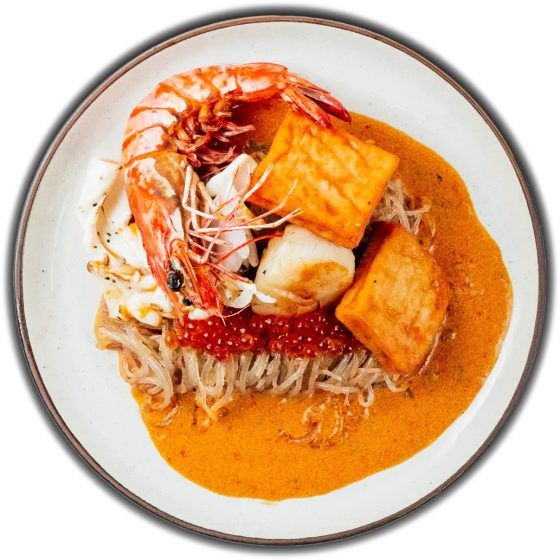 Besides being a microbrewery, Sevendaze serves a range of locally-inspired dishes at their taproom in Balestier. One of them is the dry laksa, which involves fragrant hae bee hiam tossed with sweet potato noodles and rice noodles in a thick gravy. It comes with grilled tiger prawns, and squid, as well as the option of adding pan-fried seafood tofu and shoyu-pickled salmon roe.
S$19++
(Image credit: Sevendaze)
Address
1 Jalan Rajah, Zhongshan Park #01-02 & 03, 329133 google map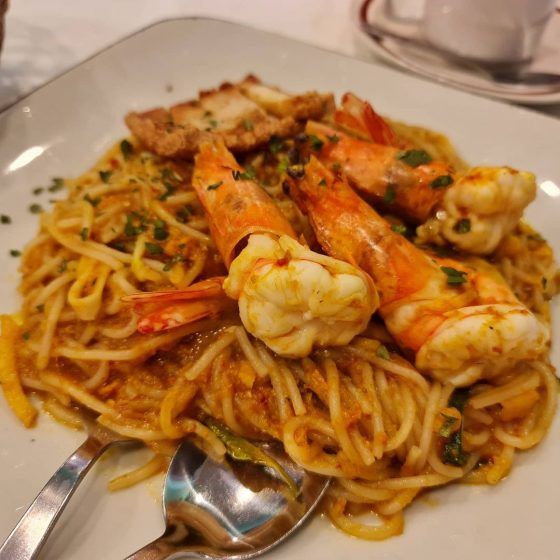 Straits Chinese is the upscale Nyonya restaurant chain by Guan Hoe Soon, Singapore's oldest Peranakan eatery. Their pan-fried dry laksa involves rice noodles cooked with a house-made laksa paste, and topped with two large prawns and crispy taupok. Large enough for up to three diners, it is intensely aromatic and savoury.
S$19.80++
(Image credit: @glamsamster/Instagram)
Address
8 Raffles Ave, #02-21 Esplanade Mall, Singapore 039802 google map