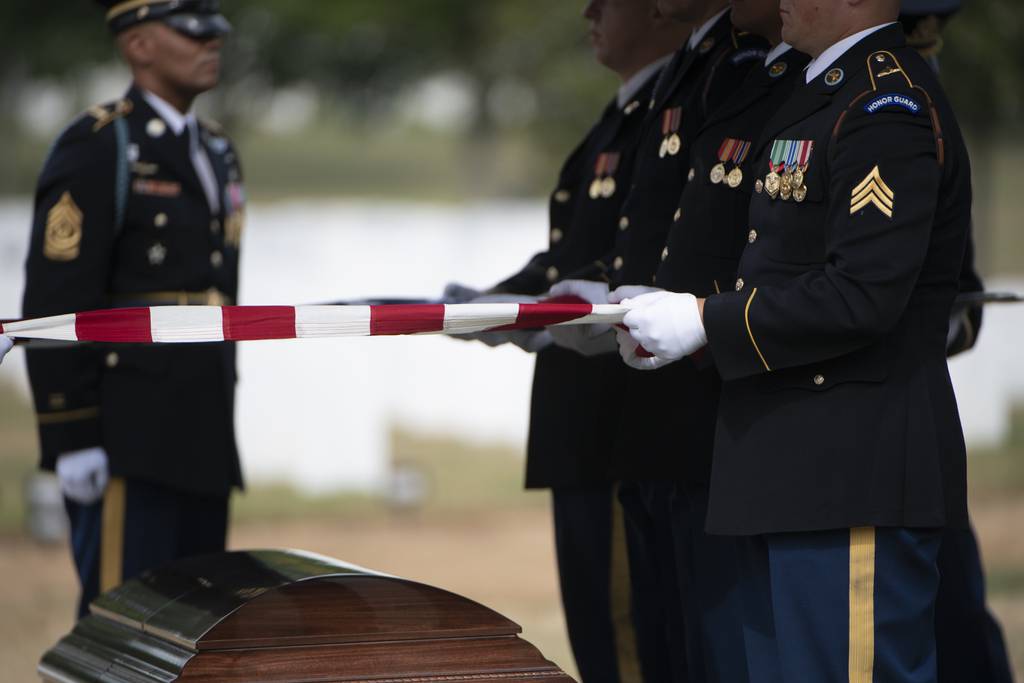 Soldiers from the 3d U.S. Infantry Regiment (The Old Guard) help conduct military funeral honors with funeral escort for a soldier killed during the Korean War in Section 55 of Arlington National Cemetery, Arlington, Virginia, Aug. 5, 2019. (Elizabeth Fraser/Arlington National Cemetery)
As police investigate the shooting death of a 23-year-old Army specialist stationed at Fort Carson, Colorado, family members remember a funny, loving man while also calling for justice in his recent death.
Police responded to multiple 911 calls reporting the sound of gunshots at about 3:44 a.m. March 26 in the 2700 block of Palmer Park Boulevard in Colorado Springs, Colorado, according to a police release.
Police found Spc. Braden Peltier, an artillery soldier from Bay City, Michigan, and another individual suffering from gunshot wounds, according to Stripes.com.
Both victims were transported to local hospitals. Peltier did not survive his wounds.
The shooting occurred about 10 miles from Peltier's Army post at Fort Carson.
"We all miss this boy so much. It was a huge shock to the system that that even happened," Peltier's mother-in-law Misty Coon told Stripes.
Peltier enlisted in November 2020. Coon said she'd known the man since he was a teenager and the two often drank coffee each morning when he lived in Michigan.
The newly-enlisted Peltier couldn't wait to don Army green, she told Stripes.
"He was so excited. He came right home and made sure I had a sign to put in my front yard and a coffee cup," Coon said. "He was all decked out in his shirt and his hat I think for a couple of days."
That teenager grew up and married Coon's daughter, now Paggee Peltier and the two had only begun raising their 2-year-old son Caycee together, she said.
She built a Facebook page to solicit information in Peltier's death and hopes someone will come forward.
"We want to know who did this. We want them to be prosecuted to the fullest extent of the law. Nobody should get away with taking somebody else's life," she told Stripes. "He was truly a great person and a hero to every one of us."
Anyone with information or who is a witness to this investigation is asked to call the Colorado Springs Police Department at 719-444-7000. To remain anonymous, call the Crime Stoppers Tip Line at 719-634-STOP (7867) or 1-800-222-8477.