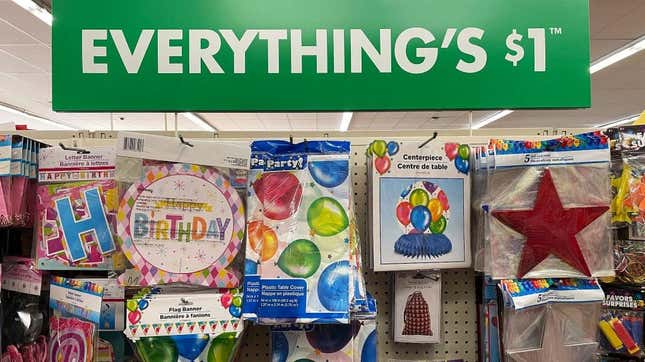 Unless you're in the category of Americans who can somehow still afford to spend like crazy in this economy, it's useful to know about any and all ways to save money on groceries. Coupon clipping is suddenly kinda cool, according to The Baltimore Sun, and New Food Magazine reports that discount grocers like ALDI, WinCo, and Lidl are seeing record sales numbers. But if you're looking to squeeze every last cent out of your food budget, your local dollar store should be in the regular grocery shopping rotation, too, because you can find solid deals on some of the staple items you buy every week.
Unfortunately inflation doesn't stop at the door of the dollar store; Dollar Tree famously raised its base price from $1 to $1.25 in 2021, and many other chains have made similar adjustments. There are still plenty of deals to be had, though—just be sure to think in terms of unit price instead of overall price. Paying $1 for a four-pack of granola bars is not a deal when compared to a 48-pack that costs $10.
What follows is a list of 10 great dollar store deals on common groceries. Keep an eye out for these items at your local dollar store and your bargain-hunting efforts will be rewarded.
Whether you're lactose intolerant, vegan, or just not into drinking conventional milk, keep an eye out for alternative milks at the dollar store. Depending on the brand, these plant-based beverages can vary pretty wildly in price, but even the cheapest grocery store varieties still cost at least $2.50 for a half gallon (32 oz.) of private label nut juice, like Target's Good & Gather almond milk, and $5 or more for name brands. The dollar store often has shelf-stable 32-oz. tetra packs of alternative milks for $1 or $1.25; if you use unsweetened alt milk as an ingredient in smoothies, baking, or other applications where it's not the star of the show, all varieties end up tasting pretty similar, so you can save a lot by making the switch.
If you're a fan of curries, smoothies, or just coconut flavor in general (try brining your chicken in it), you can stock up on canned coconut milk on the cheap. Check the shelves at your local dollar store for cans of the tropical stuff, making sure to check for dents. At roughly $1 each, and sometimes two for a buck, they cost significantly less than the cheapest cans at the grocery store, which run around $2.50, depending on where you live.
Yes, the cakes you can make with a box mix are often fairly forgettable, but these dry mixes are perfect for when you're staying at a VRBO or Airbnb and have access to a kitchen but not a ton of pantry ingredients. (Dump cake, anyone?) Plus there are tons of hacks out there for adding ingredients to mixes to get some pretty surprising results, like adding extra eggs to make fancy cupcakes. The dollar store usually has offbeat flavors or last season's baking mixes on the shelves for much less than the grocery store price. At $1 each (and sometimes less), this is a pretty low-stakes way to stock up for those last-minute cake occasions, like pulling something together for a school bake sale.
Herbs and spices at the grocery store can be unreasonably expensive, especially name-brand bottles like McCormick and Spice Island. This is because spices have some of the biggest markups of any product in the entire grocery store—as much as 97-100%, according to Business Insider. The dollar store really shines here; since you should toss out your spices every two to three years, you won't feel too bad about replacing anything that's past its prime when it only cost a dollar in the first place. Special shoutout to Dollar Tree's 1-lb. bags of Salt 84 Himalayan Pink Salt, which at $1.25 each are an absolute steal. There is a caveat, however: Make sure you have a general idea of the grocery store unit price and check it against what's at the dollar store, because not every jar is a deal. Sometimes the dollar store containers are smaller, so $1 might not be the best price.
If you're trying to stick to Meatless Mondays, you probably already know that all of those newfangled meat replacements like Impossible Burger and soy chorizo are not cheap. Thankfully you can eat vegan on a budget thanks to the deals you'll find on frozen plant-based items like veggie burgers and "chicken" nuggets at the dollar store. Oftentimes you can randomly find deep discounts on brand-name stuff. For example, Dollar Tree shoppers have reported sightings of Kind vegan ice creams for $1.25 a pint, which retail at regular grocery stores for $6.99.
The juice shelves at the dollar store are usually stocked with a lot of sugary concoctions (aka juice cocktails), but sometimes you can find 100% juice varieties, and even name-brand bottles like Juicy Juice. If you love a bloody Mary, though, always keep an eye out for tomato juice, either in the can or in the bottle. Even the cheapest house brand tomato juice at Walmart or Target will cost around a dollar more than most dollar-store containers, and name brands are even more expensive. Just be sure to buy the largest container, as a $1 bargain price starts to diminish the smaller the volume.
Cereal (and cereal bars, for that matter) are typically not a better deal at the dollar store because they are packaged in smaller sizes that make their unit pricing less competitive than that of Costco or Walmart. Granola, however, frequently turns up on dollar store shelves, and when it does you should go for it because it's expensive at grocery stores. For example, a 12-oz. bag of private label Honey & Almond granola (Target) or Oats & Honey granola (Walmart) costs $3-$4, and the price goes up for name-brand varieties. You can frequently find brands like Nature Valley at Dollar Tree and Dollar General for much less than the grocery store price.
You can sometimes find really great deals on coffee at the dollar store, including on name brands. If you're not a coffee snob, you can save a ton on the same 30.5-oz. container of Folgers, which is $10.75 at Family Dollar versus $20.00 at Walmart. If you're a little more of a coffee gourmet, you can also find deals on Starbucks beans, ground coffee and K-Cups, which are usually discontinued flavors or older versions of popular products. This is also true for Green Mountain products, like this 12-pack of Dark Magic K-Cups for $6.95, which is normally around $9 elsewhere. Just be sure to know how much your brand (or brands) of coffee cost from store to store. Unfortunately, if you're not paying attention to prices and packaging sizes, you can end up paying several extra dollars if you're just throwing things in the cart, even at the dollar store.
If you're a fan of bottled drinks like Vitaminwater, iced teas like Snapple and Arizona, or energy drinks of all kinds, there are some deals to be found at the dollar store. Your price mileage can really vary, however, much like coffee, so be sure to know how much your favorite sips cost before stocking up. The best deals are usually found by the six-pack or case, especially on flavors that have been discontinued. For example, TikTok lit up in 2022 after someone noticed that six-packs of Evian's sparkling water were just $1.25 at Dollar Tree—a significant savings from the normal price of around $6 (per Instacart). Dollar-store haulers have also reported finding deals on Jarritos 12-oz. sodas and Vitaminwater cases. Sodas in two-liter bottles aren't usually a deal at dollar stores, and you can get better prices at the grocery store or Walmart. There are often good buys on six-packs of Coke and Pepsi products, however, if you buy more than one unit (i.e. four for $10, two for $3, etc.).
Stock up on bottles of name-brand condiments at the dollar store, which often has deals on ketchup, mustard, barbecue sauce, and more. At these prices, you can stock a new fridge if you've just moved, or fill out the fixings table at a backyard barbecue on the cheap with steals like 8-oz. bottles of French's yellow mustard for $1.25 at Dollar Tree (versus $1.89 at Target) and 8-oz. bottles of Kraft salad dressing for $1.25 (they're $3 and up at the grocery store). You can also try out some fun odds and ends of discontinued flavors, like spicy ketchups and Velveeta jalapeno cheese sauce packets (bring on the corn chips!). Special mention goes to this two-pack of clear bottles available at Dollar Tree—save some money and make your own salad dressing or hot sauce and store it in one of these babies for easy squeezin'.