During the pandemic, snacking reached a whole new level while we all stayed at home, and even now, three years later, an increased number of "snacking occasions" have kept their place in our daily routines. The companies that produce our favorite snacks aren't about to let that trend reverse itself—in fact, many are focused on releasing new products that keep us indulging in treats, no matter the situation.
Giardiniera Oil Is Liquid Gold
In 2022, snack sales in convenience stores rose by 12%, reaching nearly $11.6 billion, C-Store Dive reported earlier this year. The publication also noted that despite increases in snack prices, the category has remained resilient—that is, people aren't letting those higher costs deter them from snacking. Anne-Marie Roerink, Principal at 210 Analytics (which conducts market research and specializes in the food industry), told C-Store Dive that part of the snack industry's continued success can be attributed to the rollout of smaller items.
"Manufacturers and retailers have not been able to promote as much as pre-pandemic," Roerink said so C-Store Dive. "But some are working on offering manageable prices to consumers who are struggling to stay on budget by shrinking the packages."
This is sort of like shrinkflation, but not quite, because consumers still have the option to buy the normal full-size snacks they're familiar with. However, when snack brands offer the products in miniature, or in various types of multi-packs, more consumers can, in theory, opt for the price point they're comfortable with.
G/O Media may get a commission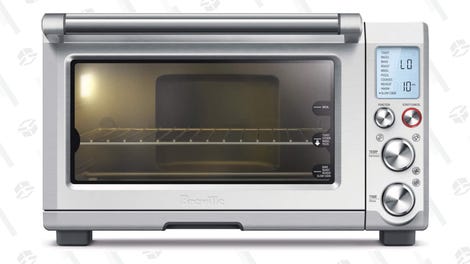 36% Off
Breville Smart Oven
Cook it
This smart oven uses a bunch of different algorithms to make sure whatever you're cooking is cooked to perfection, it heats up faster, has ten different function, and is easy to use.
The Hartman Group, a research consultancy firm focused on food and beverage, reported in February that eating occasions have become spread out across the day rather than centered around larger meals.
One company that has put its full force behind this "great things come in small packages" trend is Hostess Brands. In addition to a recent launch of a new snack cake that comes in both full and mini sizes, the brand also introducted Bouncers in 2022, which are miniature versions of its full-sized snacks including Twinkies, Ding Dongs, and Donettes.
Blue Bunny, another well-known brand in the convenience store snack space, announced today an expansion its mini line with Mini Bars, or "snackable" versions of Blue Bunny's full size offerings that "offer the ultimate bite size indulgence." Per the press release, the frozen dairy desserts are dipped in a cookie crunch coating with swirls of additional flavor inside and come in varieties including Vanilla Caramel Crunch, Chocolate Cookie Crumble, and Strawberry Shortcake.
Even HI-CHEW, the beloved bite-size Japanese fruit candy, has taken its already small format and shrunk it down even further. The new teeny-tiny Hi-Chew Bites—adorably called chewlets—come unwrapped in a bag rather than individually wrapped in a sleeve; each bag features mango, green apple, and strawberry flavors.
"Our brand fans have been requesting a version of HI-CHEW™ that is easily accessible and can be eaten on-the-go," said Teruhiro Kawabe, CEO of HI-CHEW parent company Morinaga America, Inc. "Now, HI-CHEW™ Bites gives consumers that option. They can easily grab a handful of chewlets at once or pick out their favorite flavor to easily pop into their mouth."
Tiny and portable is nothing new when it comes to snacking. But in 2023, brands seem to be shifting focus toward making sure we can never turn down a snack because we're not that hungry, or because we don't feel like ponying up the cash. With bite-size, mid-size, and full-size versions of every snack under the sun, these companies are meeting us where we are, and they'll follow us wherever we're going.