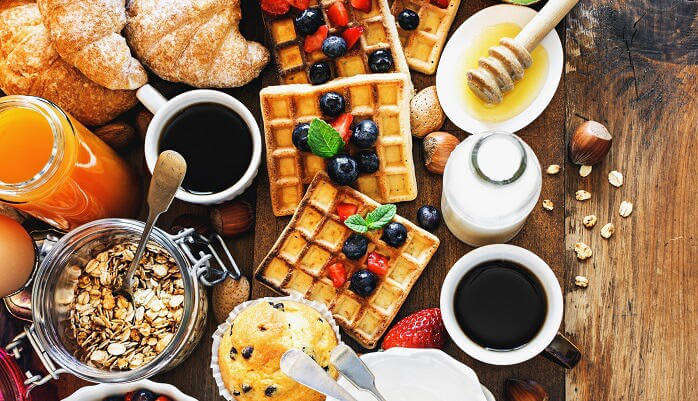 For those who are seeking to indulge in some of the most scrumptious and mouth-watering dishes on their vacation, Vancouver is the place to be. Vancouver food has led the city to rank at the top of the list when it comes to choosing the food capitals of the famous alley of the United States of America, Canada. Ranging from spicy and tangy to savory and sweet, the food in Vancouver caters to each and every tastes and preference, making the diners crave for more and more. One can never just stop at one bite after devouring into the dishes served at dining places in this culturally diverse city. Often tagged as a heaven for foodies, Vancouver is a destination that offers scrumptious cuisines ranging from Vietnamese to Contemporary, prepared by some of the finest chefs in the country. Go through this list of food items that one should certainly indulge in on their Canadian escape!
For those who look out for food not just to fill in the stomach but to appreciate the textures, mouthfeel, flavors, and aromas, Vancouver is paradise on earth that you have been waiting for. Take a look at some of this famous food in Vancouver, Canada that one should certainly relish when residing in the city.
1. JapaDog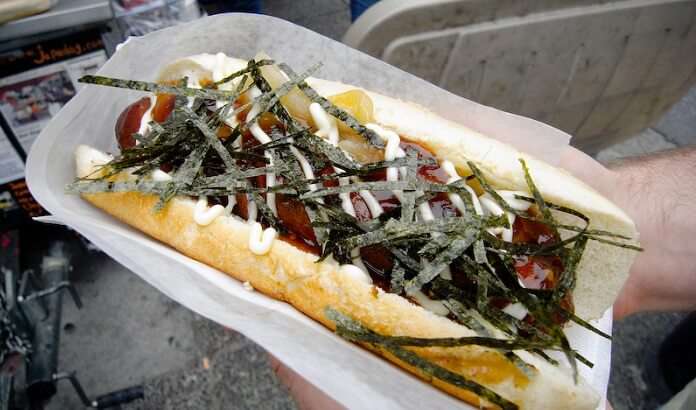 Inspired by another food capital of the world, Japan, JapaDog is a hot dog with a magnificent twist. Founded by an immigrant couple a few decades back, Japadog has earned itself love from both the locals and tourists alike. Offering a mix of sweet, spicy, and salty flavors by virtue of seaweed flakes, teriyaki sauce, wasabi, kimchi, and miso is spread over a hot dog made of pork, beef, turkey, or vegetables, JapaDog is certainly an addictive street food in Vancouver, Canada.
Must Read: 10 Essential Vancouver Travel Tips For A Seamless Vacation To Canada!

2. Salmon Candy


Vancouver food is definitely emerging as one of the top-ranking food due to the seafood served in the city. Salmon candy is one dish that makes it impossible to stop eating once a traveler or a local tries it. Made by smoking the salmon and glazing it with the famous maple syrup, the salmon candy oozes out the flavors of salty, sweet, and smokey all in one, and it becomes difficult to not make this an addiction. The way maple syrup balances out the saltiness of smoked salmon is capable of turning a non-fish lover into fish-lover!
Suggested Read: 10 Best Things To Do In Vancouver For All-round Fun
3. Lamb Popsicles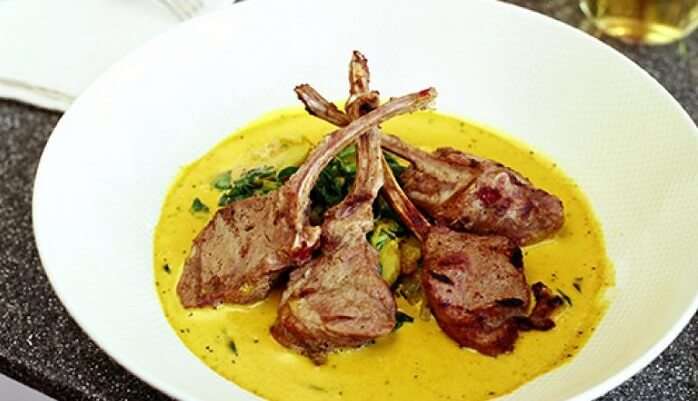 Image Courtesy: culinairemagazine
Served in the restaurant owned by Vikram Vij, lamb popsicles are certainly the must-try Indian food in Vancouver. One of the many specialties of the chef, lamb popsicles tastes nothing like one could have ever tasted before. The pink racks of lamb marinated in the white wine, mustard, and Indian spices, is not a dish that is eaten only by mouth. The appearance and fragrance of the dish make it possible for the diners to relish the dish through eyes and nose as well. The aroma of this dish is capable of making even the non-hungry people crave for it!
Suggested Read: 5 Vancouver Waterfalls Which Are All That You Need For That Well Deserved Break

4. Nanaimo Bars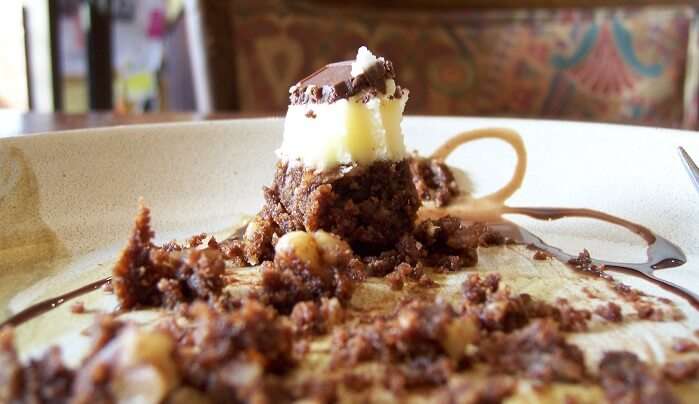 Catering to the taste buds of all the sweet tooth out there, Nanaimo Bars is sure shot one of the most popular confections amongst the locals. This Vancouver food is best served with a delectable cuppa. This ever so sweet bar is a triple layer slab with chocolate graham cracker coconut acting as the base, the middle layer is a creamy custard, and finally, the top is covered with a rich and decadent chocolate ganache. Offering an impeccable combination of crunchy and soft bite, Nanaimo Bars are surely a must-try!
Suggested Read: 10 Vancouver Hotels For Luxury And Budget Travelers
---
Planning your holiday but confused about where to go? These travel stories help you find your best trip ever!
Real travel stories. Real stays. Handy tips to help you make the right choice.
---
5. Cream Puffs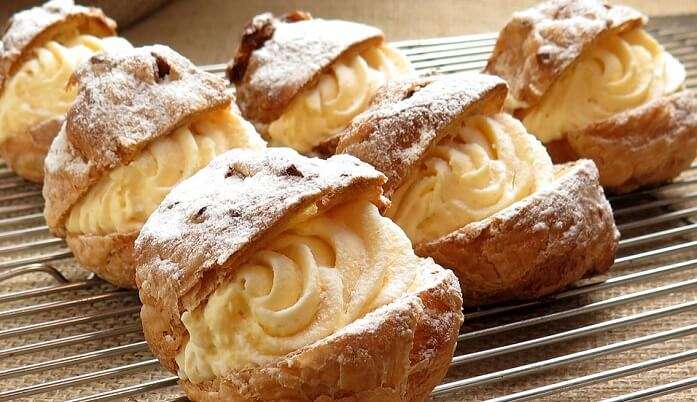 The cream puffs or the profiteroles are a French dessert that is an acquired taste. Famous amongst more than fifty percent of the locals, this Vancouver food is so tender and crispy at the same time that it just melts in your mouth. Filled with a myriad of different flavored icings and creams, these puffs are so light and airy that it makes every foodie in every corner of the world drool. Vancouver offers an impeccable amount of flavors including matcha, salted caramel, lychee-rose, raspberry, and much more that it becomes difficult to not give these treats a try.
Suggested Read: 7 Major Airports In Vancouver Ensuring The Safest Travel To Visitors

6. B.C. Roll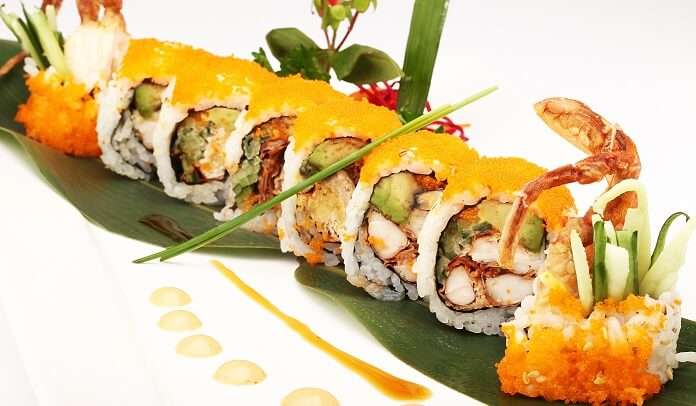 Another one of the Japanese-inspired Vancouver food, B.C. Roll is sushi with a hint of local touch. When asked by the locals about their top five favorites, it is possible that B.C. Roll would be a part of the list of many. The simplicity and elegance of this dish are what makes it famous. Made with cucumber, smoked salmon, sweet sauce, and then grilled with the skin on, this dish is crispy and moist at the same time, tickling the tounges of the tasters. The roll was first prepared by Chef Hidekazu Tojo in 1974 and is still one of the most loved dishes in the city.
Suggested Read: 10 Best Places To Visit In Vancouver That Are Filled With Love, And Life!
7. Pies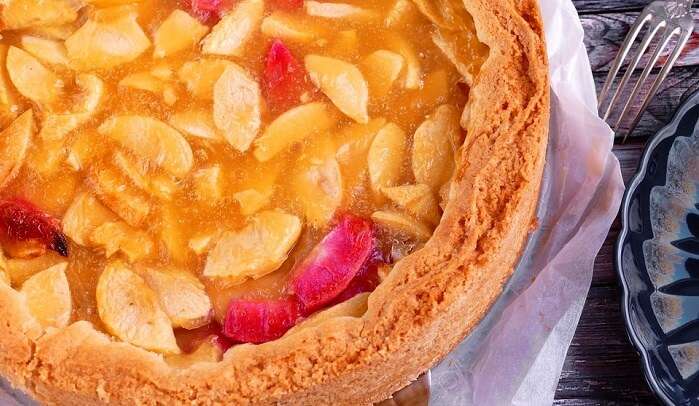 Another one of the most famous confectionery items of Vancouver food are the pies! With giving an opportunity to travelers to find organic food in Vancouver in the form of pie, this dish is prepared in both sweet and salty flavors, allowing the travelers to witness the best of both the worlds. The famous pies that are served in the city have to be an apple pie and the extremely loved steak & kidney pie. When in Vancouver, travelers are spoilt with the choices of pies that they can devour on their vacation.
Suggested Read: Vancouver In Winter: Know What's In Store For You In This Canadian City

8. Dungeness Crab

Another one of the most beloved seafood, Dungeness Crab is one of the scrumptious yet healthy food in Vancouver. Vancouver's favorite crustacean, Dungeness Crab is the best dish to have during lunch. Found in various restaurants that cover the grounds of the city, those travelers who seek to taste the best seafood of this city, Dungeness Crab should be on the top of the list. Prepared by roasting the crab in butter, white wine, parsley, and other aromatic spices, the appearance of the final dish itself will make the mouths drool.
Further Read: 10 Mosques In Canada Whose Beauty Will Overwhelm You
Vancouver, a city that is silently but quickly emerging as the food capital of Canada has something to offer to each and every kind of taste bud. From spicy Asian and sweet French to fusion Japanese and aromatic Indian, every traveler can find something for themselves in the list of some of the famous Vancouver foods. Making travelers bite their fingers and lick their tongues, the dining options in Vancouver are countless. From street food to fine dining options, there are a plethora of options that define the food culture of this city. Without further ado, plan your vacation to Vancouver and satiate your hungry inner souls like never before!
For our editorial codes of conduct and copyright disclaimer, please click here.
Frequently Asked Questions About Vancouver Food
What are some famous food in Vancouver?
Vancouver has many different varieties of foods. Some of the famous foods of Vancouver are Japadog, B.C. rolls, Salmon Candy, Spot Prawns, West Coast Oysters, Dungeness Crab, Chinese Cuisine and Dim Sum.
What are some local and street food in Vancouver?
There are many street and local foods in Vancouver. Some of the popular local foods are Le Tigre, La Boheme Creperie, Yolks, Japadog, Mangal Kiss, and Tacofino.
Which food item is most popular in Vancouver?
The most popular and appreciated foods by people are the seafood and salmon candy.
Are Chinese dishes available in Vancouver?
Yes, there are many Chinese restaurants available in Vancouver where you can get several Chinese dishes. Some of the famous Chinese dishes in Vancouver are crispy roast pork belly, Shanghai-style fried pork buns, Dungeness crab and stir-fry spicy clams.
What are some of the best restaurants in Vancouver?
St. Lawrence Restaurant, Medina, Arike, Viju, and Anna Lena are the few top-rated restaurants in Vancouver. They serve the most delicious food as well as the best services in Vancouver.
What is the price of Cream Puffs in Vancouver?
The price for the delicious Cream Puffs in Vancouver is $34 only which is comparatively $10 lower than that in other parts of the world.
Can I order food online in Vancouver?
Yes. One can order food online in Vancouver. Many online food services are operating in Vancouver. Uber Eats, GrubHub, DoorDash, and many more are there.
---
Looking To Book A Holiday Package?
Book memorable holidays on TravelTriangle with 650+ verified travel agents for 65+ domestic and international destinations.