Last year the number of UK patients seeking private elite healthcare and cosmetic procedures with Acibadem increased by 60%. This new office further enhances the level of service for patients travelling to Turkey seeking highly advanced medical procedures, from IVF treatments for infertility, obesity surgery, cosmetic procedures including hair transplant, to oncology, spinal surgery and latest heart care procedures.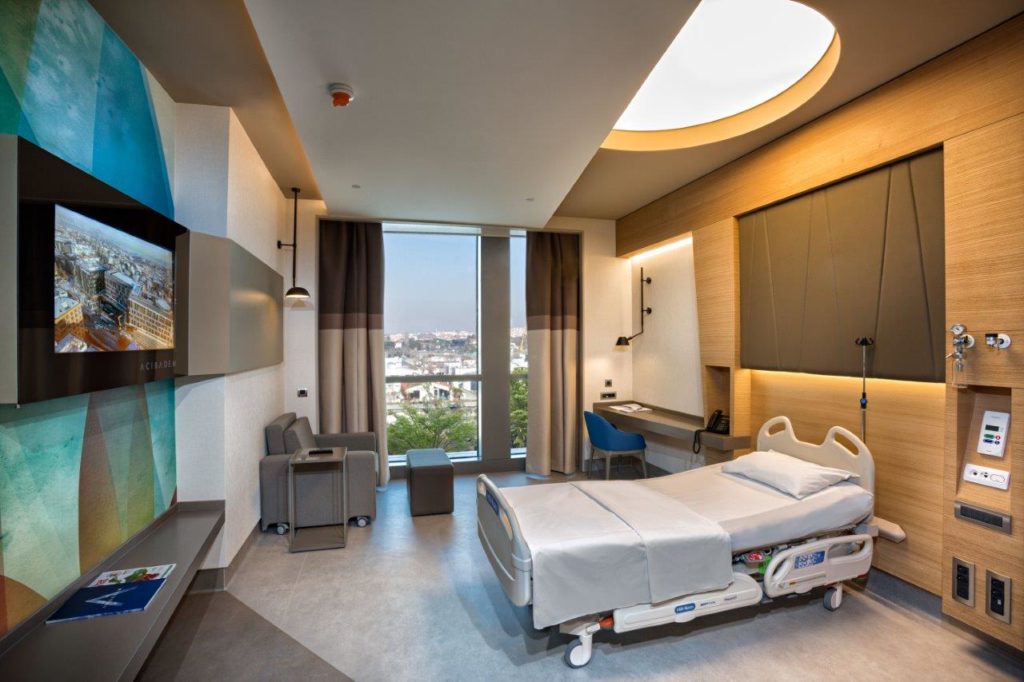 Typical patient facilities provided by Acibadem
Having opened its first hospital in 1991, Acibadem has since grown to become Turkey's flagship healthcare provider with 24 hospitals and 14 outpatient clinics across 5 countries, including Turkey, Macedonia, Serbia, Bulgaria and the Netherlands. The launch of its first UK-based Health Point office makes it possible for patients in the UK to access Acibadem's world-leading specialists and state-of-the-art medical technology.
Setting the gold standard for private healthcare
In 2012 Acibadem formed a partnership with IHH Healthcare, making it part of the world's second-largest healthcare chain. Five Acibadem Hospitals are accredited by Joint Commission International (JCI), the international gold standard for quality and patient safety.
Acibadem offers world-leading specialists in a variety of fields from organ transplant, oncology and heartcare to obesity and fertility issues. Acibadem's centres of excellence include 11 oncology centres, 16 heartcare centres, 10 organ transplant centres, 19 breast health centres and 14 in vitro fertilisation (IVF) centres.
A 360-degree private healthcare service
As the focal point for Turkish health tourism, each year Acibadem's 90 branches service more than 50,000 patients from 96 different countries across 5 continents. In 2021 alone Acibadem completed 5.5 million patient visits and 145,000 surgeries.
As part of IHH Healthcare, one of the world's largest healthcare networks, Acibadem continues to raise the bar for patient care with a full suite of integrated healthcare services by combining leading experts and technology with the contemporary sophistication of a five-star hotel.
Acibadem's Health Point Programme
By utilising the Health Point Programme, international patients can relax knowing that Acibadem are on hand to assist every step of the way, from applying for their first medical consultancy to scheduling their healthcare journey and accompanying them throughout their medical transfers.
With the arrival of Acibadem's world-class private healthcare ecosystem in the UK, the healthcare provider is building upon its existing infrastructure in Europe including its multidisciplinary International Medical Centre in the Netherlands, Macedonia, and Bulgaria.
Find Out More
Address: Acibadem Health Point UK, 68 Little Titchfield St, London W1W 7NG, United Kingdom
Website: acibademinternational.com
Andrew is a Marketing Communications consultant, working within the wellness, travel & lifestyle sectors. His track record in PR, marketing and branding spans over 25 years. He writes regularly on international wellness, travel, and lifestyle themes with a particular passion for the Mediterranean and the Americas. Originally from the UK, Andrew Forbes has lived in the US and France but now calls southern Spain his home, where he is Travel Editor for Spain's leading English language newspaper. For Andrew, luxury is many things; most importantly genuine hospitality, authenticity and thoughtful service. Web: www.andrewforbes.com