A group of 63 Chinese nationals including children aligned with a Christian group known as the Mayflower Church, fled China in 2019 and entered Thailand first in 2022 having spent time on the South Korean island of Jeju where hopes of obtaining asylum faded amid alleged harassment orchestrated by the Chinese state. Deana Brown of the Tyler Texas-based Freedom Seekers International has worked with the group throughout and is in Thailand with them. She told media reporters, around the world, on Friday, that they first encountered a problem when they learned that all new Chinese visa renewals here must now be also processed through the Chinese Embassy in Bangkok.
32 Chinese nationals, along with their children, who were detained in Pattaya, Thailand on Friday on overstay charges are facing conviction and deportation back to China, a country they fled from in 2019 seeking asylum from religious persecution. On Friday, as one NGO founder from Texas accompanied the group into the custody of the Pattaya Provincial Court, another, Mr Bob Fu, the founder of ChinaAid, an organisation fighting against religious persecution in China was calling on the State Department in the United States to intervene in what has the potential to become a nightmare scenario for the Thai government.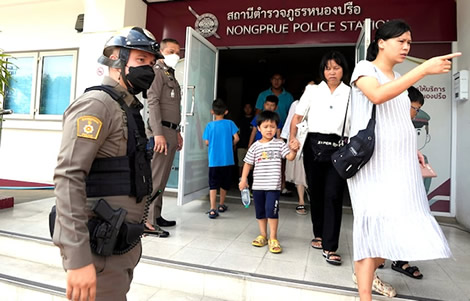 The Chinese Embassy in Bangkok has declined to answer international press enquiries following the detention of 63 members of a persecuted Christian church in Pattaya by local police working with the Immigration Bureau.
On Friday, it was confirmed that police attached to Nongprue police station under the command of the station chief Police Colonel Tawee Kutthalaeng took 63 Chinese nationals into custody including 32 adults and 31 children who have been seeking asylum in Asia after taking flight from China in 2019.
The operation, according to police sources, followed a tip-off from locals in the area.
The group is part of Shenzhen Holy Reformed Church also known as the Mayflower Church. 
Crackdown on personal liberties in China targets religious groups, especially underground ones with tens of millions, mainly middle-class people
Their plight follows an ongoing crackdown in China on religious liberties which has particularly targeted Christian denominations which have been suppressed within the Communist country where President Xi Jinping's policies have become increasingly repressive towards minorities and dissent, even from religious groups who do not overtly oppose the Chinese state.
Observers of China have noted that under President Xi, the country's authorities have become more coercive to such an extent that it has created a new culture of fear which has begun to undermine the communist country's capitalist miracle ushered in by former President Deng Xiaoping in the 1980s.
This may also be the reason for the huge influx of Chinese nationals including criminal gangs into Thailand over the last ten years as Beijing increasingly implements a digitally controlled surveillance state which uses database technology and artificial intelligence to implement increasingly controlling social monitoring.
Decade long period of heightened intolerance, fear and systematic persecution along ideological lines since President Xi Jinping came to power in China
The problem for Chinese Communist authorities is that there is growing support in China for Christian churches with tens of millions taking part in underground congregations which dwarf the numbers attached to officially sanctioned churches approved by the Communist Party throughout the country.
In the last decade, notably, since President Xi Jinping came to power, a crackdown has begun along ideological lines which targets Christian groups who claim it amounts to outright persecution.
This has seen churches and buildings demolished by the Communist Party in an open message to Christians who are often, just as in Thailand, middle class and educated.
The persecution of such groups has intensified as they have moved increasingly underground with some, like this group, from the Shenzhen Holy Reformed Church, ultimately seeking to flee China altogether for a better life.
Small group arrived in Thailand in 2022
The group is understood to have arrived in Thailand in 2022 but their visa status ran into difficulties after a change in Thai visa regulations which requires that all Chinese nationals renewing visas in the kingdom must, first of all, notify and obtain the consent of the Chinese Embassy in Bangkok.
Deana Brown is the Chief Executive Officer of a non-profit organisation, Freedom Seekers International, which is based in Tyler in the US state of Texas.
Along with a nurse, another American national, attached to the Chinese religious group, she was taken in, also, by police on Friday who later clarified that both were not under arrest.
The Christian activist has, for years, worked closely with the group. 
She said on Friday that it appears that one member of the party had been in contact with Chinese authorities and wished to return to China.
Chinese church members taken into the custody of the Provincial Court for now accompanied by American NGO leader and activist seeking US intervention
The 63 Chinese nationals have, for now, been taken into the custody of the Pattaya Provincial Court in the resort city although Ms Deana chose to stay with them for support along with the other American.
Because she was not placed under arrest, she was allowed to keep her smartphone and has used it to reach out to the media.
She explained that the group, who left China in 2019, first of all, settled in South Korea on the island of Jeju where she explained they faced harassment, stalking and threats which are believed to have come from the Chinese state which has, in recent years, been deploying overseas agents and representatives to mount such activities directed at renegade Chinese nationals even in western countries such as the United Kingdom.
Last year, after their prospects of being granted political asylum in South Korea, appeared remote, the group travelled to Thailand.
New visa regulation just brought in for Chinese nationals involving the Chinese Embassy in Bangkok dashed their hopes of remaining in Thailand legally
She said the problem became clear to them when they learned about the new visa rule regarding Chinese nationals.
'When they told us that, we knew that nobody could get their visas,' Ms Brown told the media on Friday. 'There was no way because as soon as they walk into the Chinese Embassy they're gone, we would not see them again. They've been hiding out since then.'
In Pattaya on Friday, Police Colonel Tawee Kutthalaeng confirmed that the adults in the group are being charged with overstaying their visas in Thailand which usually is followed, on conviction and finalisation of sentence terms, by deportation from Thailand to the home country, in this case, China.
They will be given a court date in a matter of weeks.
He clarified that the 31 children in the group are not facing charges with reports emerging that at least one was born in a Bangkok hospital.
In the meantime, supporters of the group in the United States and the media have been unable, also, to get a response from the US Embassy in Bangkok on the issue.
US NGO founder of ChinaAid, Mr Bob Fu, urges action by the Department of State in Washington DC saying time for this group of families is of the essence
In the United States, the founder of ChinaAid, another non-profit group which advocates freedom of religion and assistance for those facing persecution, has announced that it is canvassing the US Department of State to get involved in this case.
Mr Bob Fu, the founder of the organisation, has emphasised that time is of the essence in dealing with the matter.
'Before the Chinese government demands repatriation, the international community can help prevent this tragedy from happening,' he said in a statement posted on the organisation's official website.
Any intervention by the United States on behalf of the group would present the Thai government with a very difficult situation. 
Such a move would also anger conservatives and pro-Chinese groups in Thailand while any failure to deport the group back to Beijing would also land Thai authorities in hot water with Beijing.
Fears that this Chinese religious group could well end up in the same position as Uyghur Muslim families who, in 2015, also sought asylum in Thailand
There are fears that this could end up with a similar outcome to the plight of persecuted Uyghur Muslims who, in 2015, also sought asylum in Thailand from Chinese religious persecution which ultimately saw some travel voluntarily to Turkey, others forcibly repatriated or deported to China while another group of 50 men, remains in indefinite detention at the Immigration Detention Centre (IDC) in Bangkok despite appeals from human rights groups and the United Nations.
Similar standoffs in recent years with Saudi Arabia and Myanmar have shown that when handled expeditiously and decisively, the matter is best disposed of. 
However, these cases did not involve China which is intransigent and views such matters, according to a Chinese Foreign Ministry pronouncement on religious groups taking flight abroad, as an internal issue beyond diplomacy.
Further reading:
Tragic death of Uyghur Muslim in Immigration detention raises case of 50 men seeking asylum from China
Visitors warned of the deadly danger of working in Thailand without a proper visa and valid work permit
Crackdown on illegal foreigners sees American teacher arrested in class and Russian at his restaurant lunch
Immigration boss warns that a new crackdown on foreigners flouting Thai laws has begun
UK man claims FBI investigating the death of 41-year-old American held at Thai immigration jail in May