The disturbing case has parallels with another kidnap of a Chinese student on March 16th where a ฿3.2 million ransom was paid and police later arrested the gang. The horrific incident also comes after a recent hysterical and ignorant campaign of misinformation emerged online in China warning travellers not to visit Thailand claiming they face the danger of being kidnapped for ransom which prompted Thailand's Embassy in Beijing to issue a statement and led Thai officials to seek help from Chinese counterparts in dealing with the viral messages.
The Thai Metropolitan Police Bureau, on Sunday, confirmed that three known Chinese criminals had fled the country on Thursday back to Chengdu in the People's Republic having kidnapped and sadistically tortured to death a 22-year-old Chinese student, a music major and the daughter of a teacher in China. The young woman was only in the country just 20 days when subjected to a horrific fate at the hands of evil fellow nationals. This is the second publicised case in a matter of weeks where a Chinese student has been kidnapped by Chinese criminal elements in Thailand posing as tourists and comes amid a viral online campaign of disinformation in China warning travellers to the country to be wary because of the threat of kidnapping.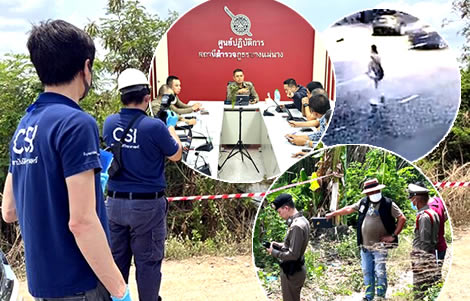 Thai police have already identified three Chinese suspects linked to the brutal and sadistic murder of a young 22-year-old student from China who only arrived in Thailand for the first time on Saturday, March 8th last.
A briefing on the shocking and brutal murder of the recently arrived Chinese student was given on Sunday by Police Major General Nopasilp Poolsawat, deputy police chief with the Metropolitan Police Bureau which is now coordinating efforts to have the three suspects identified in the outrage returned to Thailand to face trial.
Murder given top priority by Metropolitan Police Bureau with police quickly solving the case although the perpetrators managed to escape back to China
The case had been given priority by police top brass and was handled expeditiously by investigative officers from Thammasala Police Station in Nonthaburi who only received information relating to the young woman reporting her as missing on Friday afternoon last, the 31st of March.
The report was filed by 24-year-old Mr Mingkwan Nakhiransakul, a Chinese student advisor at Bangkok's Thonburi University.
Mr Mingwan had been apprised of the situation by the extremely distressed father of the young woman who police have identified as 22-year-old Ms Jin Can, a music major at Bangkok Thonburi University after he had received a graphic ransom demand from a Chinese criminal gang days before.
The father of the student told Mr Mingwan that he had been contacted by her kidnappers on Wednesday, March 29th on the Chinese WeChat application.
The criminal gang sent a picture of his daughter bound, gagged and subjected to violence with a demand for the payment of ¥250,000 or approximately ฿2.5 million to a Bank of China account.
Woman's father, a music teacher in China, thought, at first, the graphic message demanding a ransom was some sort of sick prank. He failed to pay it 
The father, a music teacher in China, told the university official that he had not been able to make the payment and feared for his daughter's safety.
At first, he explained, on being shown graphic pictures of his daughter being tied up and assaulted, he convinced himself that it was some sort of macabre prank but this turned to fear when in the days afterwards he was unable to contact her.
A formal complaint was lodged with Police Captain Thirawat Kaewsri, the deputy inspector of investigation at Thammasala Police Station who began pursuing the matter on Friday, March 31st.
Police from the station tracked sightings of the young woman at Bangkok's Thonburi University where she was an international exchange student from March 28th.
CCTV footage and other evidence told police that Ms Jin had taken a taxi to the Central Westgate Shopping Centre in the Bang Yai district of Nonthaburi and was seen there up until 9.30 pm on that day, Tuesday of last week, until she then appeared to go missing.
She was earlier located at a restaurant on Klong Taweewattana Road and had taken a taxi at 9 pm to the popular shopping centre.
Body in a rainbow-coloured plastic bag reported to Bang Mae Nang Police in Nonthaburi who liaised with Thammasala Police who were looking for Ms Jin
On Saturday, April 1st, at 10.30 am, police at Bang Mae Nang Police Station received a report of the discovery of a bag containing what appeared to be the body of a young woman, stuffed inside.
It was a rainbow-themed plastic bag.
This discovery was made in a waterway or pond at Ton Chueak Salaya Road in the Bang Yai area of Nonthaburi province.
Police Lieutenant Colonel Anan Panthong of Bang Mae Nang Police Station said the body showed clear signs of violence or torture and it appeared to be a woman in her mid-twenties.
No documents were found on the corpse.
A preliminary autopsy was ordered. This showed that it was already decomposing and suggested it was a female aged 25 to 30 years of age with white skin.
The urgent procedure was carried out by the Institute of Forensic Science after the body had been recovered from the scene on Saturday and sent there by the Por Teck Tung Foundation.
Horrific injuries on Ms Jin's body tell a grim tale of torture and butchery, a callous and heinous crime on a young woman studying music in Thailand
The victim's left-hand chest area was stabbed repeatedly, reportedly up to five times while her right-hand shoulder also showed a large gaping stab wound.
The head was covered with a blue cloth with blue transparent tape tied around the neck.
The body showed signs of bruising and torture throughout with the back area appearing to have been subject to burns.
The examination concluded that the subject had died approximately three to four days before.
Police interviewed a 65-year-old witness at the garden near the pond and he revealed that workers at the facility, on Saturday, April 1st, at 9 am had detected a rotten stench which directed them towards the pond where they discovered the body dumped in a gutter.
This led him to report to local authorities who called in the police at Bang Mae Nang Police Station who then liaised with officers at Thammasala Police Station investigating the disappearance of Ms Jin.
Police pinpointed the 3 member gang who have been identified and are linked to criminal networks in China in a rented Mazda car dropping off the body
He told officers that on Wednesday 29th last he had worked in the same location and he thought the body was not there at that time although subsequent evidence disclosed by police suggests that that may not have been the case.
Police investigating the case were able to identify a suspicious red Mazda car in the same area where the garden was located, the Lotus Garden Raceway on the road near Wat Ton Chueak Salaya.
They identified what they believed were three suspects who emerged from the car at 1.30 am on March 29th carrying the woman's body in the distinctive coloured rainbow bag and leaving it where it was later discovered.
Thai police have confirmed that they have also been able to identify all three Chinese nationals who are known and have links to the criminal underworld in China.
They are in the process of having warrants issued for their arrest including the issuance of a red Interpol notice so that they can be detained outside the country.
Police also disclosed that it appears that the three Chinese suspects were able to leave Thailand on Thursday, March 30th and return to Chengdu in the communist country.
Police have identified the three suspects, all male, as 23-year-old Zhou Xiongfei, 24-year-old Zhou Pengfei and 23-year-old Chen Sailing.
Rented a house in Nonthaburi's Bang Yai district where they carried out the barbarous torture and execution of their victim on the night of March 28th
Police discovered that the men had rented a luxury house in the Bang Yai district where they had taken the victim in a red Mazda car hired from a rental firm on the Phetchaburi Road which was returned on Thursday, March 30th, the same day the gang left to return to China.
In the meantime, police have added them to an immigration blacklist fearing they may try to re-enter the country again before they are arrested.
This is the second high-profile case in a matter of weeks involving criminal Chinese elements who have come into the country as gangs posing as tourists to specifically target a Chinese university student. 
It is the fourth case of a Chinese national who has been held for ransom in the last month or so in Thailand.
In the last similar case, a Chinese student identified as 32-year-old Ms Menglu Weng reported to police on March 17th that the night before, on March 16th, she had been abducted and held overnight by another three-member gang in a rented black Toyota Alphard vehicle after earlier dining with a female member of the group at a restaurant in Ekkamai.
A ransom of ฿3.2 million was paid in cash and cryptocurrency transfers.
Last case, two weeks ago, led to a swift arrest of the other Chinese gang within days just before they made their way over the border into Cambodia
A rapid investigation by police at ThongLor Police Station later led to the arrest of the gang in Sa Kaeo Province as they attempted to cross over into Cambodia.
The three are currently being held on remand facing charges concerning the incident including kidnapping, false imprisonment and extortion.
This latest case will also feed into a tsunami of negative coverage targeting Thailand on Chinese social media where disinformation and distorted stories about the kingdom have emerged in recent weeks, particularly highlighting the danger allegedly posed to Chinese visitors of being kidnapped and held for ransom in the country.
Viral fake news and misinformation targets Thailand
This led to Thai officials through the Royal Thai Embassy in Beijing issuing an urgent statement refuting such claims and offering assurances with regard to the safety of Chinese tourists in Thailand.
Top Thai officials have also requested assistance from authorities in China in countering the misinformation campaign which appears to be spontaneous but specifically features the threat to Chinese nationals of being kidnapped for ransom.
Thailand is projecting total tourist arrivals from China this year of 7 million visitors with the middle kingdom again on course to become, by far, Thailand's largest market for foreign tourism in 2023.
Further reading:
Fear-mongering, fake news and disinformation being stoked in China against visiting Thailand
Chinese tourists arrested on kidnapping and extortion charges insist they are innocent
Police defend Pattaya search warrant raid which saw two officers shot with Chinese man arrested and charged
Chinese man linked to organised crime arrested at luxury Pattaya mansion after shooting policemen
Illegal lending app run by Chinese staff charging up to 20% interest per week taken out by immigration police
Four Chinese men arrested after hideous murder of a Chinese tourist and his wife last Monday night
Iconic 70s Bangkok comes to life again as the dark story of The Serpent wows world Netflix audiences
Chinese woman seeks death penalty for husband who tried to murder her in Thailand by pushing her off a cliff
Chinese man who killed his wife in Thailand may face further charges including premeditated murder
Chinese credit card scammer arrested in Lumpini by Thai police after complaints from banks
Chinese pickpockets staying in hostels as backpacker visitors targeting tourists in Bangkok