The prospect of the return of Thaksin Shinawatra to serve his prison sentence in Thailand has been widely greeted by Thai observers and establishment politicians with scepticism. However, there can be no doubt that such an event would be a history-making spectacle if it should come to pass in the months ahead as the ex-premier has suggested.
Just over a week after former Thai premier Thaksin Shinawatra, father of Paetongtarn Shinawatra, who is currently odds on to lead the Pheu Thai Party to victory in the May 14th General Election, revealed that he wants to return to Thailand this year and serve his outstanding prison sentences, former Minister of Justice Somsak Thepsutin who resigned from the cabinet on March 17th, has rejected as baseless a claim that he introduced a new regulatory regime allowing for more non-violent prisoners to serve sentences outside the corrections system to facilitate his former boss in the Thai Rak Thai government up to the 2006 coup d'état.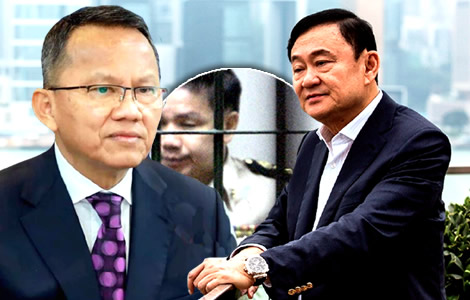 Former Minister of Justice Somsak Thepsutin who resigned in recent weeks from the government of General Prayut Chan ocha and the Palang Pracharat Party has been forced to defend himself after an academic linked him to the suggested return of ex-premier Thaksin Shinawatra to the kingdom and a possible attempt to help him avoid being incarcerated in the notorious Thai corrections system which has recently been criticised as sub-standard by the International Federation of Human Rights despite a decline in the prison population of 6% under Mr Somsak's stewardship since 2019.
Mr Thaksin has stated his intention of serving several prison sentences imposed on him since 2008.
March 24th interview with top Japanese news agency Kyoto by Thaksin has ignited speculation on the prospect of the ex-PM's dramatic return to Thailand
On March 24th, in a frank interview with a Japanese news outlet, Mr Thaksin suggested he was considering returning to Thailand sometime this year and was prepared to serve his time in jail so that, eventually, he could be reunited with his family and grandchildren.
The return of the former prime minister would be a dramatic and momentous event in the modern history of the kingdom and even more so with the prospect of him being whisked off to a Thai prison facility on arrival.
News of the proposed return of Mr Thaksin was initially greeted with scorn and scepticism by establishment politicians and groups in Thailand as well as some political observers.
The ex-premier fled Thailand during the Summer Olympics of 2008 before being convicted by the courts subsequently and sentenced to a total of 12 years imprisonment in respect of four cases against him relating to his relatively successful tenure as Thai prime minister from 2001 to 2006.
It is understood that two of those years may now not be applicable as the statute of limitations has expired on the first jail term handed down in October 2008, some months after he failed to return to Thailand when he left to attend the Olympic Games in Beijing as a guest of Chinese authorities.
Thaksin has dominated the Thai political arena since the start of the new millennium and continues to do so through his family despite legal threats
The charismatic politician who won reelection in a landslide in 2005 and who, through his family, still dominates the Thai political arena, was acquitted in two cases against him while a further two are still the subject of investigations by prosecutors.
One outstanding case links Thaksin as the mastermind behind the spectacular failure of the rice-pledging scheme which helped bring about the demise of his younger sister Yingluck Shinwatra's government in 2014 with another related to a disastrous deal to purchase 79 aircraft for Thai Airways which was subsequently identified as a key factor in the bankruptcy of the airline in May 2020 and a process which has now seen it on its way to financial recovery.
Both cases are still in the hands of the National Anti-Corruption Commission (NACC).
In his interview with Kyodo News, Japan's top news agency, Mr Thaksin made it clear that he did not wish his personal situation to impinge or influence political considerations as his youngest daughter seems on course to lead the Pheu Thai Party to a decisive win in the May 14th General Election.
Former premier expressly rules out any attempt to make his return easier or intervention through politics on his behalf. Says he told his daughter this
He emphasised that he did not wish to see any move whatsoever taken by a possible Pheu Thai-led government to interfere with the legal process relating to his predicament.
He specifically ruled out any move to pass a political amnesty bill or anything of the sort.
'I told my daughter. Don't allow the Pheu Thai Party to issue an amnesty law for me in parliament, I don't want it, because those things don't make me happy,' Mr Thaksin disclosed.
The former government leader, who is still hugely popular in Thailand but who is also a highly divisive figure with another section of the population linked to the military establishment who loathe him, told interviewers that as things stand, he is already serving a prison sentence by being away from his family.
'Now I've been serving a massive 16-year sentence because they kept me from my family. I have suffered enough. It's okay to go back and suffer in a small prison. In fact, this isn't a price you have to pay, but you have to pay because you want to be with your grandchildren. I should spend the rest of my life with my children and grandchildren,' he said.
Thaksin at 73 years of age says he wants to be at home in Thailand with his children and grandchildren
At the same time, the now 73-year-old Thaksin insisted that this should not be taken as an admission that he committed wrongful acts while in government.
'These things are not because I admit that I did something wrong,' he said.
Thaksin has three children including his son Panthongtae Shinawatra or 'Oak' and his older daughter Pinthongta Shinawatra who is the mother of two girls.
All are married with his son quietly marrying his long-term girlfriend Natthiya Puangkham, a hotel executive, in May 2022.
Mr Panthongtae has also been subjected to legal prosecution linked with his father's tenure in office but has emerged from these legal battles unscathed.
In November 2019, he was acquitted in a money laundering case linked to a scandal at Krung Thai Bank.
Thaksin, who is currently living in Dubai, expressed confidence in his daughter's ability to take on PM role
The former premier, who has been living a life of self-imposed exile in Dubai, told reporters that there was a chance that he would return to Thailand this year and surrender himself to the legal process.
He said he was doing this because he wanted to be close to his family and grandchildren.
Ms Paetongtarn or 'Ung Ing' already has one child and is expecting another which is due to be delivered just after the May election.
In his interview on March 24th, Thaksin indicated that he thought Ung Ing, who is expected to be revealed next week as the Pheu Thai Party's first choice for prime minister, has the ability and temperament to successfully lead Thailand's next government.
He said his 36-year-old daughter had learned over the years and was perhaps better than him because she is patient.
'She may be better than me. She is calmer, more patient than me, I think, and she is knowledgeable and intelligent,' Mr Thaksin explained.
Thaksin rubbishes claims that Pheu Thai will do a deal with Palang Pracharat as something that would only be the 'last option' to form a new government
Thaksin was ousted by a military-led coup in September 2006 while attending the United Nations in New York.
This followed a fully blown political crisis sparked by street protests triggered by the sale of his communications firm Shin Corp to Singapore's Temasek Holdings, a deal worth ฿73 billion in which it was reported that no tax was paid or due, at the time.
Thaksin told the Japanese news agency that talk of the Pheu Thai Party and his daughter entering into some cosy arrangement with the Palang Pracharat Party after the election to facilitate his return was simply not based on fact.
He indicated that if Pheu Thai was looking for a coalition partner after the May 14th poll, it would turn to its opposition allies in the democratic camp of Thai politics and suggested that the Palang Pracharat Party would be an option of last resort.
'It will be the last option. Not the first choice,' Thaksin observed.
Mr Somsak pointed out the new prison regulations were part of a 2017 law deliberated on and formulated by parliament and not himself as a minister
On Saturday, it was reported that an academic at Thammasat University, Thanaporn Sriyakul of the Political Science Association, had noted a change to the regulations within the Ministry of Justice which would allow for additional and expanded scope for prisoners who are not dangerous to serve their prison terms outside jail.
Both Mr Somsak and former Minister of Industry Suriya Jungrungruangkit of the influential Sam Mitr groups in the Palang Pracharat Party in recent weeks, defected to the Pheu Thai Party a week after leaving office with Mr Somsak, a seasoned politician and minister in successive governments who made no secret of his desire to serve again in office as a cabinet minister.
Responding to the claims, former minister Somsak denied that these changes were instigated by him and pointed out that the new regulation identified was part of legislation first proposed in 2017 and only drawn up in 2020 as the new law made its way through the parliamentary process.
'A minister cannot amend a law on a personal whim. Any proposed legal amendment must be subject to scrutiny from the Council of State and parliament,' Mr Somsak pointed out in rejecting the suggestion of political interference on behalf of his former boss Mr Thaksin with whom he served as a deputy prime minister and in key ministries from 2002 to 2006 in the then Thai Rak Thai led government.
Further reading:
Senator warns that Paetongtarn Shinawatra or Ung Ing, Thaksin's daughter, is wrong for the job
Legal pot does not appear to be working for Anutin's Bhumjaithai Party in latest opinion poll
New Shinawatra may lead the next quest for power as Pheu Thai Party aims for 14 million members
By-election polls amid a weak economy and rising food prices may mean a 2023 General Election
Move against Pheu Thai, the kingdom's biggest political party, over it's alleged links to Thaksin