Germany will send its federal minister to visit Taiwan next week for talks on research cooperation, an official said on Friday, marking the first high-level visit by a German minister to Taiwan in over two decades.
Education and Research Minister Bettina Stark-Watzinger will meet with Taiwanese officials during her two-day trip to Taiwan to discuss expanding cooperation in chip research, green hydrogen, and batteries, a ministry spokesperson said.
Government spokesperson Steffen Hebestreit clarified that the minister's visit to Taiwan is not related to the self-ruled island's sovereignty and Germany maintains its stance on the "One China" policy.
"We are also in regular and close contact with China and the Chinese leadership," he told reporters. "The visit that the minister for education and research is making to Taiwan now doesn't call into question our stance in any way."
It remains unclear whether Stark-Watzinger will meet with Taiwanese President Tsai Ing-wen during her visit next week.
The upcoming visit by Stark-Watzinger will be the first by a German official of that rank to visit Taiwan since 1997 when then-economy minister Guenter Rexrodt made a visit to the self-governing island.
TSMC's Global Expansion Plans
Her visit comes as Taiwan Semiconductor Manufacturing Company (TSMC), the world's largest contract chipmaker, said on Jan. 12 that it was considering opening its first plant in Europe and a second one in Japan.
"In Europe, we're engaging with customers and partners to evaluate the possibility of building a specialty fab, focusing on automotive-specific technologies, based on the demand from customers and level of government support," TSMC chief executive officer C.C. Wei said.
TSMC was said to be in "advanced talks" with suppliers last year about establishing a plant in Dresden, Germany, which will focus on manufacturing 22-nanometer and 28-nanometer chip technologies.
Previous German Delegation Visit
On Jan. 9, Germany sent a delegation led by the national defense committee chairman Marie-Agnes Strack-Zimmermann to Taiwan, where they met with Tsai and defense officials to discuss the stability across Taiwan Strait.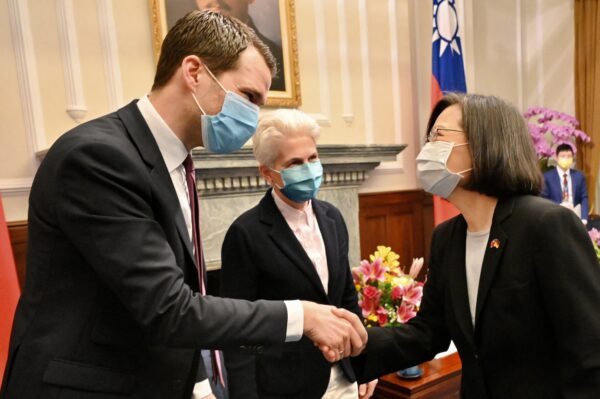 A day before their arrival, the Chinese military staged combat drills involving 57 aircraft and four naval vessels around the island.
Taiwan scrambled aircraft, naval vessels, and land-based missile systems after detecting 28 Chinese warplanes entering its air defense identification zone.
Beijing said the goal of the combat drills was to counter "provocative actions" by Taiwan and external forces.
Taiwan rejected Beijing's claims and said it was the "irrational provocation" of the People's Liberation Army that had severely destabilized regional security.
"We seek neither escalation nor conflict," the Taiwanese Defense Ministry said in a statement. "[Taiwan's] armed forces constantly monitor our surrounding area and respond to activities accordingly."
Taiwan has been a self-governing democracy since the Chinese civil war ended in 1949, but the Chinese Communist Party (CCP) views Taiwan as its own territory. It regards Taiwan as a breakaway province that must be united with mainland China by any means necessary.
Last year, the Chinese military staged large-scale military drills around Taiwan in retaliation for then-U.S. House of Representatives Speaker Nancy Pelosi's visit to the island.
Anders Fogh Rasmussen, former head of the North Atlantic Treaty Organization (NATO) and ex-Danish Prime Minister, earlier said that European and NATO powers were "too naive" prior to Russia's invasion of Ukraine and are risking repeating the same mistakes with China.
He believes that CCP leader Xi Jinping will watch closely the war in Ukraine before deciding on any attack on Taiwan.
"The world hasn't so far paid sufficient attention to the tensions in the Taiwan Strait," he said.
"We should realize that the conflict between China and Taiwan has, and will have, global repercussions. So we have a global interest in preventing those tensions from escalating into an armed conflict," Rasmussen added.
Bryan Jung and the Associated Press contributed to this report.