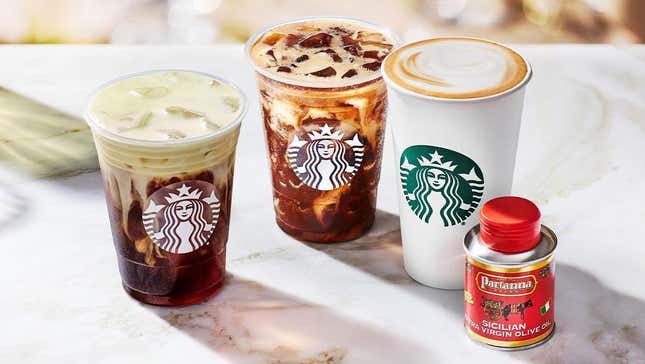 Back in February, Starbucks announced it would be bringing olive oil and coffee together—but a drink this special would only roll out to very few select markets at first. The Oleato menu initially debuted in Milan, Italy, featuring a three-drink lineup that includes the Oleato Caffè Latte, the Oleato Iced Shaken Espresso, and the Oleato Golden Foam Cold Brew. Yet while the drinks are still unavailable in (most of) the United States, you can snag them in a few places before they reach the masses.
How to Brew Tea Without Ruining It
Though Starbucks only specified Southern California as a North American Oleato market in its initial announcement, a recent press release notes that select stores in both Los Angeles and Seattle would be serving Oleato. Additionally, Starbucks Reserve and Reserve Roastery locations in Chicago, Seattle, and New York are all serving up the Oleato olive oil drinks—not just the three coffee-based beverages available at the regular Starbucks shops in LA and Seattle, but some Reserve-specific offerings as well:
Oleato Iced Cortado: Starbucks Reserve espresso, orange piloncillo syrup, a dash of orange bitters, and oatmilk, infused with Partanna extra virgin olive oil and served over ice, finished with an orange peel.
Oleato Golden Foam Espresso Martini: Starbucks Reserve Espresso, Kalak Single Malt Vodka, Vanilla Bean syrup, topped with Golden Foam, which is a blend of sweet cream and Partanna extra virgin olive oil. This is available in each location's Arriviamo cocktail bar.
Oleato Tasting Experience: This is a guided tasting in which a barista will guide you through how Starbucks infuses its coffee with Partanna cold-pressed extra virgin olive oil.
Other global markets, like Japan and the Middle East, are still set to receive the basic line up of Oleato beverages later this year, as well as the rest of the United States, though it hasn't been specified exactly when.
Fair warning that we found the Oleato Caffè Latte, Oleato Iced Shaken Espresso, and Oleato Golden Foam Cold Brew to be a mixed bag of pleasant surprises and disappointment (read our full review and rankings here). One thing's for sure: Each drink does indeed deliver on olive oil flavor. Whether or not that's a flavor you wish to associate with your morning Starbucks run is up to you and your palate.