Public opinion on whether the indictment is a political witch hunt, could affect the outcome of six state elections this year, say observers.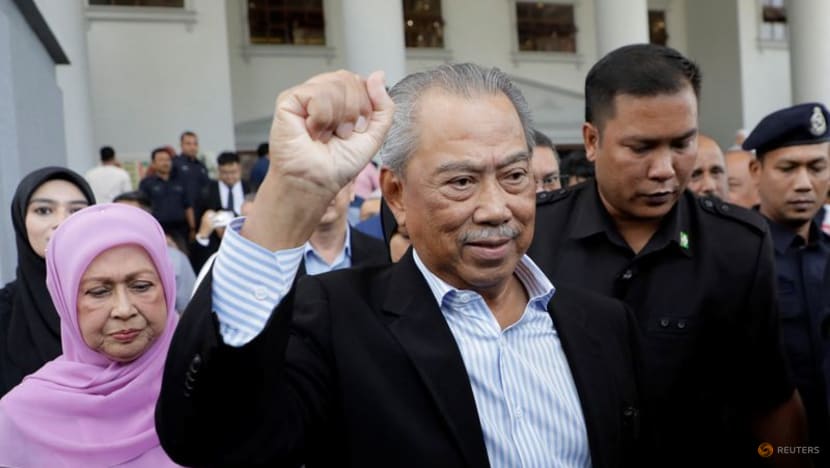 SINGAPORE: The indictment of former Malaysian prime minister Muhyiddin Yassin on Friday (Mar 10) for corruption, may affect his party's chances in the upcoming state elections, said analysts.
It also sends a signal to the international business community that Malaysia is serious about clamping down on corruption, and wants to regain their confidence in investing there.
The 76-year-old pleaded not guilty to the alleged misuse of funds from a COVID-19 stimulus initiative, which was launched when he was prime minister.
He is accused of obtaining RM232.5 million (US$51.4 million) from his party Parti Pribumi Bersatu Malaysia (Bersatu), along with two counts of money laundering amounting to RM195 million.
The large amount of money involved is also expected to rock the confidence of Bersatu's Malay base. "Half a billion ringgit is really a lot of money," said Professor James Chin, an Asian Studies expert from the University of Tasmania.
PANDEMIC PROGRAMME
The Jana Wibawa programme was set up during the pandemic to help local companies, Dr Chin told CNA.
"They were given special leeways, especially in terms of the contract amounts. So a lot of these Bumiputera companies were given contracts worth hundreds of millions of dollars, without proper scrutiny," he explained.
There were allegations of political motivations, as Bersatu and Muhyiddin himself received kickbacks from some of the firms.
Dr Chin noted that compared to the littoral combatant ships (LCS) scandal, the COVID-19 stimulus initiative is easier to investigate as it was more recent and over a shorter period of time.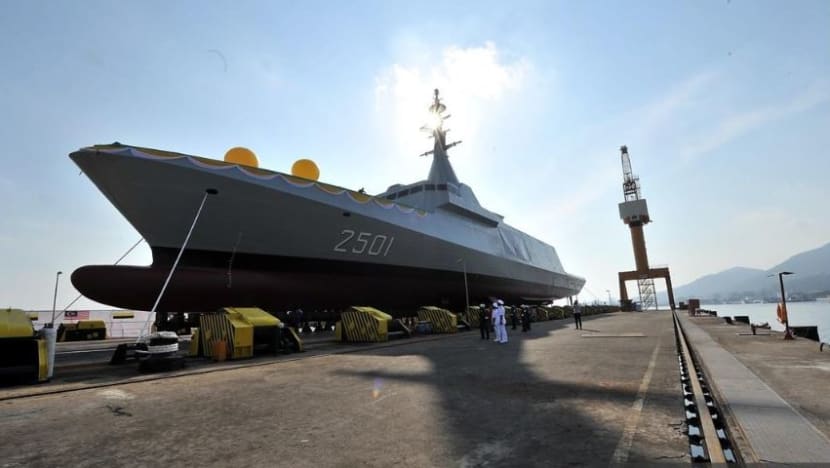 The Malaysian government had ordered six of the vessels a decade ago in a contract worth around US$2 billion. None of the ships have been delivered, despite more than half the bill having been paid.
The LCS project was started by then-Defence Minister Ahmad Zahid Hamidi, who is currently Deputy Prime Minister, igniting talk of double standards directed at Prime Minister Anwar Ibrahim.
"With the LCS, it's far more complicated. Most people don't realise that the LCS project actually goes back more than 10 years. A lot of the allegations about the LCS project did not happen during the pandemic era of 2020 and 2021," explained Dr Chin.
BID TO REGAIN MARKET CONFIDENCE 
The charging of former leader Muhyiddin is also Mr Anwar's way of trying to regain the confidence of the global market, according to Dr Chin.
"One of the big problems with Malaysia now, especially when it's trying to recover from the pandemic, is that they need to send a very strong signal out to the international community that they're very serious about cleaning up Malaysia," he said.
Foreign investors are apprehensive about Malaysia primarily because of 1MDB and other related corruption issues, Dr Chin said.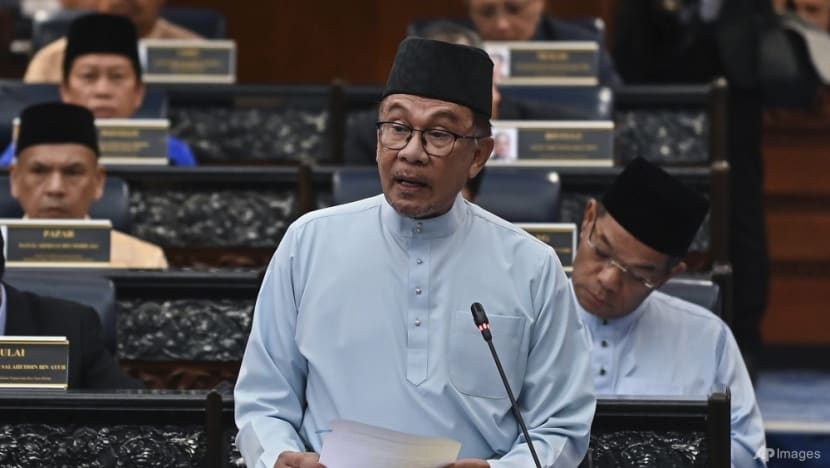 In going after "the Malaysian big fishes instead of small fishes", the prime minister is looking to "send a very positive signal to the market", he added.
Dr Wong Chin-Huat, political scientist from Sunway University, told CNA's Asia Now that in his first 100 days in office, Mr Anwar's government has managed to chart a direction for Malaysia, and won the support of some middle-ground voters.
"The government has a clearer vision than what we have had since four years ago," he said. "It is not moving very fast, understandably, because it has to avoid any backlash from the society and also within the government, as this is a coalition consisting of five different blocs."
SENTIMENTS AHEAD OF STATE ELECTIONS 
Dr Wong said Bersatu chief Muhyiddin is "probably the biggest catch from the party" in this crackdown, and this would have a mixed impact on the six upcoming state elections in Kedah, Kelantan, Terengganu, Penang, Selangor and Negeri Sembilan.
"Some would see his party Bersatu as being as equally corrupt as UMNO (United Malays National Organisation). But many would also see this as a political witch hunt, and therefore give him the sympathy votes," said Dr Wong.
One reason for Bersatu's strong showing in last November's general election was their success at portraying themselves as the corrupt-free party, said Dr Chin.
UMNO president Ahmad Zahid Hamidi is currently still facing outstanding graft charges.
By charging them at this particular moment, it makes it harder for Muhyiddin and his party to claim that they are cleaner than those in government, said Dr Chin.
How voters eventually swing would depend on factors such as the evidence presented in court to dismiss the allegations of political persecution, said Dr Wong.
Voters will also be looking out for any instances of double standards for government party politicians in similar situations, he added, and whether the government takes this further in trying to suppress the opposition.
"If this is seen as just vengeance against the opposition, it would backfire on the government. The Malay middle-ground voters would more likely give him sympathy votes," said Dr Wong.
Such a development would give the Perikatan Nasional (PN) coalition a boost in the three states currently held by Mr Anwar's coalition – Selangor, Penang and Negeri Sembilan.
Dr Wong also noted that "Malaysia's Attorney-General's Chambers has not had a very good record of being impartial".
"The question here is what would happen next in other cases like the warship scandal that involves UMNO leaders," he said. "Would there be the same seriousness of prosecution on those involved?"
PARTY POSITION
Muhyiddin is likely to remain as a Member of Parliament and as leader of the PN coalition, as he remains the best person to hold the parties together, said Dr Wong.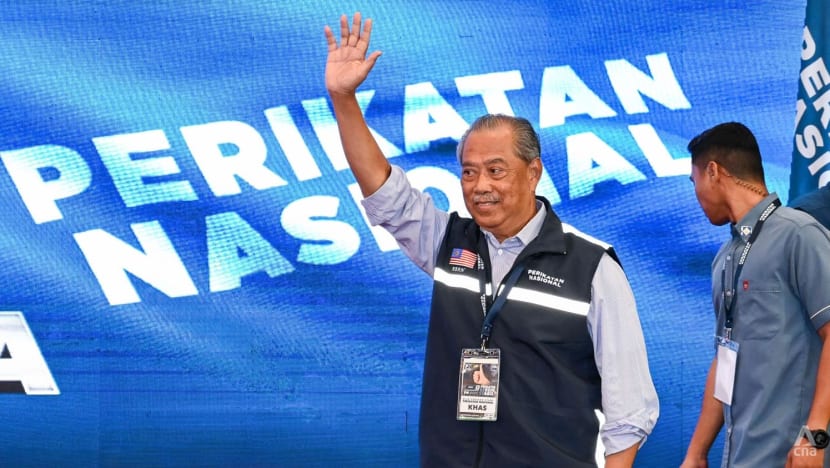 He explained that there is no law nor political culture for political leaders in Malaysia to give up their party positions after being charged.
However, Muhyiddin's party and coalition will face challenges in raising funds for the upcoming electoral contests, "because anyone who wants to give money to the party will be fearful of any repercussions", said Dr Wong.
Dr Chin said that in the Malay ground, Bersatu's support base, "all of them are talking about this issue", because of the huge sum of money involved.
However, he noted that a more accurate sentiment from the Malay ground can only be gained after Hari Raya, which is "always a very important time among the Malay electorate".
"We have to see what sort of money goes down to the ground from the government during Hari Raya, how big the celebrations are, and whether there is such a thing as a 'feel good' moment after the festivals. Because everybody expects the elections to be held in July or August this year," he said.