Pakistan police and supporters of former Prime Minister Imran Khan clashed on Tuesday as police attempted to arrest Khan at his residence for failing to appear in court on corruption charges.
Police fired tear gas and water cannon to disperse the crowd outside Khan's house in Lahore while his supporters threw stones and "petrol bombs."
Some 20 policemen were injured following the incident.
Several of Khan's supporters were also injured.
Police were unable to arrest Khan following the hour-long clashes, marking their second failed arrest attempt in less than 10 days, Geo News reported.
The Islamabad police said that legal action would be taken against those obstructing the implementation of the court order regarding Khan's arrest.
"We have come here just for the compliance of the court order," deputy inspector general of police Syed Shahzad Nadeem told reporters.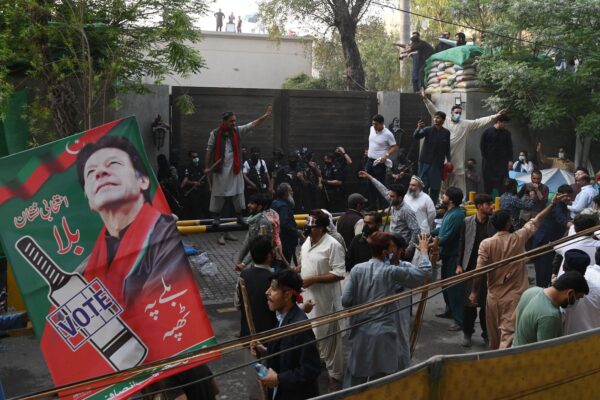 Khan has been embroiled in legal charges after being ousted from office due to a no-confidence vote last year. He was accused of selling state gifts that he had received as premier from 2018 to 2022 and concealing assets.
Khan posted a video on Twitter following the clashes in which he defied the arrest. He called on Pakistani people to "fight for your rights" and "hit the streets," according to a translation by The Hindustan Times.
"The police have arrived to arrest me. They think that if Imran Khan goes to jail, the people will go to sleep. You have to prove them wrong, you have to prove that the [people] is alive," he said in the video.
"I am fighting your battle. I have fought all my life and will continue to do so. But if something happens to me, they put me in jail or kill me, you have to prove that you can fight even without Imran Khan," he added.
'Illegal' Arrest
Shah Mehmood Qureshi, a close aide of Khan and vice chairman of his Pakistan Tehreek-e-Insaf party, said the arrest was "unreasonable" because Khan had been granted "protective bail" by a court.
Qureshi said that they would be willing to consider "voluntary surrender" if authorities were open to dialogue.
Khan has so far avoided arrest and claims the legal imbroglio has been orchestrated by the government in an attempt to discredit him. Last week, Khan failed to appear before a court in Islamabad to answer charges in a graft case against him.
In an interview with Al-Jazeera, Khan said the Tuesday arrest was "totally illegal" given his protective bail is valid until March 18. He denied selling state gifts while in office and stated that he was facing 80 cases.
"I am mentally prepared. There is a huge [police] force outside [as if] Pakistan's 'biggest terrorist' was holed up inside," he said. "They want to remove me from the electoral contest because they are petrified by the popularity of my party."
Khan has been demanding a snap election during protest rallies he has held across Pakistan since his ouster from office last year. The demands have been rejected by his successor, Shehbaz Sharif, who has said that the vote would be held as scheduled later this year.
In one of those rallies, Khan was wounded in a gunshot attack on Nov. 3, 2022, that he claimed was an "assassination attempt" by his rivals. One of his supporters was killed in the rally due to the attack.
Reuters and the Associated Press contributed to this report.