New Analysis
Samsung, the pillar of South Korea's economy, has seen its profit plunge in 2022 due to weak chip and smartphone demand. The company's weak financial performance has impacted the overall South Korean economy.
To reverse the weakening profitability, Samsung Electronics plans to invest 300 trillion won (about $227 billion) over the next 20 years to build five new chip plants in South Korea as part of the government's goal to establish "the world's largest" chip center by 2042.
The Samsung Group accounts for about 20 percent of South Korea's GDP and is vital to South Korea's economy.
Data released on Jan. 31 by Samsung Electronics, the most profitable division of the Samsung Group, showed its operating profit for 2022 was 43.38 trillion won (about $35 billion), dropping 15.99 percent over the previous year.
Particularly in the fourth quarter (Q4) of 2022, its operating profit plunged 68 percent over the previous year. This is the lowest recorded quarterly operating profit for Samsung Electronics in over eight years. The company's Q4 2022 earnings were significantly lower than the expectations of the financial investment industry, with many referring to it as an "earning shock."
The earning shock is primarily caused by the sharp decline in profits in Samsung's semiconductor business, which usually accounts for 60 percent to 70 percent of its operating profit.
In Q4 last year, the overall operating profit of Samsung Electronics' semiconductor business plunged by 97 percent year over year. Notably, memory chip sales fell 38 percent year over year, resulting in a loss.
As the world's largest maker of memory chips, the loss heavily impacted the company's overall performance.
Last year, amid weak global demand for chips, Samsung's chipmaking unit's inventory shot up 76.6 percent, according to the company's annual report released on March 7. Meanwhile, the average selling price of its chips drops dropped 17 percent year over year.
This year, the situation has worsened. According to JoongAng Daily, the company's Q1 2023 performance could be the worst in 20 years.
The report cited unnamed sources in the Korean semiconductor industry, estimating that Samsung Electronics may post an operating loss reaching 3 trillion won (about $2.31 billion) in the first two months of this year. Meanwhile, it said the company's memory chip business might lose up to 4 trillion won (about $3.08 billion) in the first quarter of this year based on an unreleased internal report.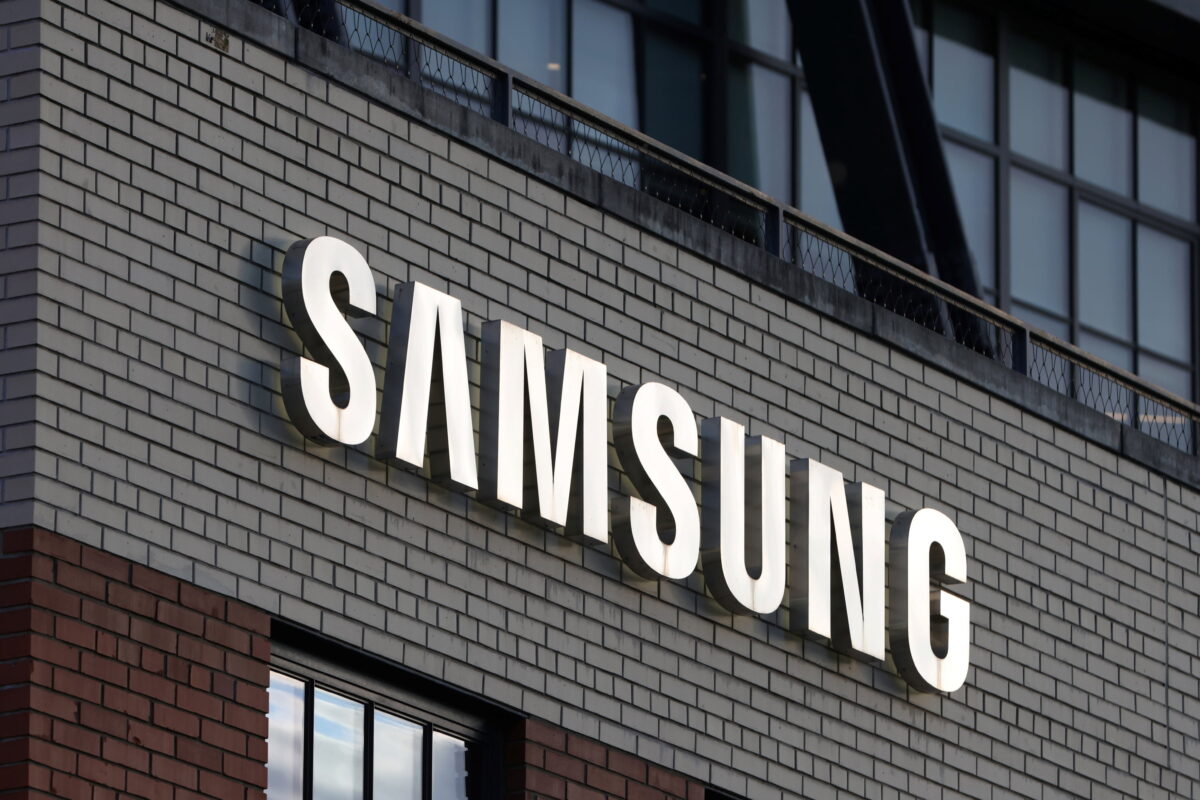 Weakened Memory Chip Business and Trade Deficit
Since the beginning of this year, the prices of DRAM and NAND flash memory, the two most important types of storage chips, have been on a downward trend.
According to market research provider Trend Force, DRAM prices are projected to drop by 20 percent and 11 percent in the first and second quarters of this year, respectively. Prices of NAND flash memory are also expected to drop by 10 percent and 3 percent, respectively, over the same period.
The price of DRAM had already plummeted by 34 percent in the second half of 2022 alone, according to the report.
South Korea has experienced a trade deficit for over a year, and one of the main contributors is the deteriorated business environment for its semiconductors.
The country's export volume has declined year over year for five consecutive months. Its main export item, semiconductors, plunged by 44.5 percent year over year in January and 42.5 percent in February, according to data released by the Ministry of Trade, Industry, and Energy in early March.
Meanwhile, its chip exports have declined year over year for eight consecutive months.
According to Statistics Korea, South Korea's chip inventory rate in January was 265.7 percent, the highest value in 26 years.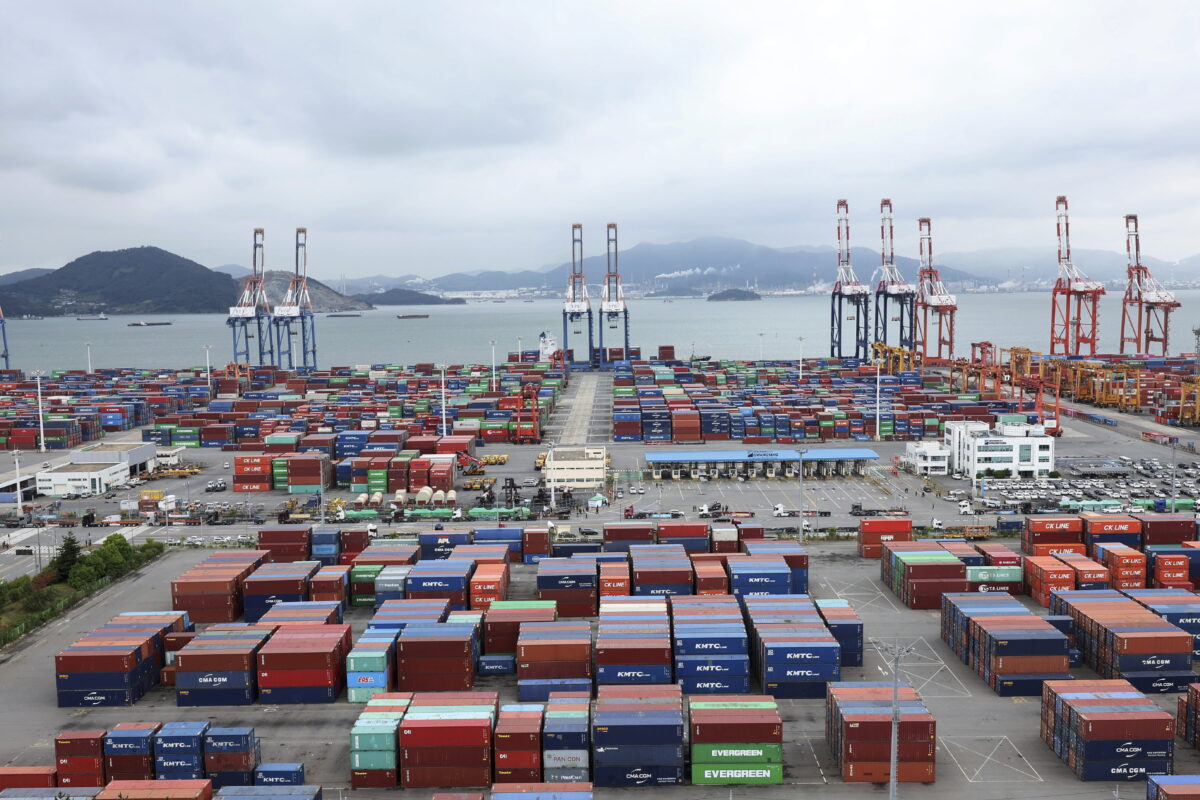 Massive Investment in Domestic Chip Center
South Korea's Ministry of Trade, Industry, and Energy announced on March 15 that Samsung will invest 300 trillion won (about $227 billion) over the next 20 years to build five new chip plants in South Korea. The move is part of the government's goal to establish "the world's largest" chip center by 2042.
The ministry said the chip center would be established in Gyeonggi Province and attract 150 materials, components, and fabless companies. Fabless companies include design and sales while outsourcing manufacturing.
Samsung said the new plants will be located near its existing domestic factories and produce computer memory chips for storing data and higher-margin logic chips designed to perform a broader range of functions.
Regarding the plans, South Korean President Yoon Suk-yeol said, "The current global competition situation is a matter of life or death, so we have to hurry," Hankyoreh reported. He added that the country "will develop the world's largest semiconductor mega cluster."
According to the report, Samsung Electronics claimed that the 300-trillion-won investment would result in a "direct and indirect" production inducement effect of 700 trillion won (about $540 billion) and create 1.6 million jobs.
Jaewoo Choo, a professor at Kyung Hee University in Seoul, told The Epoch Times on March 17 that he believes Samsung aims to occupy a leading position not only in memory semiconductors, but also in system semiconductors, such as CPUs. Meanwhile, the company wants to adopt a strategy similar to Taiwan's chipmaker by "bundling high-end semiconductor technology and production in the country," he said.
According to market research provider TrendForce, the market share gap between the two leading chip foundries, TSMC and Samsung Electronics, further widened from 40.6 percent in Q3 to 42.7 percent in Q4 last year, with TSMC leading by a large margin.
Sweeping US Chip Ban on China Affects Samsung
Last October, the U.S. Department of Commerce announced sweeping new export controls that will cut China off from cutting-edge chipmaking equipment and certain advanced semiconductor chips made with U.S. technologies, whether the chips were manufactured in the United States or not.
However, South Korean tech conglomerates Samsung Electronics and SK Hynix have major memory chip production plants in China. Samsung's only NAND flash plant is located in Xi'an, accounting for more than 40 percent of its NAND flash output and about 10 percent of the global capacity. SK Hynix produces DRAM chips in Wuxi, accounting for 45 percent of its total DRAM chip production and about 15 percent of the world's DRAM output.
Samsung and SK Hynix were given a one-year exemption from the controls to minimize potential damage to their businesses. The exemption allows the chipmakers to bring chipmaking equipment and other components to China to maintain their chip production in the country. But they would have to apply for U.S. export licenses after the grace period.
According to Seoul Economic Daily, Samsung and SK Hynix hastily relocated their sales offices from China to the United States in advance "to reduce the dangerous burden brought about by the escalating semiconductor rivalry between the two nations."
The report also said that Samsung and SK Hynix are "doing all they can to reduce [chip] export reliance on China within the given grace period."
In 2021, South Korea's semiconductor exports amassed $128 billion—those that went to China and Hong Kong accounted for 60 percent.
When asked what would happen after the one-year waiver ended for the companies, Alan Estevez, the U.S. Commerce Department's undersecretary for industry and security, said, "What will likely be is a cap on the levels that they can grow to in China."
Estevez made the comment during a forum hosted on Feb. 23 by the Center for Strategic and International Studies, a Washington-based think tank.
He explained that if South Korean companies are currently producing some kind of high-end NAND flash memory in China, they will be asked to stop at a certain level.
US New Subsidy Rules Further Targets China
In addition, the U.S. Department of Commerce on Feb. 28 announced new subsidy rules that would essentially ban chipmakers from doing business with China.
Applicants could receive up to $39 billion in semiconductor manufacturing subsidies from the United States. But they must agree not to expand their chipmaking capabilities in countries of concern—such as China—for 10 years after winning subsidies.
If applicants have ties with countries of concern in joint research or technology licensing, the company must return the full subsidy amount.
Samsung Electronics, which is investing $17 billion to build a new semiconductor plant in Texas, is reportedly looking to apply for the subsidy, according to Hankyoreh. But that would mean its business in China would take a hit.
Choo told The Epoch Times that the recent strengthening of U.S. regulations on China in the field of semiconductors had concerned many in South Korea that this will impact the country's chip industry negatively.
He said the problem is that the regulations set by the United States are not targeting ordinary, low-level semiconductors but those required by cutting-edge technology industries. Currently, the chips produced by Samsung in China are not restricted, but the United States wants to limit China from obtaining high-end chips in the future. It is still difficult to predict whether Samsung will suffer losses hereafter due to these regulations.
"The United States continues to increase pressure on China through chip restrictions, and the Chinese regime is feeling the pressure. Under such circumstances, South Korea should unite with its allies to further put pressure on Beijing in the field of chips and other cutting-edge technologies. South Korea should move in this direction to make the Chinese Communist Party surrender," Choo said.