Interestingly, after being confronted with potential charges by the investigators which he refused to acknowledge, Senator Upakit Pachariyangkun was taken to have his fingerprints checked and a background search conducted.

It is reported

he was found not to be the person who was the subject of an earlier arrest warrant issued concerning the case. An internal probe is already being carried out with the Metropolitan Police Bureau relating to an arrest warrant allegedly requested by a police unit led by Lieutenant Colonel Manapong Wongpiwat of the Metropolitan Police Bureau on October 3rd 2022 which was hours later

controversially

rescinded after a hastily convened meeting between police and senior court officials, reportedly, due to the status of the person named on it.

 
Thai Senator Upakit Pachariyangkun who has found himself in the eye of controversy since his son-in-law was arrested in a police swoop by the Metropolitan Police Bureau last September, on Monday, met investigators with the Narcotics Suppression Bureau (NSB) in Bangkok who are pressing for charges to be brought against him related to money laundering and transnational crime. Details of the meeting were released by senior prosecutors in Bangkok later yesterday afternoon on instructions from the Office of the Attorney-General (OAG). Senator Upakit has vowed that he is entirely innocent of any wrongdoing and, during his meeting with police, refused to acknowledge the charges put to him by officers linked with the ongoing investigation.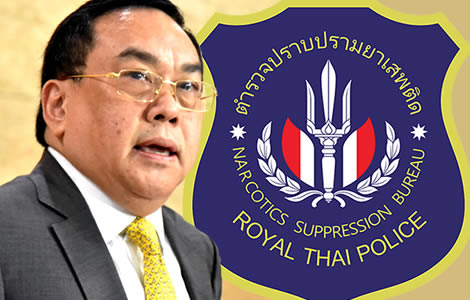 The Thai senator at the centre of a swirling controversy concerning a cancelled arrest warrant issued by the Criminal Court on October 3rd 2022 which has prompted calls by former MP and Move Forward Party firebrand Rangsiman Rome for an investigation while leading to an internal probe against a senior police officer of the Metropolitan Police Bureau who requested the warrant, on Monday afternoon, met with officers of the Narcotics Suppression Bureau (NSB) where he was informed of potential charges against him relating to money laundering and a possible penalty for being linked with transnational organised crime as a senior office holder.
Mr Kosolwat Intuchanyong, a deputy spokesman of the Office of the Attorney-General (OAG) in Taling Chan Road confirmed the news and told reporters that he had been informed by Mr Kulthanit Mongkolsawat, the Director-general of the Office of Prosecutors, that Mr Upakit Pachariyangkun, a Thai senator, had met with officers attached to the Narcotics Suppression Bureau (NSB) at 2 pm.
Senator was taken to the investigator's offices where he met three investigators together with officials from the Office of the Attorney-General (OAG)
He said that Senator Upakit was taken to the investigator's offices where he made known his explicit intention to defend the matters and facts presented to him.
It is understood that the senator claims that control of a company linked with police enquiries into money laundering was transferred by him to his son-in-law some time ago.
He was informed about the enquiries being pursued against him and the alleged facts established by investigators in the case.
It is understood that three investigators took part in these discussions as well as representatives of the Office of the Attorney-General (OAG).
Senator Upakit refused to acknowledge any basis for the charges.
Found not to be the person who was the subject of an arrest warrant according to reports from yesterday
After finishing his discussions with officers, the senator was taken to have his fingerprints checked and for the officers to run a criminal background check.
Reports from the Office of the Attorney-General (OAG) suggested that Senator Upakit was subsequently found not to be the person who was the subject of an arrest warrant and summons previously issued.
On this basis, an appointment was made for Senator Upakit to return to meet officials and investigators on April 17th where the investigative and prosecutorial process will be progressed further.
Office of the Attorney-General (OAG) has ordered proceedings in the matter to be expedited and instructed prosecutors to be fair to all parties involved
The Office of the Attorney-General (OAG) has ordered that the proceedings related to Senator Upakit Pachariyangkun be expedited given the seriousness of the charges and the senator's position which has implications if the charges against him are ultimately pursued and he is found guilty by a court.
It is understood the police investigation linked with Senator Upakit is related to arrests made on the 17th of September 2022 including that of Myanmar tycoon and military junta associate, Dr Tun Min Latt by officers of the Metropolitan Police Bureau.
The arrests made at various locations in Bangkok saw the 38-year-old son-in-law of Senator Upakit detained and later charged with drug trafficking and money laundering alongside Dr Tun Min Latt with over ฿200 million in assets seized.
Explosive allegations made in February by firebrand MP Rangsiman Rome in parliament after which he revealed details of the rescinded arrest warrant
In February, explosive allegations made by Move Forward's Rangsiman Rome in a parliamentary debate identified a warrant purportedly issued for the arrest of the senator on October 3rd 2022 which was subsequently rescinded by senior officials with the reported support of a senior police officer according to Mr Rangsiman.
Recently, Police Lieutenant Colonel Manapong Wongpiwat of the investigation team of the Metropolitan Police Bureau who led the probe into Dr Tun Min Latt was transferred to another role along with other officers linked to the case.
Police Lieutenant Colonel Manapong has found himself under an internal disciplinary investigation over the request to have the arrest warrant issued for a sitting senator which is ongoing.
Defamation proceedings taken by Senator Upakit 
Senator Upakit has also commenced defamation proceedings against Mr Rangsiman and others and in recent weeks has insisted that he is entirely innocent of the charges against him.
He has also denied vociferously that he had used his position to influence police investigations into the matter and the legal process, pointing out that the arrest of his son and law, Mr Dean Young Gultula, had thrown his family into turmoil and demonstrated clearly for all to see that he did not influence such matters.
At a press conference, the senator broke down over the allegations being made against him and vowed to fight them in court. He insisted that he had nothing to do with any illegal activities.
The 61-year-old senator branded the case against him as a fabrication linked to politics and apologised only for failing to acknowledge the claims against him earlier.
He said he feared speaking to them would only give them more substance than they deserved.
On Monday, it was reported that the Office of the Attorney-General (OAG) has urged investigators and prosecutors to dispose of the matter in a manner that was fair to all parties concerned while upholding the law.
Senator faces serious legal jeopardy if charges and legal proceedings are pursued in court and he is ultimately convicted because of a 2013 crime law
While it is understood that Senator Upakit is facing the prospect of potential charges being pursued connected with money laundering. He may also, therefore, face a penalty under the Anti-Participation in Transnational Organized Crime Act 2013 for being a sitting senator and participating in transnational crime, if convicted.
This potentially opens up the senator, if a case against him is pursued and brought to a conviction, facing a penalty or punishment that would be twice as high as that for those ordinarily charged and convicted of this sort of offence.
Section 8 of the law passed by the government of Yingluck Shinawatra and which was signed by King Bhumibol Adulyadej in June 2013 reads: 'A member of the House of Representatives, a member of the Senate, a member of the local assembly, a local administrator, a government official, an official in a local administrative organisation, an official of a state organisation, a director or executive officer or official in a state enterprise, an official, a director, a manager or any person responsible for the operation of a financial institution or directors of organisations specified in the Constitution, who have committed an offence under this Chapter, shall be punished two times of the penalties specified therein.  
A similar provision exists in Section 10 of the Anti-Money Laundering Act of 1999.
Further reading:
Police chief orders probe into police officers who sought a rescinded arrest warrant for a sitting senator
PM's party lashes out at MP Rangsiman Rome's 'irresponsible' revelations in parliament last week
Corruption and the role of the unelected Senate in electing the next PM to be General Election issues
Prayut to make his move for a third term but is the battle for power already lost to Pheu Thai?
PM and Ung Ing to do battle in 2023 for the top job with public debt and the economy as key issues
Pheu Thai, Palang Pracharat coalition now a distinct possibility after the next General Election in 2023
PM upholds status quo as he seeks a path back to power with the help of the Bhumjaithai Party
3 out 4 believe that Pheu Thai will take power in 2023 with a third Shinawatra taking the reins
Court decision on electoral law is a big boost for Pheu Thai Party as Prayut remains tight-lipped
Constitutional Court voting decision a watershed moment for Thai politics says top Pheu Thai MP and whip
Uncertain politics ahead as PM reported to be planning to dissolve the House of Representatives
Prayut hails economic progress by his government but his path to reelection next summer is still unclear
Pheu Thai looking at property developer tycoon Srettha for PM role after next General Election
Possible Pheu Thai PM Paetongtarn Shinawatra promises a new society where everyone is secure
Drugs to be an election issue as Anutin digs in insisting that attitudes must change on cannabis
Kingdom engulfed in crisis with over 93% of the public saying Prayut must relinquish power now over term limit
Senator warns that Paetongtarn Shinawatra or Ung Ing, Thaksin's daughter, is wrong for the job
Legal pot does not appear to be working for Anutin's Bhumjaithai Party in latest opinion poll
New Shinawatra may lead the next quest for power as Pheu Thai Party aims for 14 million members
Cannabis remains illegal as ministers push through a law controlling its use by the public after decriminilisation
Bad news for PM and Palang Pracharat in Bangkok on Sunday as resurgent Pheu Thai Party wins big
About the Author
James Morris is a pename for an international writer based in Bangkok who works on various international news media. He is a sub editor with the Thai Examiner news website since it began in 2015. Son Nguyen is an international writer and news commentator specialising in Thai news and current affairs. He commenced working with the Thai Examiner News Desk in May 2018.