BEIJING: After upgrading the bilateral relationship between Singapore and China, the two countries will take the next step forward with agreements signed on several areas of cooperation, Prime Minister Lee Hsien Loong said on Saturday (Apr 1) as he wrapped up his official visit to China.
Beijing sees "the black clouds" in the global environment. At the same time, it wants "friends" and would like to have stability and cooperation with other Asian countries including Singapore, Mr Lee told Singapore reporters.
"So I think that is an environment in which we can continue to work on our relationship with them and to go into new areas, whether it is digital, whether it is the green economy, whether it is additional financial services, including financial market, renminbi, whether you are talking about food security.
"All areas where there is potential for growth and also the need for us to maintain linkages at the time when international linkages cannot be taken for granted," the Prime Minister said.
In an interview to round up his six-day visit – his first to China in nearly four years – Mr Lee said the cooperation with China needs to be kept relevant as economies progress and interests shift.
Citing the China-Singapore Suzhou Industrial Park – the first government-to-government project between the two countries that was launched in 1994 – Mr Lee noted that it has evolved from a model for developing a township to attracting high-tech activities now. 
"So similarly, our cooperation with China needs to keep up to date to keep relevant," Mr Lee said.
"We have an FTA, we've upgraded it. Now we have subsequent negotiations on the FTA to widen its scope to enhance the favourable terms which it offers to extend to us some of the privileges which are in other FTAs, which China has concluded since a Singapore-China FTA was done.
"And therefore, it will mean more opportunities for our business people and more competitiveness for them. And I hope also it will mean more opportunities for Chinese companies to come to Singapore and do business in Singapore."
Good relations have to be worked on, Mr Lee said. "You have to keep on making it better and better. We are never satisfied," he added.
Singapore and China signed seven Memorandums of Understanding during his visit, ranging from food security, the arts to water and environmental research.
Mr Lee met President Xi Jinping on Friday, with both leaders agreeing to elevate bilateral relations to an "All-Round High-Quality Future-Oriented Partnership". 
RESTORING TRAVEL CONNECTIVITY
When asked about other areas Singapore wants to work on with China, Mr Lee said the two sides are trying to restore civil aviation services to what they were pre-pandemic.
"They're not quite there yet, they are at only 40 per cent of pre-COVID levels, and in the process of getting there, and we are talking to the Chinese to encourage them to move faster so that we will be able to get more people to flow.
"I think part of the flow has not resumed because the Chinese have not fully lifted the visa requirements on tourists to the mainland," Mr Lee told reporters.
He added that when he raised the issue with China's Premier Li Qiang, he replied that he would "look at it".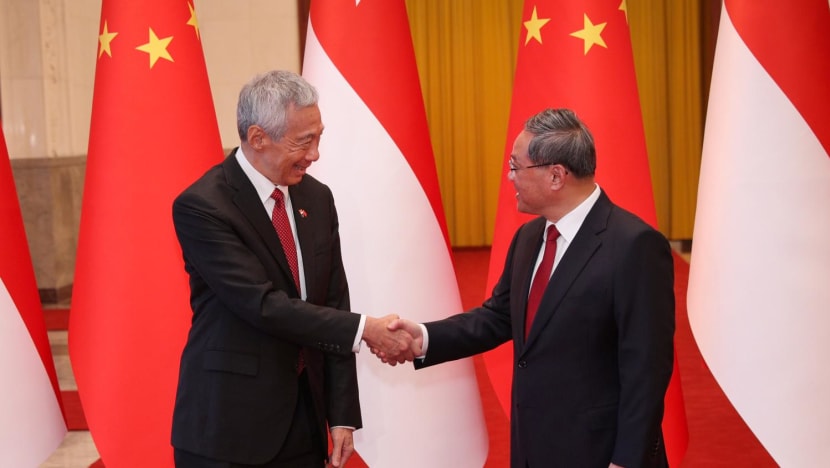 RELATIONS WITH ASEAN
At the round-up interview with Singapore media, Mr Lee was asked how the Association of Southeast Asian Nations (ASEAN) would handle the increasing attention paid by the US and China in the region, given the unresolved issues between China and other countries. 
Mr Lee responded that countries all want to have good relations with China and the US. 
Trade and investment relations take place within the context of the overall relationship between ASEAN countries and China, and this includes issues such as the South China Sea, Mr Lee said.
"How those are handled sets the climate in which the economic cooperation progresses.
"And the more it is possible for China to have to create, manage its approach to ASEAN countries, all of which are much smaller, in order to give them space to enable them to have their interests fairly respected and preserved, I think the easier it will be for the ASEAN countries to pursue further investments and trade with China to enhance and prosper their economic relations," the Prime Minister said.
This was the principle most agreed with, he added. 
"In practice, of course, you have to look at the specific issues, and when it comes to bargaining, there will be negotiators that will have to work hard. But I think that is the mindset, which will make it possible in a troubled world for countries to have give-and-take to maintain working relations and mutual trust and to be able to coexist," Mr Lee said.
"AN OLD FRIEND"
Mr Lee was earlier welcomed by Premier Li at an official ceremony at the Great Hall of the People in Beijing.
Calling Mr Lee "an old friend, familiar to the Chinese people", the Chinese premier noted that the Singapore Prime Minister is one of the first foreign leaders he has received since taking office last month.
He said during a meeting with Mr Lee that China and Singapore attached "high importance" to their bilateral relationship. "We are gratified to see the closeness of this relationship", he added.
Mr Li noted that Singapore had been "deeply involved" in China's modernisation drive since the early days of China's reform and liberalisation. 
"The new government of China would like to work with Singapore to deepen our integration exchange, our modernisation and bring our bilateral relations and practical cooperation to (a) new level so that together we can bring more benefits to our people and contribute to our … peace and stability, development and prosperity in the region and beyond," he said during the meeting.
In a press statement on Saturday, Singapore's Ministry of Foreign Affairs (MFA) said Mr Lee expressed in-principle support for China's interest in joining the Comprehensive and Progressive Agreement for Trans-Pacific Partnership (CPTPP) during his meeting with Mr Li. 
The Prime Minister also welcomed China's application to the Digital Economy Partnership Agreement (DEPA) in accordance with the rules and procedures of the agreement.
Mr Li then updated the Singapore Prime Minister on his priorities for China, which includes the continued push for reform and ensuring high-quality development. Both leaders agreed to step up party-to-party engagements, said MFA. 
"Both leaders also exchanged views on regional and international developments. They took stock of the strong momentum in ASEAN-China relations, and looked forward to more substantive and practical cooperation that would benefit both regions and peoples," the ministry added.
SIGNIFICANCE OF ENHANCED SINGAPORE-CHINA RELATIONS
Commenting on the significance of the enhanced relations, Dr Benjamin Ho, Assistant Professor at the China Programme at Singapore's S Rajaratnam School of International Studies, said that this would allow Singapore to tap into Chinese expertise. 
"China is Singapore's biggest export market so we certainly need China's doors to be opened to ensure our ongoing economic well-being and vibrancy," he told CNA.
"The significance for Singapore is that it allows us to tap into the Chinese know-how in the areas listed in the partnership, thus further diversifying our ability to connect economically, intellectually and socially with China, thus enhancing and broadening our international footprints."
Asked how the new partnership was different from the previous "All-Round Cooperative Partnership Progressing with the Times", Assoc Prof Ho said that the upgraded partnership is more specific in terms of areas of joint cooperation both countries want to work in. 
Beijing is the last leg of Mr Lee's trip that earlier took him to Guangdong and Hainan provinces. He returns to Singapore on Saturday.