The possibility of Chinese aid will be the subtext of the meeting between Russian President Vladimir Putin and Chinese President Xi Jinping, says Robert Kelly.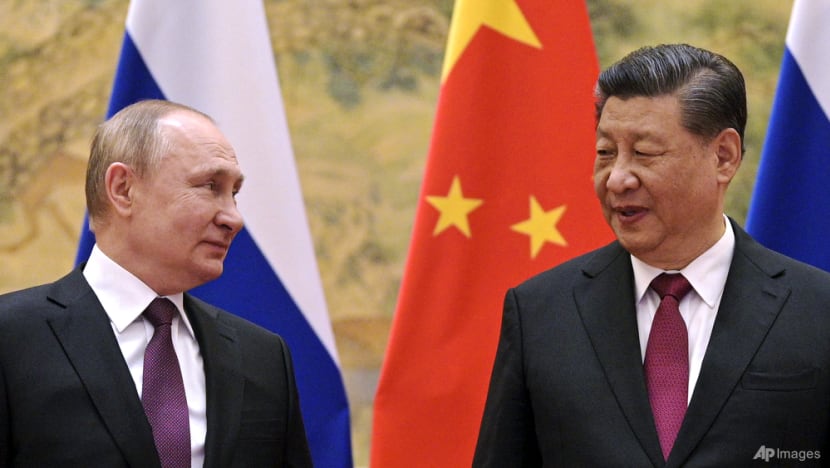 BUSAN: After it brokered a deal to re-establish ties between Saudi Arabia and Iran just last week, could China score a diplomatic coup in Russia next?
Chinese President Xi Jinping will soon be visiting Russian President Vladimir Putin, in a state visit from Monday (Mar 20) to Mar 22, his first trip to Moscow since Russia invaded Ukraine in February 2022.
Xi had raised his concerns about the war to Putin when they met in September 2022 in Uzbekistan, at a time when Kremlin voices talked up the Russian use of nuclear weapons. On the first anniversary of the invasion, China released a 12-point peace plan, warning against using nuclear weapons and calling for urgent talks.
Though Xi would likely rather see Putin win the conflict, the threat of nuclear escalation is so terrifying that Beijing has repeatedly signalled to Moscow to avoid nuclear threats.
COULD CHINA PLAY PEACE BROKER?
Could Xi succeed in bringing Russia and Ukraine back to the negotiation table? He might try, but neither Ukraine nor the West will accept mediation by a party that has affirmed support for Russia all this while.
China and Russia's "no limits" partnership declared just weeks before the invasion, is thought to have given Putin the confidence to launch his war. In the Gulf, China is a disinterested party who just wants access to hydrocarbons and has no interest in sectarian conflicts.
While Beijing has provided an economic lifeline to Moscow by purchasing Russian oil amid a tightening Western embargo, those purchases have been at heavily discounted prices.
OR OPENLY HELP RUSSIA IN THE WAR?
Putin is now in trouble, trapped in a war of attrition against Ukraine and its Western supporters with resources that vastly outweigh Russia's.
The Ukraine war risks turning into a repeat of the Soviet invasion of Afghanistan in 1979 – an expected blitzkrieg that turned into a long, unwinnable quagmire. The Soviets eventually tired and retreated. Russia will likely meet the same fate in Ukraine if it cannot win this year.
Putin will not admit this to Xi, of course. But the possibility of Chinese aid will be the subtext of the meeting.
China's economy is large and diverse. It can produce a lot of what Putin needs to win, most obviously ammunition and microchips.
More overt Chinese support might also convince the West that the Ukraine war was escalating into a major Eurasian conflict, with Russia and China on one side and the West on the other.
Everyone wants to avoid that frightening scenario. The North Atlantic Treaty Organization (NATO) might press Ukraine to make concessions to end the war. This has long been Putin's hope.
A SINKING SHIP
Though Chinese help would be great for Putin, it is hard to see the upside for China. The United States has already warned China that direct military support for Russia would bring a US economic and financial response.
China still needs access to Western markets, technology and capital to fire its growth. It is particularly sensitive to low growth, as the promise of robust growth has long been the source of legitimacy for the Chinese Communist Party. And China's superpower aspirations still require robust trade relations with wealthy democracies.
Hence, I doubt Xi will change course much. The two leaders will release a milquetoast joint statement about Russia's "legitimate concerns" in Ukraine and the threat of American imperialism.
But Xi will refuse to put his name on anything which will provoke a Western economic backlash. Xi will not tie himself to a sinking ship.
Robert Kelly (@Robert_E_Kelly) is a professor of international relations in the Department of Political Science at Pusan National University.