Daniel Suidani, the former premier of the Malaita province in the Solomon Islands and a known critic of the Chinese Communist Party (CCP), allegedly got a visa on April 4 to travel to the United States after bipartisan congressional support poured in for his cause.
The development happened almost two months after Suidani was ousted from power in a no-confidence motion, allegedly for his vocal criticism of his country's controversial relationship with China.
News about the visa approval was confirmed by Celsus Talifilu, the political adviser of Suidani, who said it would be collected on Tuesday afternoon, Fiji time.
"We are thankful for the support given by the senators towards the VISA application of Hon. Suidani," Talifilu told The Epoch Times in a text message. "More so a bipartisan one from both sides of the politics in the U.S. This is [an] unprecedented show of support from the U.S. lawmakers."
The bipartisan support came after the State Department denied the first visa application. The second attempt was supported by Congress members from both parties, including, Reps. Neal Dunn (R-Fla.), Ed Case (D-Hawaii), and Aumua Amata Coleman Radewagen (R-American Samoa).
Suidani wants to visit the United States to meet leaders in Honolulu, Washington, New York, and Seattle to share his "experience of indigenous environmental guardianship," reported Samoa News, an American Samoa-based media.
Pacific Island Caucus co-chairs Radewagen and Case had earlier sent a letter (pdf) to U.S. Secretary of State Antony Blinken, expressing their support for a short-term U.S. visa for Suidani.
"Having had his application turned down once, we strongly encourage the timely issuance of the visa. Please provide your full and fair consideration of this request consistent with all applicable laws, rules, and regulations," the leaders wrote in their letter, adding that Suidani has also been invited to participate in the United Nations Permanent Forum on Indigenous Issues that will take place in New York on April 8–23.
Talifilu said that even without meeting Suidani, the U.S. lawmakers were concerned about him because they share the same democratic values and principles.
The State Department refused to comment on the visa approval. "By law, visa applications and visa records are confidential, so we cannot comment on individual cases," a department spokesperson told The Epoch Times in an email.
Suidani's Anti-CCP Stance
A former school teacher, Suidani was new to politics when he was elected premier of the most populous province of the Solomon Islands in 2019. He came to the limelight immediately because of his vocal stand against communist China.
When the Solomon Islands changed its diplomatic allegiance from Taiwan to China, Suidani continued to support and recognize Taiwan and created "the Auki Communique," banning CCP-backed investment in the province.
"We are a democracy in Malaita, we believe in the principles of democracy," Suidani told Australian Broadcasting Corporation in an interview last year. "They are a communist nation. We are very mindful of involving the Communist Party here. They must not come, in any way."
Suidani preferred Japanese, Australian, or New Zealand companies for investments in his province. He was viewed as a troublemaker by the CCP-aligned federal government under Prime Minster Manasseh Sogavare.
Since Sogavare came to power in 2019, he undid the country's bilateral relations with Taiwan, signed a controversial security deal with Beijing in April last year, and secured a $66 million loan from China three months later. The move allowed Chinese telecom giant Huawei to build 161 mobile communication towers across the country.
Suidani was the only leader from the country's nine provinces who stood up against the agendas of the CCP. He banned Chinese companies from the province, accepted development aid from the United States, and traveled to Taiwan for medical treatment. He also rejected the 27 Huawei towers to be installed in his province.
Suidani was ousted from power in February this year in a unanimous vote of no confidence that's currently being challenged in the court.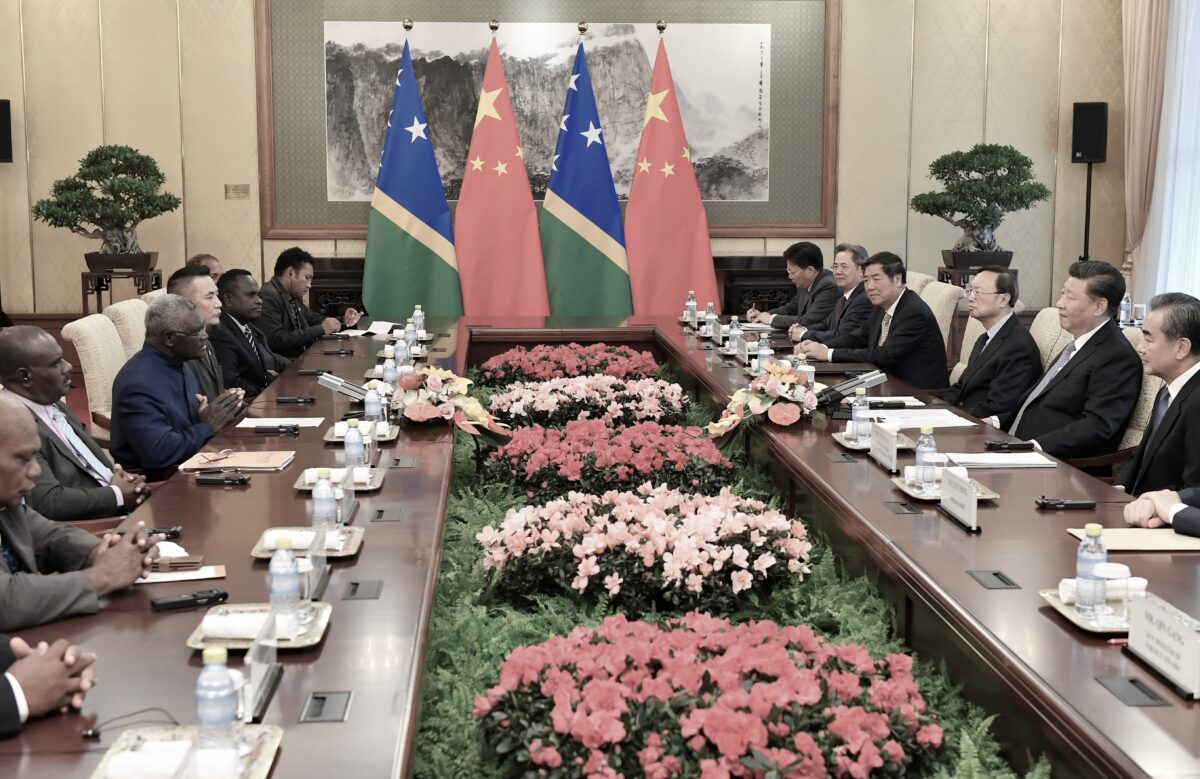 Stories in Local Media
Since his ouster from power, various speculations have been floating about Suidani in the local media. The Solomon Star reported that Suidani had already secretly left Honiara on Feb. 16 and joined discussions hosted by Washington.
The media claimed that the United States had given two options to Suidani: to fund his political campaign after his return, and to create a government-in-exile if he lost the upcoming election.
"The visit is reportedly part of a fundraising drive for Mr. Suidani's new party, U4C or Youth for Change, which intends to field candidates at next year's national general election," according to Solomon Star, which quoted an anonymous source who claimed that Suidani was engaging in Washington-backed propaganda.
The animosity between Suidani and Sogavare allegedly goes back to 2021, when the leader of the opposition in the Solomon Island's national parliament, Mathew Wale, in his no-confidence motion against Sogavare, claimed that Sogavare was persistent in bringing down the Suidani government in Malaita, reported the Solomon Times.
Wales alleged that Sogavare openly encouraged opposition MPs in the Malaita provincial government to go against their premier.