There's some drama brewing in Fast Casual Land, and the (grass-fed) beef is between two chains known for their bowls: Chipotle and Sweetgreen. CNBC reports that Chipotle is suing Sweetgreen over the name of the newest seasonal Sweetgreen menu item, the Chipotle Chicken Burrito Bowl.
McDonald's Shrinks Its Restaurant for the Digital Age
As you might have guessed, this is a case of alleged trademark infringement. Chipotle had previously issued a cease and desist letter to Sweetgreen regarding the name of this menu item (which prominently features the word "chipotle") and proceeded with litigation when the company alleges it didn't receive a response.
Chipotle also claims that the marketing for Sweetgreen's new bowl is similarly suspect. The font used to promote the new bowl is, Chipotle claims, similar to that of Chipotle's own logo, and the shade of red used in some of Sweetgreen's latest marketing is similar to the proprietary Adobe Red color Chipotle uses in its logos and advertising. (I would just like to point out the simple and unavoidable fact that chipotle peppers are red.)
Not only is Chipotle asking the court for an injunction, it's also asking for all the profits Sweetgreen is making off the sales of that bowl. After the lawsuit was filed, Sweetgreen's stock fell by 6% by the time the stock market closed yesterday.
"We don't typically comment on litigation, but we will say generally that we're committed to protecting our valuable trademarks and intellectual property," Laurie Schalow, Chipotle's chief corporate affairs officer, told CNBC in a statement. "Consistent with that, we will take appropriate actions whenever necessary to protect our rights and our brand."
Following the hubbub, Sweetgreen has taken the noticeable step of adding a hyphen to the menu item's name—"Chipotle-Chicken Burrito Bowl"—which was not present in the initial press release announcing the bowl.
CNBC notes that Sweetgreen has clarified it did end up responding to the cease and desist letter after the lawsuit was filed this week. Additionally, USA Today is now reporting that Sweetgreen has fully changed the name of the item to the Chicken + Chipotle Pepper Bowl "as part of a tentative agreement to resolve the lawsuit."
That change might take a while to roll out to customers, however, because a promotional email delivered at 10:00 a.m. Central still features the hyphenated version of the name, and as of this writing, the app still shows that version, too: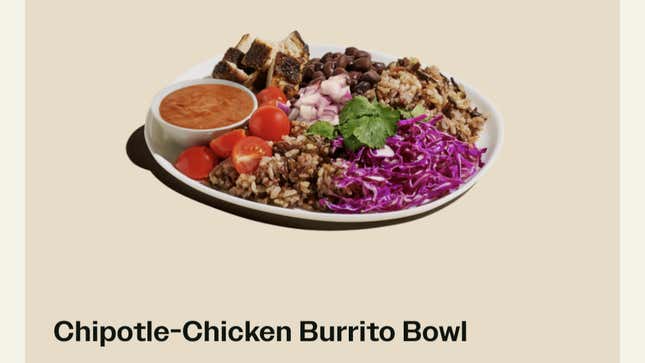 "We are looking forward to putting this lawsuit behind us as we continue to connect more people to real food," the Sweetgreen statement concluded.
There's big money to be made from smoked red jalapeño peppers, both as an ingredient and as a marketing concept. Chipotle's ready to defend its turf, so any other restaurant looking to, uh, accurately describe its menu items had better watch out.