Sometimes a meal drifts out of public consciousness for a while, then suddenly gets resurrected and thrust upon us by restaurants, TV chefs, and food influencers alike. We're currently experiencing this phenomenon with continental cooking; dishes such as clams casino, crab louie salads, and chicken piccata, all of which had previously fallen into obscurity, are once again gracing the menus of trendy restaurant openings across the country. Why? Because nostalgia sells, baby, from the espresso martini to Dunkaroos. And yet there's one dish that hasn't yet made such a stylish comeback: the humble taco salad.
Giardiniera Oil Is Liquid Gold
What is taco salad?
First and foremost, let's talk about what defines the taco salad. While there are plenty of Mexican-inspired bowls out there that feature ingredients such as salsa, guacamole, and shredded chicken, can we really call those taco salads? I say no, as I'd argue that some sort of fried tortilla has to be present in order to meet the criteria.
Whether that crispy tortilla forms the salad bowl itself or is crumbled up on top of the salad is flexible, but regardless of how it's integrated, a hard (hopefully corn) shell must be included in a taco salad. To omit it would be like leaving out french fries on a Pittsburgh salad. There should be meat, sour cream, lettuce, tomatoes, and, while not strictly necessary, sliced black olives and jalapeños are key elements that underline and strengthen a taco salad's identity.
Has the taco salad disappeared?
While there appears to be no hard data on the specifics of taco salad's sharp decline in popularity, a quick Google search for taco salads brings up an endless string of recipes from stray independent food blogs and not much else. Even within a home kitchen context, though, the taco salad doesn't appear to be thriving. Meals of the Hamburger Helper persuasion aren't being embraced by Gen Z with any noticeable fervor.
G/O Media may get a commission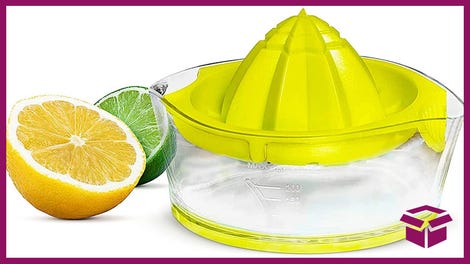 46% Off
Ark Reamer Citrus Juicer
Juice for all
This citrus juicer can be used to get liquid out of a range of fruits, is really easy to clean, has a measuring cup, and is completely manual, so there'll be no noise.
Use the promo code Clip Coupon
What about cafeterias and fast food restaurants, places where the taco salad left a lasting impression on consumers throughout the '80s and '90s? Well, Taco Bell discontinued its Fiesta Taco Salad in 2020 despite a change.org petition signed by roughly 3,000 millennials demanding its return. One alleged reason for the discontinuation, beyond the chain's pandemic-related menu streamlining, was that the taco shell bowls for these salads had to be fried in the morning and went stale by the late afternoon. And with more public schools voicing their commitment to serving up "healthy" meals, a bowl of ground meat and sour cream in a fried tortilla isn't always the best look.
Why aren't there more taco salads?
Big, clunky, brittle corn-shelled bowls that go stale quickly don't make much sense to keep around if you're a big fast food chain like Taco Bell. Then there's the actual function and taste of taco salads—are they even good?
As somebody who likes a slightly warm, protein-heavy salad, I'm fully on board, but that doesn't mean everybody else is. Having crowdsourced the question on Instagram, I heard from plenty of people chiming in with comments ranging from "the shell gets too soggy" to "it's normcore suburban mall food." Brutal.
Taco salads occupy the same culinary niche as some of the aforementioned "continental" trends of the past (clams casino, chicken piccata), but there's a reason this salad might have a harder time vaulting into the modern dining landscape in a big way. While Mexican food has been given its long overdue spotlight in the upper echelons of restaurant dining, Tex-Mex, where the taco salad is ever present, has thrived within the context of regional chain restaurants.
There's also still a bit of a public relations stink on taco salads, due in part to Donald Trump posing with a taco bowl on Cinco de Mayo 2016 and captioning the photo, "I love Hispanics!" This was a PR disaster from which no food could ever recover. Nobody wants to eat like the world's most mentally and physically unwell man. There isn't a Grub Street Diet for Vladimir Putin, you feel me?
This 2016 article from awesome food writer Gustavo Arellano, author of Taco USA: How Mexican Food Conquered America, perfectly sums up the problem with taco salad hate. He describes the salad as "a notorious Mexican dish" full of meat, lettuce, sour cream, olives, tomatoes, "and other ingredients found in tacos circa 1967 in Lynwood." Arellano notes that in the wake of the infamous Trump photo, Janet Murguría, head of the National Council of La Raza, told the New York Times, "I don't know that any self respecting Latino would even acknowledge a taco bowl is a part of the culture."
Yet Arellano respectfully pushes back on that assessment.
"With all due respect to Murgía," he writes, "she's obviously never been in the cafeteria line at Southwest High School, where Mexican kids have doctored taco salads with bottles of hot sauce since at least the 1970's." Mexicans, he notes, were instrumental in the development of the taco salad.
The earliest origins of the salad, Arellano explains, can be found in the Tacup, essentially a bean, beef, and cheese concoction served in a bowl made out of Fritos. Though the Tacup (which was served at Disneyland starting in 1955) was a creation of Fritos founder Elmer Doolin, Fritos themselves were a wholly Mexican creation by a Oxacan immigrant.
Any residual disdain for taco salads just shows how our understanding of food's "authenticity" and "purity" is always evolving. The taco salad has endured, not just among suburban white populations but also in Latino communities, traversing a large swath of American food culture in the process. It might not have had its gourmet reinvention just yet, but it certainly has staying power.
Can the taco salad reappear at restaurants?
The phrase "taco salad" might not appear on the menu, but you can still find this stalwart at certain chains. El Pollo Loco calls its taco salad a Tostada Salad, perhaps because it sounds more sophisticated somehow.
There's also the inexplicable rise of "bowl food" in all its various forms—acai bowls, lifestyle bowls, poke bowls, etc. The fast casual landscape has given rise to highly functional phrases like protein bars and grain bowls, and hearing the words macro bowl truly makes me depressed. How can a bowl of beef and cheese possibly fit into this ideal? Given current trends, it's not likely to make a dent in the modern world of mainstream dining.
Still, there are lots of eccentric chefs who would be well suited to playing around with the concept. Take Diego Argoti, whose Crunchwrap Supreme Lasagna is what you might call nostalgia fusion food. The taco salad is perfectly primed for what I call "fuck it" chefs doing popups in Los Angeles and elsewhere, and they should think about putting their spin on it. The taco salad is fun, and fun people will embrace it. Self-serious people will shun it.
No food trend, it seems, is ever truly dead. I don't know if the taco salad will ever break the through to the culinary zeitgeist again, but it will find weird little ways to endure. Perhaps it'll even evolve, if we let it.