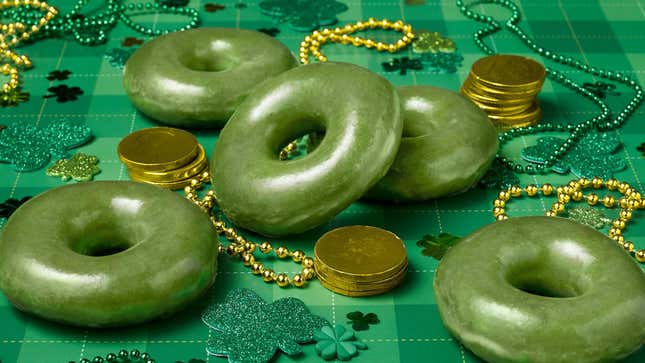 Happy St. Patrick's Day! I wish you good luck, good drinks, good food, you know, all that seasonal stuff. Now, let's cut to the chase: where to get the cheapest snacks.
I could sit here and give you the full history on who St. Patrick was, why you'll find green beer everywhere today, and why Chicago chooses to dye an entire river green on an annual basis. Or we could just get to the food and drink deals you really want to know about. Here for the deals? I got you covered:
Johnny Rockets & Elevation Burger: One code will bring you double the luck. At both Johnny Rockets and Elevation Burger, if you use the code GETLUCKY, you'll get $5 off any purchase of $20 or more. The code is valid for both in-store and online, so no matter what, you're lucky enough to get a burger for $5 less than you would any other day.
Applebee's: Fast casual restaurant chain Applebee's would like people to celebrate this holiday in the holiest of ways: by knocking back $6 drinks. The chain's Saintly Sips special features the Tipsy Leprechaun, made with Jameson Irish Whiskey, and the Pot O'Gold Colada, made with Captain Morgan. (Was he Irish?)
TGI Fridays: On St. Patrick's Day, TGI Fridays has a happy hour deal every single hour. That means $2 beers, $4 cocktails, and $5 wine. So, you don't have to stick to green beer all day if you want a discount.
Arby's: In a truly on-theme offering, Arby's is offering a 25% discount on both its fish sandwich and Corned Beef Reuben when you sign up for the rewards program. You can also get the fish sandwich for $5 today on St. Patrick's Day.
7-Eleven: This 7-Eleven deal also includes Speedway or Stripe locations, so plenty of luck to go around. The convenience stores are keeping their deal plain and simple: If you pick up a 12-pack of hard seltzers, you get a $2 discount.
Krispy Kreme: If green is your color, this is your moment. Walk into the nearest Krispy Kreme and get yourself an O'riginal Glazed doughnut on the house, as long as you're wearing green. You could also try out the brand's brightly green St.Patrick's Day collection of doughnuts, which includes a Golden Cookies & Kreme Doughnut, Hat O' Gold Doughnut, Golden Sprinkle Doughnut, and Rainbow Kreme Filled Doughnut.
Jamba: Reward members at Jamba can keep the green coming with a BOGO deal of 50% off all green smoothies today. The chain also has a seasonal offering all month long called the Luck of the Tropics Smoothie, featuring a passion mango juice blend, oat milk, kale, and mangoes. It can only be ordered online or through the Jamba app.
There you have it. Wear your green proudly, clink your overfilled glasses, and seize the deals above. Happy St. Patrick's Day.