A U.S. aircraft carrier has arrived in South Korea for the first time in six months in a show of alliance after North Korea fired two short-range ballistic missiles that it said served as warnings to the two allies.
South Korea's Defense Ministry said the 11th carrier strike group, including the nuclear-powered USS Nimitz, arrived at the Busan naval base on Tuesday after participating in a joint drill near Jeju Island the previous day.
The U.S. carrier strike group 11 is also comprised of USS Bunker Hill, a Ticonderoga-guided missile cruiser, and two Arleigh Burke-class destroyers, USS Wayne E. Meyer and USS Decatur, the ministry stated.
They will hold joint maritime exercises with South Korean warships as part of the Warrior Shield exercise, including aircraft carrier convoy training and air defense warfare, to strengthen their joint defense posture.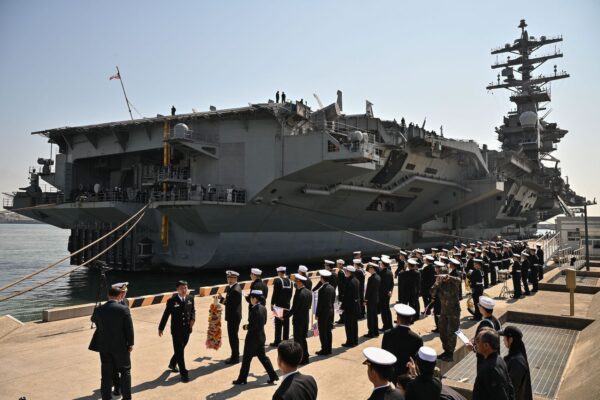 Rear Admiral Christopher Sweeney, commander of the carrier strike group, said the visit demonstrated U.S. support for South Korea and the alliance's readiness to deter North Korea's missile threats.
"I'm not threatened or worried about North Korea," Sweeney told reporters on Monday, Yonhap News Agency reported. "The United States has deployable strategic assets at the ready on every day."
North Korea fired two ballistic missiles hours before the U.S. carrier strike group arrived in Busan, which landed outside Japan's exclusive economic zone near the east coast of the Korean Peninsula.
South Korea's Joint Chiefs of Staff said the first missile was launched at around 7.47 a.m. (local time), followed by a second missile 10 minutes later. The missiles traveled 370 kilometers (230 miles) at a maximum altitude of about 50 kilometers (31 miles).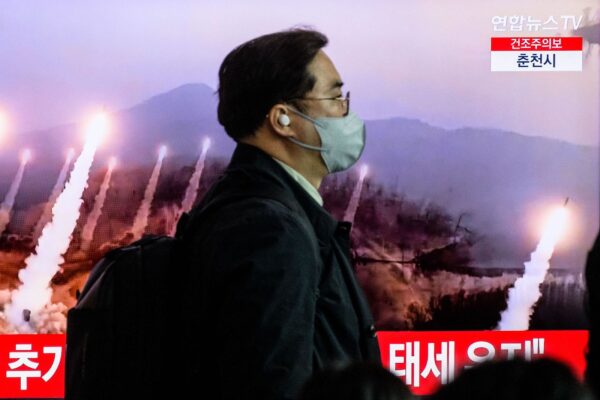 The U.S. Indo-Pacific Command said the launches did not pose an immediate threat to the United States or its allies, but they highlighted the "destabilizing impact" of North Korea's unlawful nuclear weapons and missiles programs.
State-run Korean Central News Agency (KCNA) said North Korea also tested an underwater nuclear attack drone called "Haeil-1" from March 25 to March 27.
According to KCNA's earlier report, the underwater drone is capable of generating a "super-scale radioactive tsunami" and destroy enemy naval striker groups and ports.
Kim Orders Boost of Nuclear Capabilities
KCNA reported on Tuesday that North Korean leader Kim Jong-un has called for an increase in the production of "weapon-grade nuclear material" in order to expand the country's arsenal "exponentially."
Kim made the remarks while inspecting the regime's nuclear program, where he was briefed about an IT-based nuclear weapon management system "whose scientific accuracy, reliability, and security have been strictly verified," KCNA said.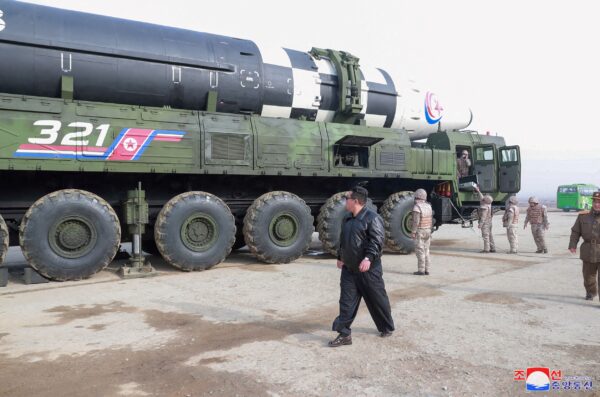 He urged to strengthen North Korea's nuclear force, saying that the enemy would not dare to provoke the country's sovereignty "if the powerful and superior nuclear force going beyond imagination is ready for offensive posture," according to the report.
North Korea has launched more than 20 ballistic and cruise missiles on 11 occasions this year as it tries to force the United States to accept its nuclear status and negotiate a removal of sanctions from a position of strength.
The weapons tested this month included an intercontinental ballistic missile and a series of short-range missiles intended to overwhelm South Korean defenses as North Korea tries to demonstrate an ability to conduct nuclear strikes on both South Korea and the U.S. mainland.
North Korea also condemned the U.S.-South Korean joint military drills as invasion rehearsals even though the allies have said the exercises are defensive in nature.
The Associated Press contributed to this report.