The United States, South Korea, and Japan have urged United Nations members to repatriate North Korean nationals working overseas to generate funds for North Korea's nuclear weapons program.
U.S. special representative for North Korea, Sung Kim, met with his South Korean and Japanese counterparts, Kim Gunn and Takehiro Funakoshi, in Seoul on Friday to discuss North Korea's nuclear threats.
In a joint statement, the three envoys condemned North Korea's unlawful nuclear and ballistic missile programs and called on all U.N. member states to fully implement the Security Council resolutions on North Korea.
"We underscore that in accordance with UNSC resolution 2397 (2017), U.N. member states are required to repatriate all DPRK laborers earning income in their jurisdictions, unless repatriation is prohibited by applicable national or international law," the statement reads.
"U.N. member states should be vigilant and ensure that no work authorizations are renewed or granted to overseas DPRK laborers consistent with UNSC resolution 2375 (2017) and address the DPRK's attempts to evade sanctions," it added.
DPRK stands for the Democratic People's Republic of Korea, North Korea's official name.
They warned that North Korean information technology workers use forged identities to evade UNSC sanctions and earn income abroad to finance their country's nuclear and ballistic missile programs.
"We are also deeply concerned about how the DPRK supports these programs by stealing and laundering funds as well as gathering information through malicious cyber activities," the envoys stated.
Citing data from the U.N. panel of experts, they said North Korea had attempted to steal $2 billion between 2015 and 2019 through cyber activities. The regime reportedly stole an estimated $1.7 billion in cryptocurrency last year.
"We highlight the importance of our joint efforts to block such illicit revenue streams," the envoys said.
The U.S. Treasury Department said on Thursday that North Korea used decentralized finance (DeFi) to transfer and launder their illicit proceeds.
The department described DeFi as "virtual asset protocols and services that purport to allow some form of automated peer-to-peer transactions, often through the use of self-executing code known as 'smart contracts' based on blockchain technology."
"Our assessment finds that illicit actors, including criminals, scammers, and North Korean cyber actors, are using DeFi services in the process of laundering illicit funds," said Brian Nelson, the department's undersecretary for Terrorism and Financial Intelligence.
The United Nations has imposed a series of sanctions against North Korea since 2006 over the country's nuclear and ballistic missile tests. In 2017, the UNSC restricted North Korea's import of refined petroleum products, setting a cap of 500,000 barrels per year.
Anti-Submarine Drills
The United States, South Korea, and Japan on Monday held their trilateral anti-submarine exercises in South Korea's southern island of Jeju to counter North Korea's nuclear and missile capabilities.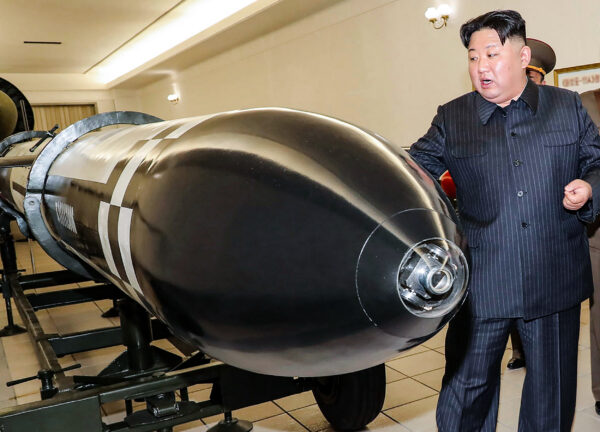 The drills came as North Korea vowed last week to produce more weapons-grade nuclear materials to expand its arsenal, and boasted of what it called a nuclear-capable underwater attack drone.
North Korean leader Kim Jong-un vowed to make the United States and South Korea realize that they "are bound to lose more than they get and face a greater threat" over their "expansion of war drills in the region."
The United States has persisted in engaging in "direct talks" with North Korea without preconditions in favor of a diplomatic solution, but North Korea has rebuffed these efforts.
"We reaffirm that the path to dialogue remains open, as demonstrated by repeated attempts to engage the DPRK in dialogue, and urge the DPRK to return to negotiations rather than engage in unlawful, provocative, and escalatory actions," the envoys said.
Reuters contributed to this report.