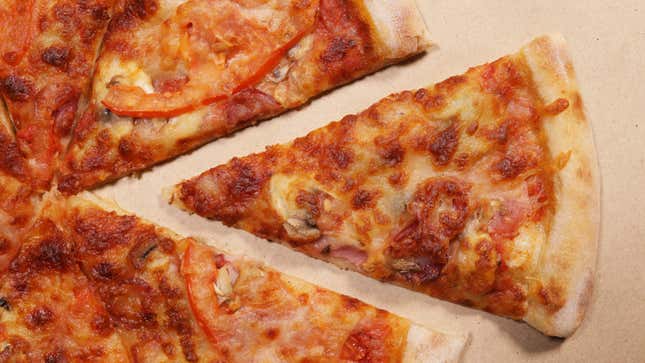 With the loss of an hour of sleep settling in on our energy levels, some of us could use an additional perk to kick off this week. Luckily, there are lots of chances to celebrate the beauty of math tomorrow with discount deals on pizza.
March 14 is Pi Day, which celebrates the mathematical constant π. The day is celebrated on March 14 each year because pi begins with 3.14 (followed by an infinite number of digits). The connection to pizza is loose at best, but we're not here to get into the technicalities. We're here to cash in on pizza deals. Here are some of the best ones we've found in 2023:
Jet's Pizza: Jet's has decided that regardless of the numbers, every pie on its menu is created equal. This means even if the pie is square like the brand's Detroit-style pizza, customers can still get 20% off all menu-priced pizzas. To get the 20% off deal, you just have to order online for pickup or delivery and use the code 314DAY.
7-Eleven: The numbers three, one, and four are lucky for everyone on Tuesday, because that's how much you'll pay for an entire 7-Eleven pizza (which normally costs around $8.99). Only members of 7Rewards® and Speedy Rewards® get to redeem this $3.14 pizza deal, and it's only valid on March 14. However, 7-Eleven is allowing members to get the deal starting today if they order through 7Now app for delivery.
Blaze: Blaze is another pizza chain offering a whole pie to its rewards members for just $3.14 on March 14. Customers can have any 11″ pizza with whatever toppings they want after they download the brand's app and sign up for its rewards program. Blaze's 11″ pizzas are regularly priced around $11.99 and up, so it's a good deal, though it's only available in-restaurant.
Round Table Pizza: This pizza chain has around 450 locations, primarily in the western United States. On March 14, you can grab a personal cheese pizza, regularly priced at $9.99, for only $3.14 in celebration of Pi Day. You have to be a rewards member to redeem this deal and it's only at participating locations.
Cicis Pizza: Whether you want to go out to eat or celebrate Pi Day comfortably on your couch, Cicis Pizza has two deals that let everyone get a piece of the pie. For dine-in, customers can get $3.14 off an Adult Buffet, plus a Kids' Combo for $3.14 as well. For pickup and delivery orders, you can get $3.14 off on a large one-topping pizza as long as you order online and use the code PIDAY
This is the one day a year I'm happy to do math; discounts and freebies are worth a little extra calculation. I might have lost an hour of sleep, but hopefully tomorrow we'll all gain a little slice of happiness.