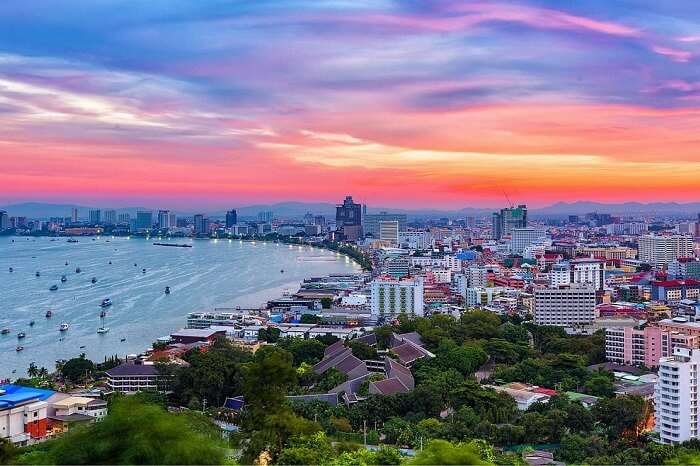 Best known for its glittering nightlife and never-seen-before parties, Pattaya is often considered to be a destination for bachelors. The reality, however, is different. Pattaya has a lot more to offer and quite a percentage of it is for families and couples as well. It has attractions that can delight people with varied interests. That's not all, the place is full of life and excitement and there is something for everyone right from first-time travelers to repeat visitors. If you are planning a trip, get ready to indulge in some of the most exciting things to do in Pattaya.
Trust me, you'll be spoiled for choice picking between Pattaya city tours and sightseeing, chilling out at the secluded islands and beaches, enjoying cultural programs, indulging in a range of adventurous watersports in Pattaya, and enjoying its crazy nightlife. For all those foodies out there, the city leaves no stone unturned to bring mouthwatering delicacies. Experimenting with food choices is often one of the favorite things to do in Pattaya for gastronomes. 
32 Best Things To Do In Pattaya
November – April is the best time to visit Pattaya. These months are pleasant and do not receive very high rainfall. Now that you're acquainted with what is the best time and best way to visit the Thai Sin City, get on with the list of the most fun things to do in Pattaya. From Pattaya sightseeing to shopping, take a look at the top things to do if you're wondering what to do in Pattaya. The following list comprises the best activities and Pattaya things to do, so read on and add them to your Pattaya tour package.
1. Chanthaburi Sapphire Mines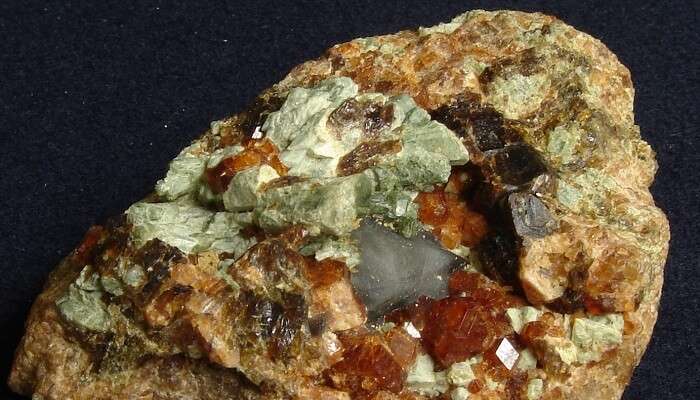 Taking the exclusive tour of the Chanthaburi Sapphire Mines is one of the most popular things to do in Pattaya. Private guided tours are organised for Chanthaburi – a destination that is famous for the wonderful Sapphire mines in Thailand. Here, tourists get a chance to see the cutting and polishing of these precious stones after their raw form has been extracted and identified.
Suggested for: Families and couples
Opening hours: 8 am – 6 PM
Sapphire Mines: Full day tour, beginning at 8:30 am
Entry charges: 4,575 Baht per person
Conversion Rate: 1 Baht = INR 1.92
Top 5 Places To Visit On A 7 Day Trip To Thailand
2. Cabaret Shows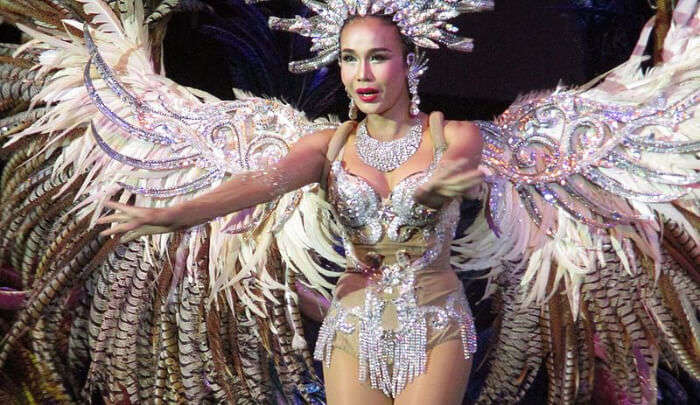 The cabaret shows of Tiffany and Alcazar are extremely popular and major tourist attractions in Pattaya. While the Tiffany Cabaret Show is performed by super talented ladyboys, Alcazar is performed by cross-dressing performers. The shows present a combination of dance, music, and drama with popular Thai and English songs. These depict the Indian Raj, the glorious past of China, and the history & heritage of Siam. This is one of the best things to do in Pattaya with friends. 
Suggested for: Couples and bachelors
Timings:
Tiffany Cabaret Show: Three shows; 6 pm, 7:30 pm, 9 pm
Alcazar Cabaret Show: Four shows; 5 pm, 6:30 pm, 8 pm, 9:30 pm
Entry charges:
Tiffany Cabaret Show: 1200 Baht per person
Alcazar Cabaret Show: 500 Baht per person (normal seats) | 600 Baht per person (VIP seats)
3. SKY Pattaya Rocket Ball Ride 

Image Credit: Ryan for Wikipedia
Here comes the thrilling side of Pattaya. The SKY Pattaya Rocket Ball Ride, one of the most fun-filled things to do in Pattaya at night, comprises a couple of steel towers with an exclusive string linked to each of the towers. Both the ends of the string are attached to a confined steel-made vehicle in which both the riders are accommodated.
Located on Walking Street, this ride tosses the people high up in the air. The riders spin and bounce repeatedly, with a thrilling velocity. This ride is, indeed, one of the best things to do in Pattaya for brave hearts. But beware! You need to be physically active and mentally strong to enjoy the real fun.
Timings: 5:00 pm – 4:00 am
Entry charges: 500 Baht per person
10 Budget-Friendly Hostels In Pattaya For A Comfortable Stay
4. Flight Of The Gibbon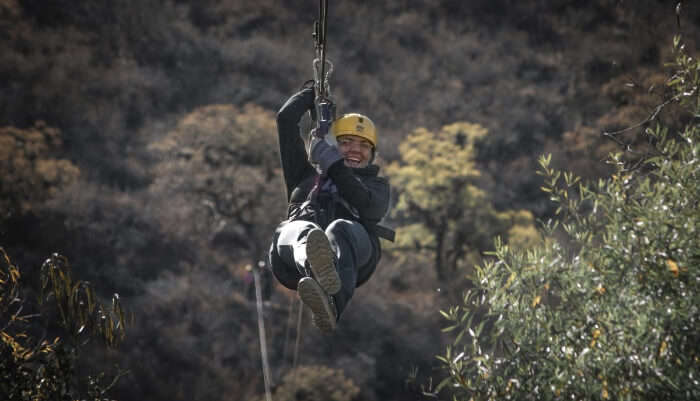 Do not miss this thrilling canopy tour, one of the top things to do in Pattaya for adventurous souls. The 'Flight of the Gibbon' zip line stretches for about 3 km through 26 platforms of Khao Kheow Open Zoo. It is a full-day affair if accompanied by a jungle safari. Children more than 1m in height are eligible to do this canopy tour independently and it is certainly one of the unique activities in Pattaya. 
Suggested for: Adventure enthusiasts
Timings: 6 am onwards
Entry charges: 3300 Baht per person
Website
5. Koh Samet Island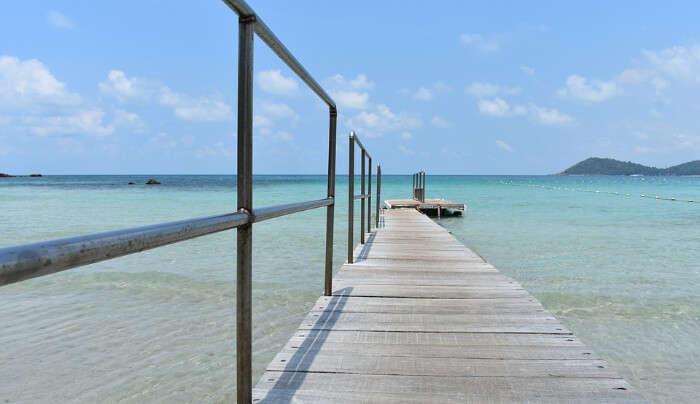 Locally known as Paradise Island, Koh Samet is a white sand island near Pattaya mainland. The island can be reached by a ferry ride from the fishing village of Ban Phe. The stunning beauty of the island is amplified with its sparkling sand, crystal blue water, and pristine beach-front.
Soaking in the sun and enjoying the beachfront are among the favorite free things to do in Pattaya for couples. Colorful beach umbrellas, rows of relaxing beach chairs, and bustling shacks further enhance the charm. Sunbathing, swimming, strolling, or simply relaxing in Hat Sai Kaew (popularly known as Diamond Beach – longest beach of the picturesque island) are other things to do in Pattaya when on this island.
Suggested for: Couples and bachelors
Timings: Ferry rides start at 8:30 am
Entry charges: 20 – 200 Baht per person for everyone; depending on the pick-up point
Tip: Do not miss the sumptuous Thai lunch at one of the beach restaurants.
25 Exciting Things To Do In Bangkok In 5 Days With Friends Under 30K
---
Planning your holiday in Thailand but confused about what to do in Pattaya? These Thailand travel stories help you find your best trip ever!
---
6. Koh Larn Coral Island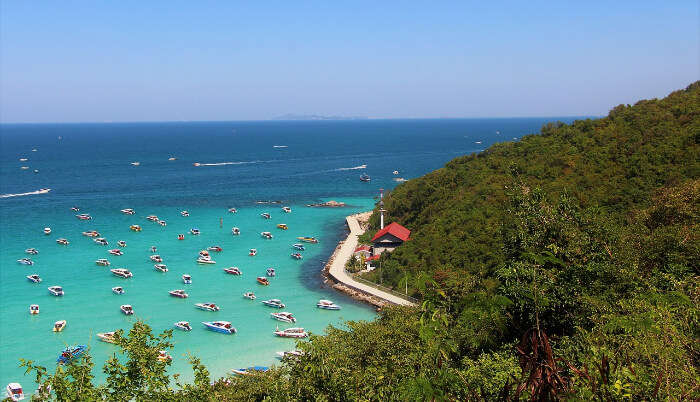 With the glistening white sand and the transparent blue waters, Koh Larn or Coral island is one of the most popular island destinations in Pattaya. Coral spotting in glass-bottom boats, snorkeling, swimming, and surfing are the super fun things to do in Pattaya and the nearby islands. Koh Larn Island also offers exhilarating sports like windsurfing, parasailing, and jet-skiing. Bustling beach restaurants offer mouth-watering Thai food and refreshing beverages.
Suggested for: Couples, and bachelors
Timings: Ferry services start 7 am onwards
Entry charges: 30 Baht per person for ferry charges | Watersports at extra cost
7. Museums And Temple Tours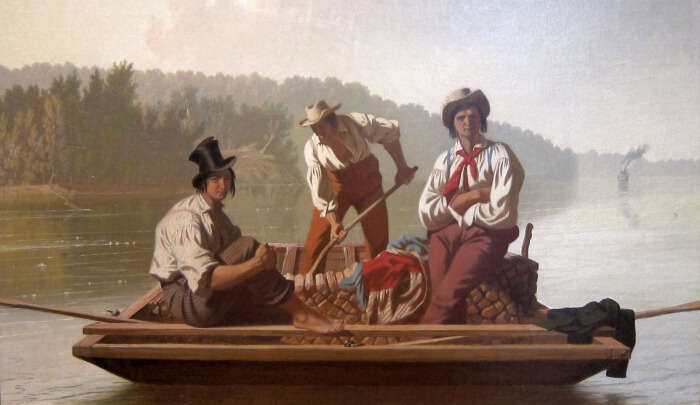 Pattaya has lots of incredible museums and serene religious destinations that pull tourists all-round the year. Exploring these places is among the best things to do in Pattaya with family. In fact, no Pattaya holiday can be complete without exploring Art in Paradise – one of the super cool attractions in Pattaya. This is not a normal art gallery. Rather, one in which the tourists can see super cool 3D paintings. One can also add Ripley's Believe It Or Not to the list and explore the ghost trains, red trains, aquariums, waxworks, and haunted adventures.
Pattaya also has some absolutely peaceful religious places to visit, such as Big Buddha Hill and Sanctuary of Truth. Wat Phra Khao Yai or Big Buddha Hill has a stunning statue of Lord Buddha overlooking the entire Pattaya city. Sanctuary of Truth, on the other hand, is a breathtaking temple reflecting the history and heritage of Pattaya.
Suggested for: Families, couples, and bachelors
Opening hours:
Art in Paradise: 9:00 am – 9:00 pm
Ripley's Believe It Or Not: 11 am – 11 pm
Wat Phra Khao: 6:30 am – 5:00 pm
Sanctuary of Truth: 8:00 am – 6:00 pm
Entry charges:
Art in Paradise: 500 Baht per person (adults) | 300 Baht per person (children)
Ripley's Believe It Or Not: 1250 Baht per person
Wat Phra Khao: Free entry
Sanctuary of Truth: 500 Baht per person
Top Things To Do In Thailand On Honeymoon For A Perfect Start
8. Seafood Exploration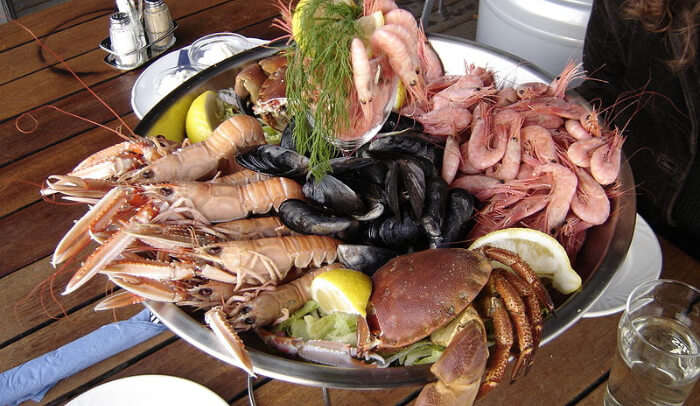 Pattaya is famous and immensely popular for mouth-watering and superb, tasty seafood. Starting from lobsters and crabs to squids and octopuses, the city has it all. People visiting Pattaya find it thrilling and exciting to taste these yummilicious delicacies in various restaurants and eating joints. Some famous places to explore are Mantra, Sketchbook Art Café, Bang Sare, Leng Kee, and numerous local food stalls at the Thepprasit market. Some must explore places are:
Glass House: Beachfront dining, specializing in pizza, steak, and seafood
Mum Aroi: Located along the coast of the fishing village of Naklua, it serves one of the tastiest Thai cuisines in the city
Rimpa Lapin: Famous clifftop restaurant serving delectable Thai fusion food
Nang Nual: The highlight of walking street, catering mouth-watering seafood platter
La Baguette: Thai café that offers awesome salad, crepes, pastries, tea, and coffee
Opening hours: 11 am – 12 am (mostly)
9. Shopping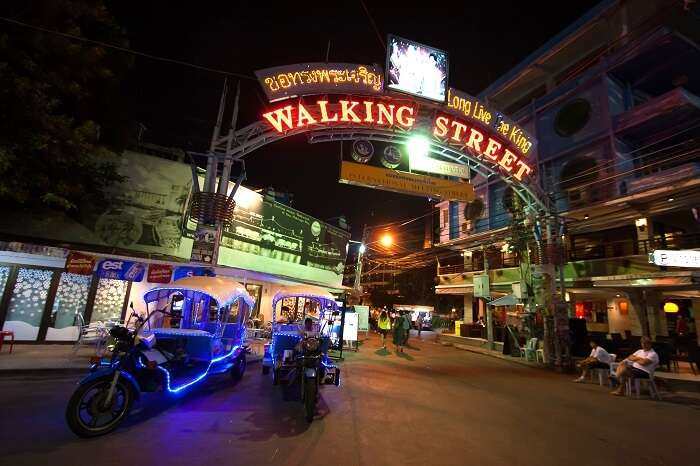 Good news, shopaholics! Pattaya has some awesome and mind-boggling shopping options for all which also makes shopping one of the must things to do in Pattaya city. The numerous street shops and the plush shopping malls make shopping one of the most preferred things to do in Pattaya. The floating market is one of the most popular tourist destinations, known for its outstanding souvenir collection. Explore the floating market to see how almost 114 vendor sails and sell in Thai boats and canoes.
The rest of the shops are located on both sides in a stilted village. The bustling Walking Street is frequented by tourists to pick toys, electronics, and cosmetics. Some renowned and classy malls of the city are Central Festival Mall, Royal Garden Plaza, Outlet Mall, Mike Shopping Mall, Mimosa, Central Centre, and One Tambon One Product Shop. However, the Pattaya Night Bazaar and the Thepprasit Night Market are also popular tourist attractions in Pattaya for shopping. It helps in relieving both physical and mental stress.
Timings: 6 Pm- 2 Am
Location: Pattaya
10 Surreal Islands In Pattaya To Rejoice On A Tropical Vacation Amidst The Pristine Beaches
10. Cartoon Network Amazone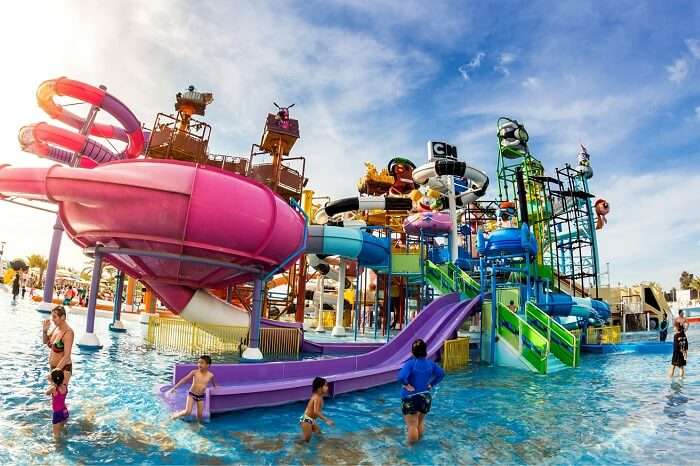 For the kids in the group or for those who are really young at heart, Pattaya has the world's first cartoon network-themed amusement and water park. One among the most popular tourist attractions in Pattaya, this theme park has loads of fun-filled and thrilling rides like Alien Attack, Banana Spin, Cartoonival, Goop Loop, Humunga Slide, Jake Jump, Mega Wave, etc. Also, there are live shows performed by various Cartoon Network characters, such as Powerpuff Girls, Johnny Bravo, and Gumball & Darwin.
Suggested for: Families with kids
Opening hours: 10 am – 6 pm
Entry charges:
Thai Residents: 1290 Baht per person (adult) | 990 Baht per person (children and senior citizens); Thai Residents can also buy an annual pass starting at 6000 Baht per person.
Non-Thai Residents: 1590 Baht per person (adult) | 1290 Baht per person (children and senior citizens)
11. Zoo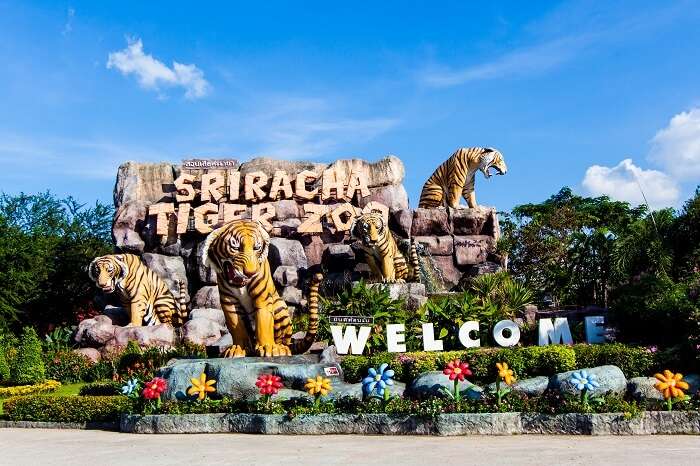 Pattaya is not only meant for glorious nightlife, loud parties, fun rides, and delightful shopping. This happening paradise also offers some refreshing destinations for nature lovers and enthusiasts. Taking a tour of these biodiversity reserves is one of the best things to do in Pattaya for nature lovers.
Khao Kheow Open Zoo – The world's largest zoological park – has almost 8000 animals and close to 300 species. The animals are kept in enclosures that look exactly like their natural habitat.
Located in Pattaya's outskirts, Sriracha Tiger Zoo boasts 200 Bengal tigers and over 10,000 crocodiles. The Elephant Village is another major tourist attraction where one can see, play, and wash the elephants. Underwater World Marine Park is also an incredible destination. Diving with sharks and feeding the fish are some of the top things to do in Pattaya.
Opening hours:
Khao Kheow Open Zoo: 8:00 am – 6:00 pm
Sriracha Tiger Zoo: 8.00 am – 6.00 pm
Elephant Village: 8:30 am – 6 pm
Underwater World Marine Park: 9:00 am – 6:00 pm
Entry charges:
Khao Kheow Open Zoo: 300 Baht per person
Sriracha Tiger Zoo: 850 Baht per person (adults) | 750 Baht per person (children)
Elephant Village: 1600 – 2600 Baht per person; depending on the package. For details click here.
Underwater World Marine Park: 500 Baht per person (adults) | 300 Baht per person (children)
10 Bizarre National Parks In Thailand For A Rare Encounter With The Wild
12. Yunomori Onsen And Spa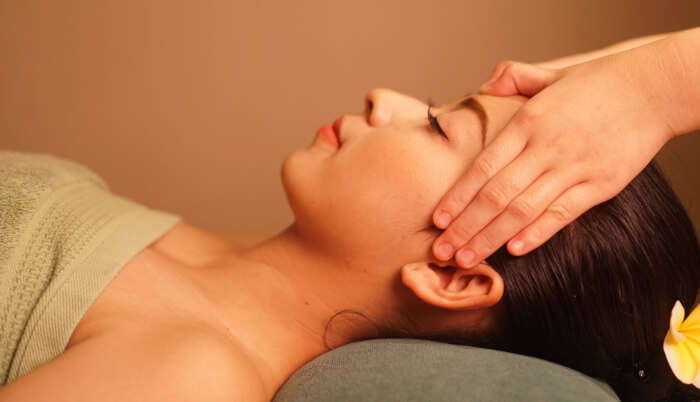 You can't return from a Pattaya trip without pampering yourself with a massage and spa. Enjoy the traditional Japanese onsen spa bathing with an authentic Thai massage at Yunomori. Detoxify your body by bathing in the hot spring directly sourced from the thermal springs of Wat Wangkanai. The favorable temperature and mineral content of this water prepare you for massage therapy. This experience will restore and refresh your energy before you return to that hectic city life. After a ravishing trip on the island, you will agree that experiencing Yunomori Onsen and Spa is one of the best things to do in Pattaya, Thailand.
Suggested for: Couples, and bachelors
Timings: 9 am – 12 am / Last appointment: 10 pm
Charges: 420 Baht per person (adults)
13. Walking Street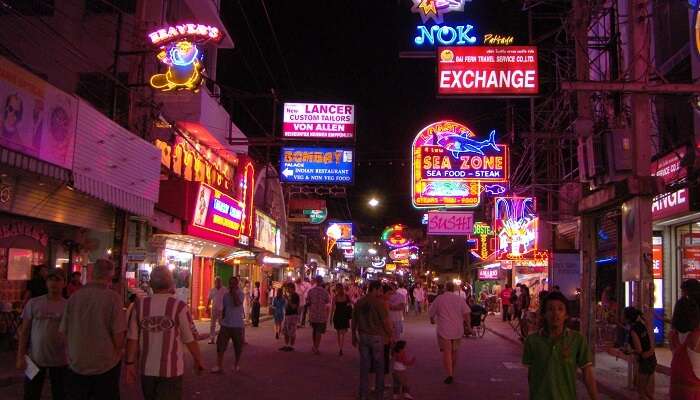 Image Source
You haven't lived and experienced the true spirit of Pattaya if you haven't ventured into its party hubs and lit streets at night. Walking Street is one such area in Pattaya that is home to its jazzy clubs and bars. If you are traveling as a couple or a friend's group, various nightlife venues are a perfect fit in your list of things to do in Pattaya for adults. It's essentially a 500-meter long street where no vehicles are allowed after 6 PM. So, as the name suggests, you'll have to explore the whole street on foot once the sun has set and the alley transforms! Full of plenty of bars, nightclubs, go-go bars, restaurants, and beer bars, this noisy and crowded street is sure to leave you amazed!
Suggested for: Party lovers, couples
Timings: 6 PM onwards
10 Indian Restaurants In Pattaya For True Desi Folks
14. Nong Nooch Tropical Botanical Garden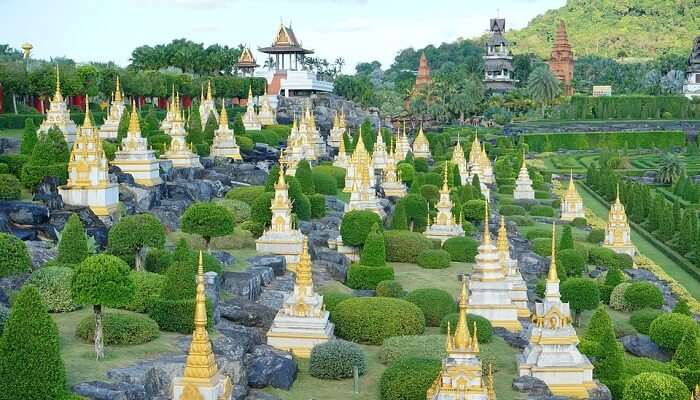 Image Source
If you're more interested in spending time amidst pretty flowers, queer trees, and landscaped gardens instead of street markets and nightclubs, then you must visit the Nong Nooch Tropical Botanical Garden on your vacation in Pattaya. Bringing you closer to nature, this is a great place to relax and have a peaceful afternoon. Spread over an area of 2.4 sq. km, this alluring and well-manicured garden boasts of some of the most beautiful flowers in the world. Other than the flowers and the trees, the garden also has more than 670 species of orchids as well as an attractive elephant talent show.
Suggested for: Nature lovers, botany enthusiasts, families with kids
Timings: 8 AM – 6 PM
Entry charges: INR 233 (adults) | INR 115 (kids)
15. Pattaya Floating Market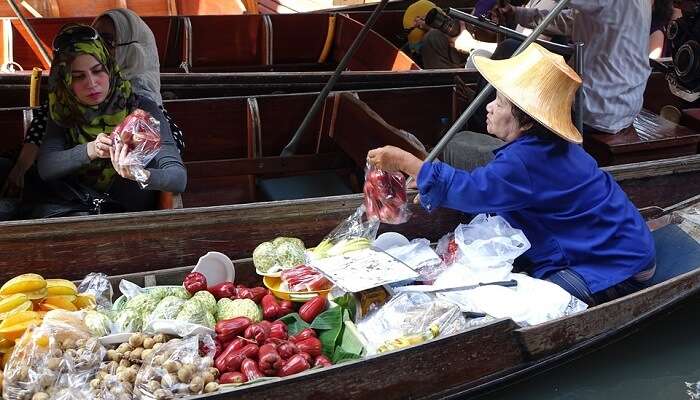 Image Source
Shopping is all that the Pattaya Floating Market is famous for. Right? Wrong. There are a number of experiences that this market offers other than shopping alone. In fact, it's quite different from the other floating markets in Thailand. Also called 'Four Regions Floating Market', this market area is split into four separate regions of Thailand – the north, northeast, south, and central, where each section of the market sells products from that particular part of the country. Not every stall is floating here, some are in boats that are constantly sailing around the canals while others are stilted properties that permanently stand at the sides of the banks. If you're not really buying anything, you can just hire a boat and sail around, or click awesome pictures to grab you some followers for your Instagram feed!
Suggested for: Shopaholics, couples, photographers
Timings: 9 AM – 8 PM
Explore The Pattaya Floating Market For A Fun Experience In Thailand
16. Pattaya Orphanage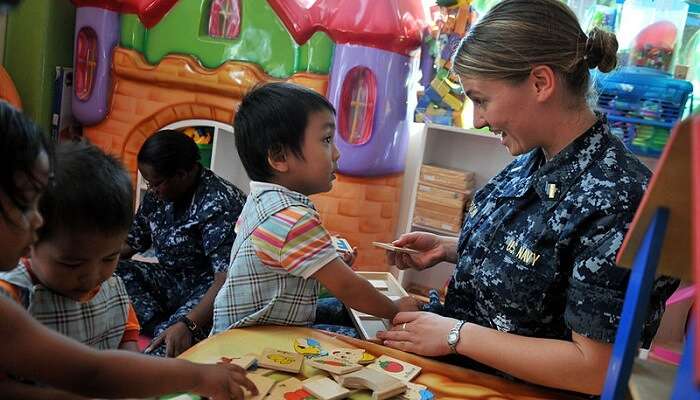 Image Source
Want to do something unusual? You can spend a day amongst the adorable children of Pattaya Orphanage. Founded about fifty years ago, this orphanage continues to care for and contribute to the young and less fortunate individuals of society. Founded by a priest called Father Ray back in the 1970s, this orphanage is one of its kind in all of Pattaya. The children born here usually belong to misfortunate parents who suffer from drug abuse, poverty, diseases like HIV/Aids. In order to contribute, you can either sponsor meals for these kids at the orphanage or stay and wholeheartedly volunteer for extended periods of time spanning months. This may not sound like usual Pattaya attractions on your trip, however, serving a cause away from your country is indeed a great experience.  
Suggested for: Do-gooders, philanthropists
Timings: 8 AM – 5 PM
17. Mini Siam and Mini Europe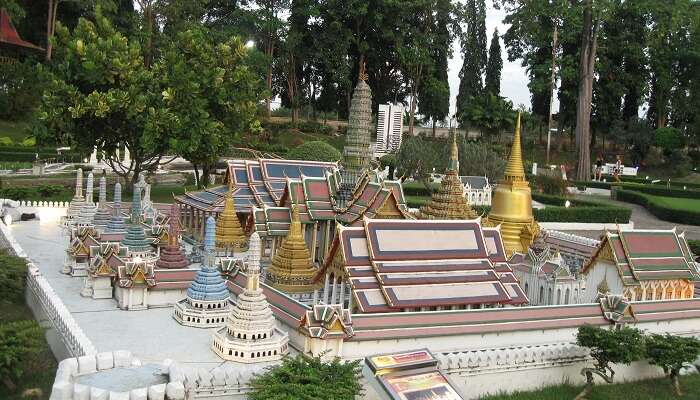 Image Source
Everyone loves miniatures! This is why the city of Pattaya has its own miniature city located just on its outskirts where you'll find miniature replicas of some of the most famous attractions in the world as well as in Thailand itself. Mini Siam and Mini Europe are two separate gardens where you can stroll around endlessly and look at detailed and beguiling statues from all over Thailand as well as Europe. They also have a miniature of the Statue of Liberty now that is soon turning into the star attraction of this entire place! The statues look even more beautiful after sunset when they are lit up in twinkling lights!
Suggested for: Art lovers, families with kids, photographers
Timings: 7 AM – 9 PM
Entry charges: INR 580 (adults) | INR 280 (kids)
Phuket Vs Pattaya: Which Destination Takes Away The Prize?
18. Street Food In Pattaya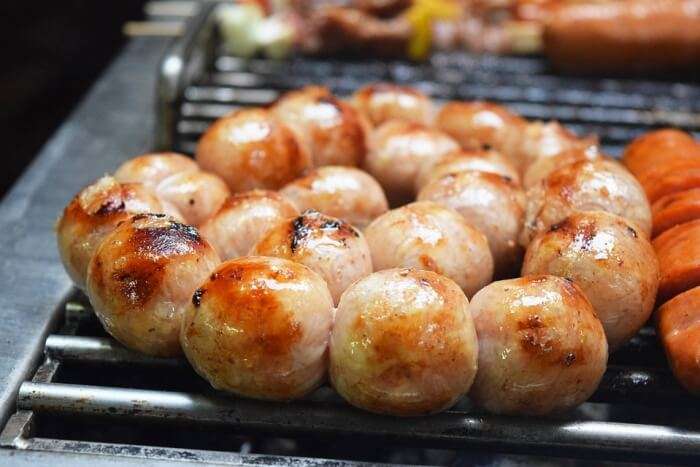 Delectable Thai street food is one of the most popular Pattaya attractions for tourists. And trying each of them is one of the must-do things in Pattaya. Grab some real delicious dishes being sold out by vendors while you are walking on the streets of this vibrant city. Tantalize your taste buds with mouth-watering seafood and so much more.
Most Popular Street Food:  
Khao Gaeng: Stir-fried rice served with meat stacked or vegetables on the top
Moo Ping: Grilled pork served along with rice and sauce
Satay: Chicken, sausages, pork, and fish screwed in big toothpicks
Som Tum: Raw papaya salad prepared using dried seafood, beans, fish sauce, chili, etc.
Thai-style Fried Noodles: The simplest dish made with just chicken and sticky rice served with an assortment of some sauces.
Pla Pao: Popular fish being grilled on the streets with lemongrass flavor
19. Bungee Jumping In Pattaya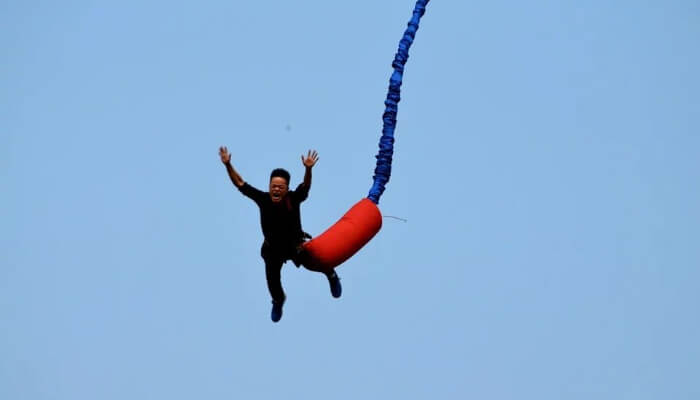 While the city of Pattaya offers every bit of partying and fun-filled experiences, it is in no way behind in bringing some real adventures as well for its tourists. Apart from enjoying exciting activities in Pattaya,  you can also appreciate it for being one of the oldest bungee jumping spots in Thailand. That's not all, get to experience the highest jumping spot on the globe while you are here. The favorite spot for bungee jump is Xbungy.
Cost of Bungee Jump: 2,500 Thai Bahts
Location: 12 Thep Prasit Rd, Muang Pattaya, Bang Lamung District, Chon Buri 20150, Thailand
Timings: 10 AM – 7 PM
A Guide To Bungee Jumping In Pattaya For A Thrilling Adventure In A Dynamic City
20. Pattaya Cruise Tour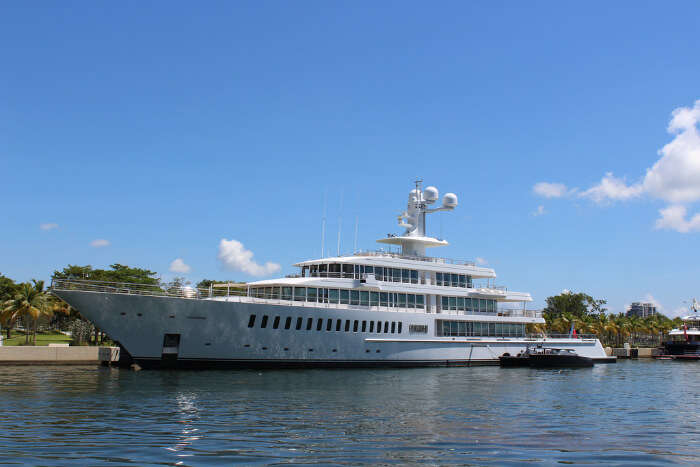 Water babies and luxury seekers need not worry about what to do in Pattaya. A cruise tour experience is an altogether unique experience to relish while you are in Pattaya. Ocean Marina Yacht Club provides a number of island cruises. Sail from Pattaya's Bali Hai Pier to Koh Sak, Koh Phai, or Coral Island. Pay as per the duration of the cruise, either for a few hours or a full-day tour.
Other popular island cruises to take are for Koh Rin with beautiful coral reefs. Monkey Island is another famous destination for cruise tours. The name is derived because of a small rock that is home to over a hundred gibbons.  Don't worry! The animals are all friends with the tourists around.
Average Cost: 1500-2000 Thai Baht per person including long trip, food, and drinks
21. Khao Chi Chan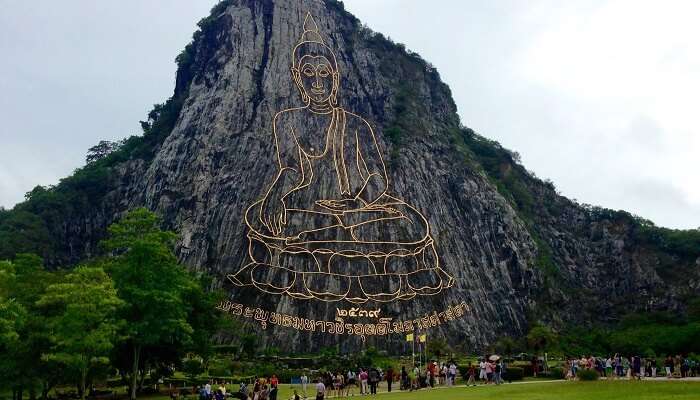 Also known as the Buddha Mountain, this place has a gigantic engraving of Buddha which is the biggest in the world. This limestone hill was used to be an active site for the construction industry before it was closed. By the year 1996, the laser-etched a carving into the rock which is celebrated as a part of His Majesty the King of Thailand's 50th year on the throne.
Location: Tambon Na Chom Thian, Amphoe Sattahip, Chang Wat Chon Buri 20250, Thailand
Timings: 8 Am-5:30 pm
Bangkok vs Pattaya: A Bet For A Better Nightlife
22. Anek Kusala Sala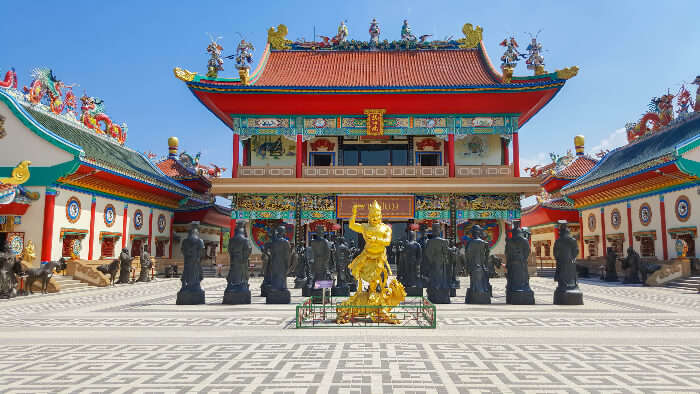 This place is a symbol of friendship between the Chinese and the Thai Khao Chi Chan. The museum boasts around 300 pieces of Chinese artwork which includes brass and bronze statues of historical figures of Buddhist and Taoist deities. Made over two floors, the second floor has large statues among which there are the figurines of Shaolin masks depicting the martial art poses.
Location: Pattaya City, Bang Lamung District, Chon Buri 20150, Thailand
Timings: 8 Am-5:30 pm
23. Khao Phra Tamnak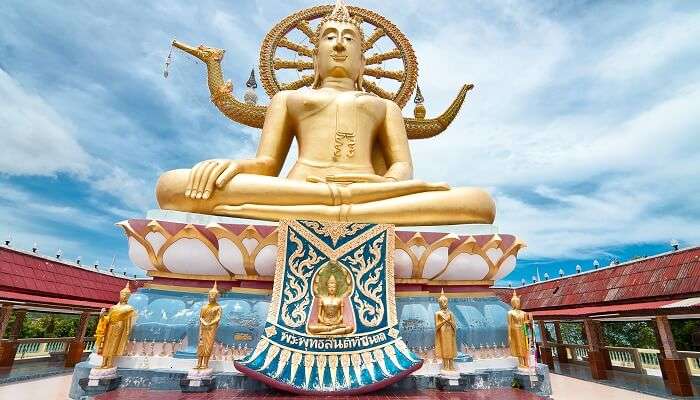 Resting at the peak of the forested hill which is located between South Pattaya and Jomtien, stands this gigantic Buddha statue which is called Wat Phra Yai. The statue originated at the time when Pattaya was a small fishing village. Standing there one can enjoy the panoramic view of Pattaya city and the Bay which is picturesque. Taking an off-road from the main city center, visiting this place is one of the ideal activities to do in Pattaya. 
Location: Bo Put, Ko Samui District, Surat Thani, Thailand
Timings: Open 24 hours
This Airport In Pattaya Is Why The City Famous For Beaches Is Commutable
24. Mae Sai Thong 

Mango sticky rice is one of the staple street foods which can be found in every street of Thailand. Despite such a commonly available food, Mai Sai Thong is famous for the mango rice for which it is featured in the Lonely Planet. People come from far and wide come to this place to get the taste of the mango sticky rice. Though the Mango's ripe in the hot-dry season, one can find one stall selling mangoes throughout the year. If you're thinking about what to do in Pattaya, visiting this street can be on your list.  
Location: Sukhumvit Road, Tambon Nong Prue, Amphoe Banglamung, Chonburi, 20150, Thailand
Timings: 12:00 AM – 11:59 PM
25. Flyboard Pattaya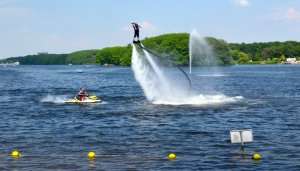 Image Credit: Eriksw for Wikimedia
A popular water sport and adventure activity that involves a high amount of adrenaline rush. You should definitely try this water sport if you are not fainthearted. In Flyboarding you are strapped to a board that then floats over the water with the help of a jet of water splashing out of the board. Get set to experience this thrilling activity & add this to your list of must-try Pattaya things to do.
Cost: INR 1200 onwards
Location: Pattaya
Timings: 9 am to 6 pm, every day
17 Floating Markets In Bangkok That Exhibit Country's Preserved Culture And Must Be Visited
26. Ramayana Water Park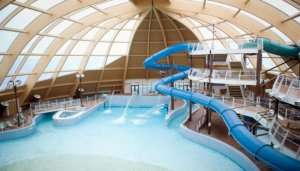 Image Credit: Glenn Hewer for Wikimedia
When touring Pattaya you have to stop by at one of the largest waterparks in Asia. Ramayana is actually the best one in the whole of Thailand. This humongous waterpark is stretched to a massive area of 184,000 square meters, bringing you the ultimate thrilling experience of water rides with extra safety. If you are a hardcore adrenaline junkie then o not miss this when check listing your Pattaya things to do.
Cost: INR 2300 onwards
Location: Pattaya
Timings: 10:00 a.m. – 06:00 p.m.
27. Frost Magical Ice Of Siam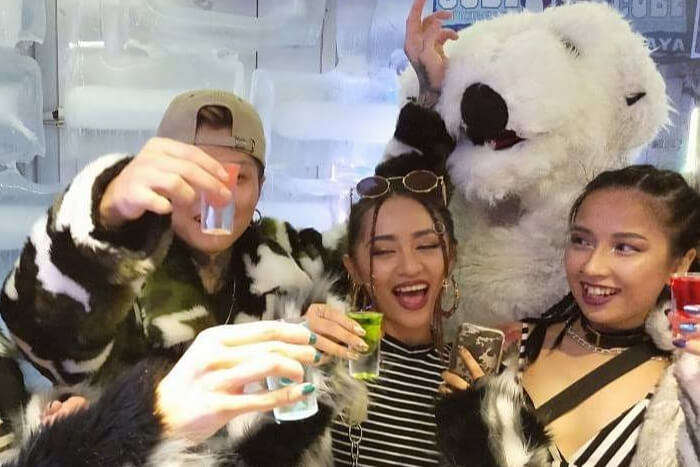 Book your tickets for this one to experience a whole other side of Siam in negative 10-degree temperatures as you discover the first ice dome in Pattaya. Hit this place to witness beautiful sculptures, exhibitions, and various activities that reflect the rich culture of Thailand. When here you can also learn about urban legends and fairy tales from giant sculptures. Other than that, there is a zero degrees playroom too for you to muster a different experience.
Cost: INR 560 onwards
Address: Pattaya
Timings: 9:00 AM-20:00 PM
22 Exciting Things To Do In Bangkok – Thailand On A Holiday
28. Underwater World Pattaya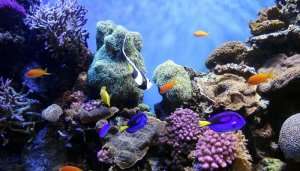 Image Credit: Fascinating Universe for Wikimedia
Meet the fishes at the largest themes and ultimate modern aquarium in Thailand. It is spread over a huge area of 4.75 acres that makes it home to many fish species and marine animals. Visit this place on your Pattaya trip and be mesmerized by the amount of and variety of aquatic life that habitats here.
Cost: INR 625 onwards
Location: Pattaya
Timings: Open Daily from 9:00 a.m. – 6:00 p.m. (last admission at 5:30 hrs)
Feeding Times : 10:00 a.m., 10:30 a.m., 11:00 a.m., 2:30 p.m.,3:00 p.m.,3:30 p.m. and 4:00 p.m.
29. Kaan Show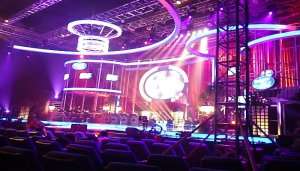 Image Credit: Starczamora at Wikipedia
Treat your eyes to the next fusion of live-action and world-class cinema stage performance with top-notch technology. The Kaam show Pattaya welcomes you to witness a beautiful take inspired by classic Thai literature, creatively adapted into never-ending wonders. The place helps you take a sneak peek into the magical world of Thai traditions and mythology, which invites you with open arms.
Cost:  INR 1700 onwards
Location: Pattaya
Timings: Two shows take place every day from Tuesday to Sunday (except Wednesday)  5:00 PM and 7:30 PM.
53 Tourist Places In Thailand That You May Have Ignored Before
30. Dolphin World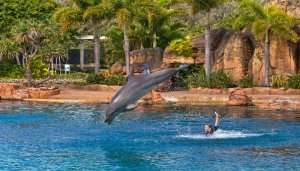 Get to be on an exceptional journey at Pattaya Dolphin world and cherish the thrills like never before. Add this to your Pattaya things to do and grab the opportunity to swim with the cuddly dolphins. If you are touring the place with your family, then this will be one of the unforgettable afternoons for your young family members. Having said that, the place is ideal for nature lovers.
Cost: INR 5,182 (onwards) per adult
Location: Pattaya
Timings:  daily 8:00 AM-6:00 PM
31. Jomtien Beach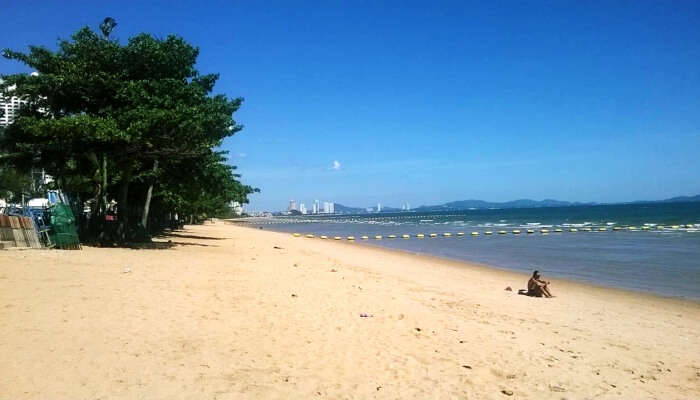 Stroll by the 6 kilometer stretch of golden sands at Jomtien Beach and admire the tranquil ambiance of the place at every step. If you want to have a perfect beach day where crowds don't spoil your perfect picture then you must surely visit Jomtien Beach.
Location: Jomtien, Chonburi, Thailand
Timings: No timing restrictions
Price: No entry fees
12 Kickass Water Sports In Thailand For The Water Babies To Enjoy
32. Wat Yansangwararam

Don't miss out on visiting the temple complex of Wat Yansangwararam. Spread across 145 acres of land, the temple complex comprises various buildings, gardens, and a lake. Each of these buildings features unique architectures including intricate designs of Indian, Buddhism, Chinese, and others.
Location: 15 kilometers to the South direction of Pattaya
Timing: 8 am to 5 pm
How To Reach Pattaya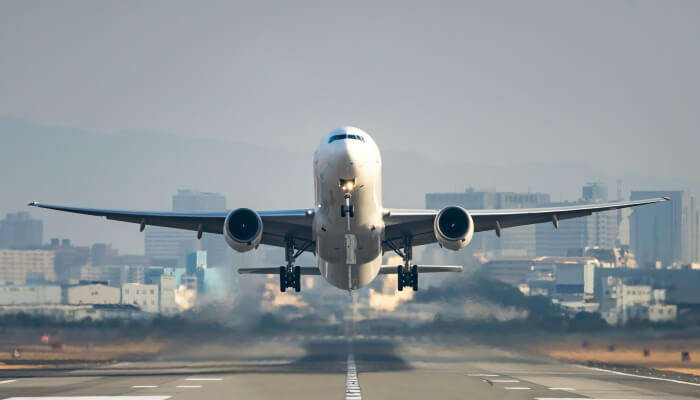 By Air: The U-Tapao Airport, located 30 km from Pattaya, is the nearest airport. However, it offers limited connectivity. Suvarnabhumi Airport in Bangkok, located 121 km from Pattaya, is the nearest airport to Pattaya with excellent connectivity.
By Road: Buses and taxis ply between Bangkok and Pattaya.nThe distance from Bangkok to Pattaya is 148 km and it takes approximately 2 hours 15 minutes to travel by road.
By Rail: An economical non-AC train operates between the main train station in Pattaya and the Hualamphong Station of Bangkok.
In a nutshell, there are some super cool things to do in Pattaya for bachelors, friends, families, and honeymooners. You will run out of time but never run out of activities in Pattaya, Thailand. So, plan your Thailand trip and indulge in these fun-filled activities for a wonderful holiday. And if you need more info on what to do in Pattaya, you can get in touch with TravelTriangle's expert agents and they'll help you out.
For our editorial codes of conduct and copyright disclaimer, please click here.
Frequently Asked Questions About Things to Do in Pattaya
What is Pattaya best known for?
Pattaya is famous for its cabaret show, the quiet beaches, the sacred temples and Thai cuisine as well. So, when in pattaya, make sure to indulge in water activities, attend a cultural show, and try out some local delicacies.
Is Pattaya open for travelers now?
No, Pattaya has not opened for travelers yet. While looking at the current worldwide situation of Covid, Pattaya Govt. has postponed its decision of opening the destination. Hence, it is recommended to stay updated with the local news as it may reopen for the travelers soon.
What should I avoid in Pattaya?
While visiting Pattaya, ensure that you stay in a reputed hotel and visit attractions where you can find a crowd. Avoid going to secluded areas or places which you are not much aware about. Your safety is in your hands, so travel wisely and enjoy the trip.
Which are the famous tourist places in Pattaya?
Some of the best places to visit in Pattaya are:
1. Big Buddha Hill
2. The Floating Market
3. Jomtien Beach
4. Nong Nooch Village
What are the best things to do in Pattaya at night?
After enjoying the beauty of Pattaya in the daytime, you can explore the nightlife of Pattaya. Some of the best things to do in Pattaya at night include visiting nightclubs, go-go bars, and more.
What can you do in Pattaya for free?
Some of the best things to do in Pattaya for free are visiting Big Buddha Temple, Pattaya City Sign, Royal Garden Plaza, and Jomtien Beach Night Market.
How can I spend two days in Pattaya?
You can spend your time in Pattaya by doing various activities including:
1. Watch the famous Alcazar Show
2. Sunbath on the Pattaya Beach
3. Go for a Thai massage
4. Wander around the Walking Street
5. Savour local thai cuisine at the best restaurants
6. Indulge in water activities
7. Buy souvenirs and gifts from Pattaya Night Bazaar
What are the best things to do in Pattaya with family?
If you are travelling to Pattaya with family, some of the best things to do are visiting Ice kingdom, trying DIY pizza buffet with kids and more.
---
Looking To Book An International Holiday?